Tuesday, August 29, 2023
What is ESTEP? 
The Election Supporting Technology Evaluation Program (ESTEP) was recently created to evaluate the security and accessibility of election supporting technologies. These include:

The cybersecurity of election supporting technology systems has never been more important. Attacks from nation-state actors against our election infrastructure have specifically targeted these systems in past elections. The U.S. Election Assistance Commission (EAC) believes attacks against these systems will increase in future elections. 
ESTEP will lead to the creation of draft standards that can be used by Voting System Test Laboratories (VSTLs), the creation of program manuals, the administration of pilot programs, and reporting on the results of these pilot programs. The EAC's objective is to establish standards for these critical election supporting technologies similar to the Voluntary Voting System Guidelines (VVSG) to enhance the security and accessibility of these systems for all users.  
EAC Voluntary Electronic Poll Book Pilot Program
Throughout the past fifteen years, the United States has witnessed a steady increase in the use of e-poll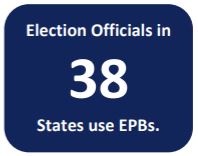 books during an election. According to the 2022 EAVS, 2,271 jurisdictions in 40 states - including the District of Columbia and the U.S. Virgin Islands - utilized e-poll books during the November 2022 General Election. These systems have been used to streamline the check-in process, automate ballot issuing, collect and display critical data, and enhance the security of the voting process by allowing the registered voter to only check in and vote one time. In 2022, the EAC moved forward with the voluntary Electronic Poll Book (EPB) pilot program, to establish a uniform set of standards and best practices for e-poll book testing and usage. This program aims to alleviate the burdens currently shouldered by states in developing and maintaining e-poll book standards and enhance the overall security, accessibility, and usability of these systems.
Pilot Process
In January 2023, the EAC released a draft version of the Voluntary E-Poll Book Requirements, developed in consultation with NIST. In February 2023, the EAC began recruiting participants for pilot testing. By June 2023, the EAC enlisted seven voluntary participants, including manufacturers and state and local jurisdictions, to submit their systems for evaluation. After the pilot has been completed, the EAC will evaluate whether to create a more formal standards development process, similar to how the VVSG is vetted with public comment periods and a full review by all stakeholders.
Image

Systems Under Evaluation
| E-Poll Book System (Name/Version) | VSTL | System Manufacturer | Participation Agreement Signed | Testing Completed |
| --- | --- | --- | --- | --- |
| ExpressPoll 7.2.5.0 | Pro V&V | Election Systems & Software, Inc. (ES&S) | 2023-01-31 | 2023-04-21 |
| Precinct Central 5.1.9 | Pro V&V | Tenex Software Solutions | 2023-01-31 | 2023-05-23 |
| Poll Pad 3.2 | SLI Compliance | KNOWiNK | 2023-02-01 | 2023-06-09 |
| On-Site Voter Registration Database (OVRD) 2.9.120 | Pro V&V | North Carolina State Board of Elections (NCSBE) | 2023-04-25 | 2023-06-21 |
| VoteSafe 1.3.77 | Pro V&V | VOTEC Corporation | 2023-04-13 | 2023-07-10 |
| AskED E-Poll Book 3.4 | SLI Compliance | Robis Elections Inc. | 2023-01-31 | 2023-07-19 |
| SiteBook | SLI Compliance | Maricopa County, Arizona Elections Department | 2023-06-14 | In Progress |
Pilot Artifacts and Other Resources
DRAFT E-Poll Book Requirements (as of January 19, 2023)
State Certification Requirements for Electronic Poll Books
A Clearinghouse Report on the Use, Functions, and Regulations of Electronic Poll Books
Questions? Please Contact:  
Election Supporting Technology Evaluation Program 
[email protected]