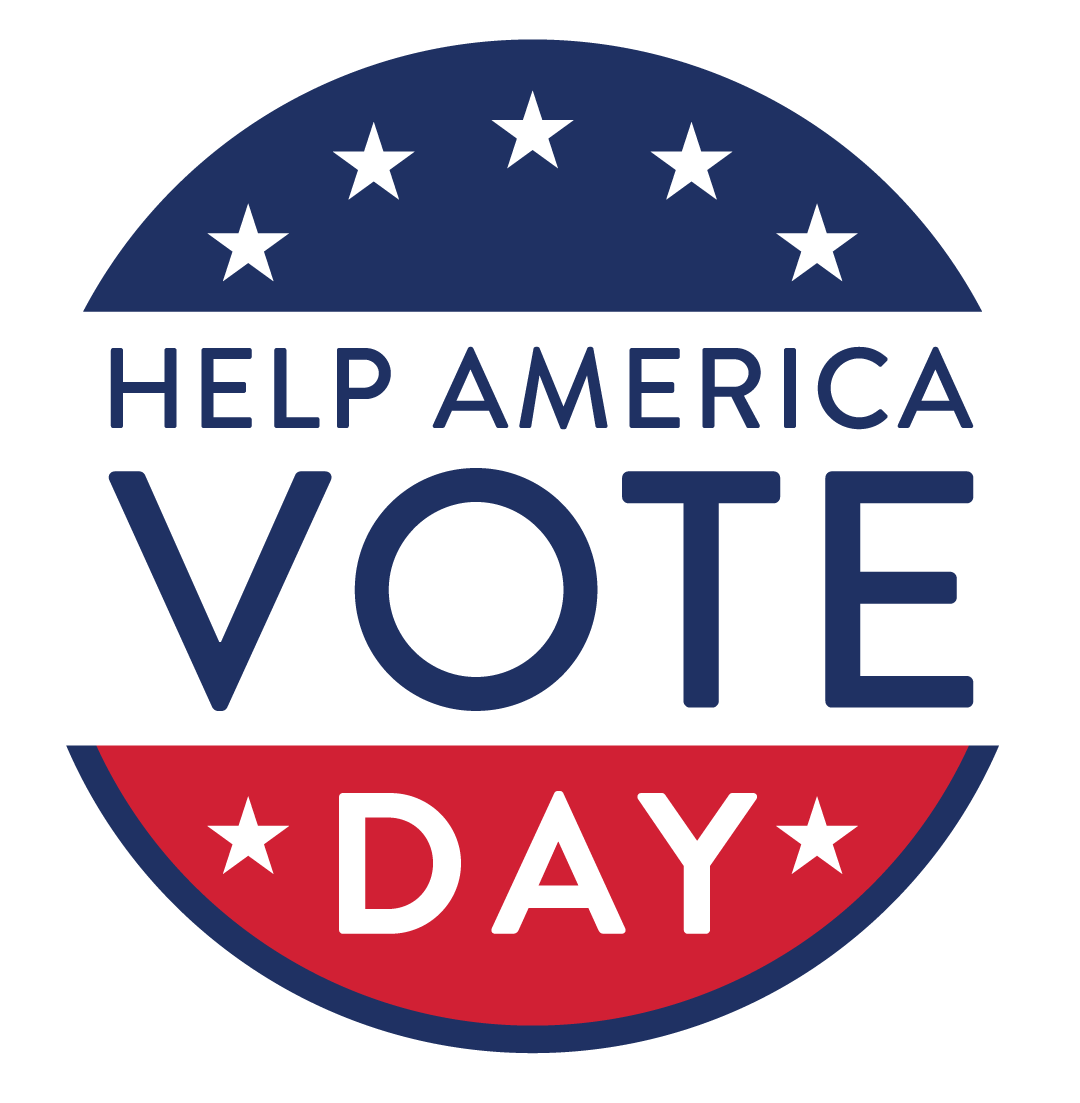 Sign up to be a poll worker! Poll workers are essential to ensure elections are a success. During each election, millions of Americans dedicate themselves to sustaining the backbone of democracy - our election process. The EAC encourages those interested in becoming poll workers at the polls on Election Day to learn more about what is required and how to sign up to work with your local election office.
Established in 2020 by the EAC, National Poll Worker Recruitment Day is a day of action with the goal of encouraging potential poll workers to sign up to Help America Vote. As a part of the agency's ongoing commitment to this important issue, the EAC also created Help America Vote in 2022 to address the needs of election officials. Toolkits for these ongoing efforts are available at the bottom of this page.
If you are interested in signing up, or have signed up, to be a poll worker but haven't heard from your local election office please be aware that some jurisdictions have enough volunteers and others do not. Please be patient as they may still need your help and need some extra time to respond to you as election officials are working diligently to prepare for upcoming elections.  
Poll Worker Recruitment Lookup Tool
Please use the lookup tool below to find information on being a poll worker in your community, including requirements, hours, pay, training, and more. Links are provided so you can sign up directly with your state or local election office. The EAC does not retain your personal information.   
---
If you are an election official, and the information for your jurisdiction needs to be updated, please email the EAC at helpamericavote@eac.gov.
How to sign up in your community?
Each state recruits poll workers differently. Typically signing up to be a poll worker is done with your local election office. In some places, this is a county election office but it may also be a registrar or clerk at the county or local level.
Want to make sure you are prepared?
The Poll Worker Preparedness Checklist is designed to assist poll workers as they prepare for Election Day. The checklist can help poll workers feel ready for Election Day and make them feel more confident as they prepare to serve their community. 
About National Poll Worker Recruitment Day
National Poll Worker Recruitment Day is a national awareness day established by the U.S. Election Assistance Commission to encourage people to help America vote by serving as poll workers. 
By encouraging more people to become poll workers in their communities, National Poll Worker Recruitment Day aims to address the critical shortage of poll workers, strengthen our democracy, inspire greater civic engagement and volunteerism, and help ensure free and fair elections in November and beyond. 
What is a poll worker? Why should I sign up?
Amid COVID-19, America has faced a critical shortage of poll workers. Even as many states offer access to vote-by-mail and absentee voting options, millions of Americans – especially voters with disabilities and those who lack reliable mail service – will continue to rely on in-person voting to cast a ballot. 
Most poll workers have traditionally been over the age of 61, making them especially vulnerable to complications if they contract COVID-19. This has resulted in a critical need for poll workers who are willing and able to assist with the administration of in-person voting on and before Election Day.
Poll workers are critical to the success of an election. Having an adequate number of poll workers to staff polling places on and before Election Day can ensure voters receive the assistance they need at the polls and can help provide a positive and smooth voting experience for all. By signing up to be a poll worker, you can Help America Vote.
While specific duties and compensation vary depending on location, poll workers are the face of the election office during voting. Most jurisdictions task election workers with setting up and preparing the polling location, welcoming voters, verifying voter registrations, and issuing ballots. Poll workers also help ensure voters understand the voting process by demonstrating how to use voting equipment and explaining voting procedures.
How to get involved with National Poll Worker Recruitment Day
State and local election officials can use National Poll Worker Recruitment Day to kick off recruitment efforts or supplement ongoing recruiting for poll workers in their community. Organizations and companies can support National Poll Worker Recruitment Day by spreading the word, encouraging employees to participate, and offering employees time off to volunteer as poll workers. 
Please use our toolkit with resources, graphics and sample social media posts to help promote National Poll Worker Recruitment Day.
Providing volunteer opportunities has been shown to improve employee morale and well-being, and even reduce sick leave.
The EAC has compiled a variety of resources election officials can use as they recruit poll workers and plan for Election Day. If you have materials you would like added to these resources, please email helpamericavote@eac.gov.
New Year's Resolution Poll Worker Resources
Right-click the images below to save to your desktop or check out the customizable versions links on canva.com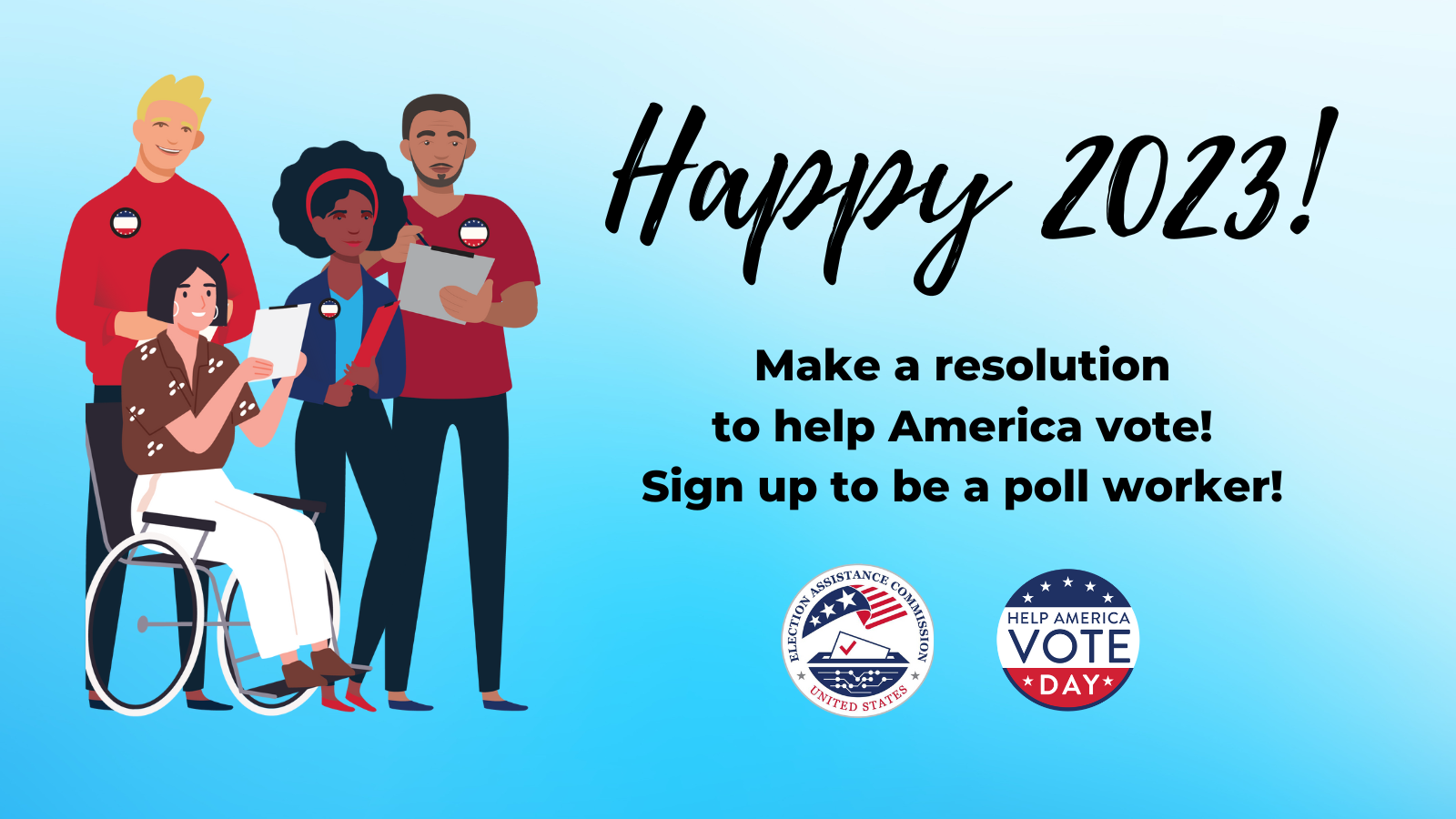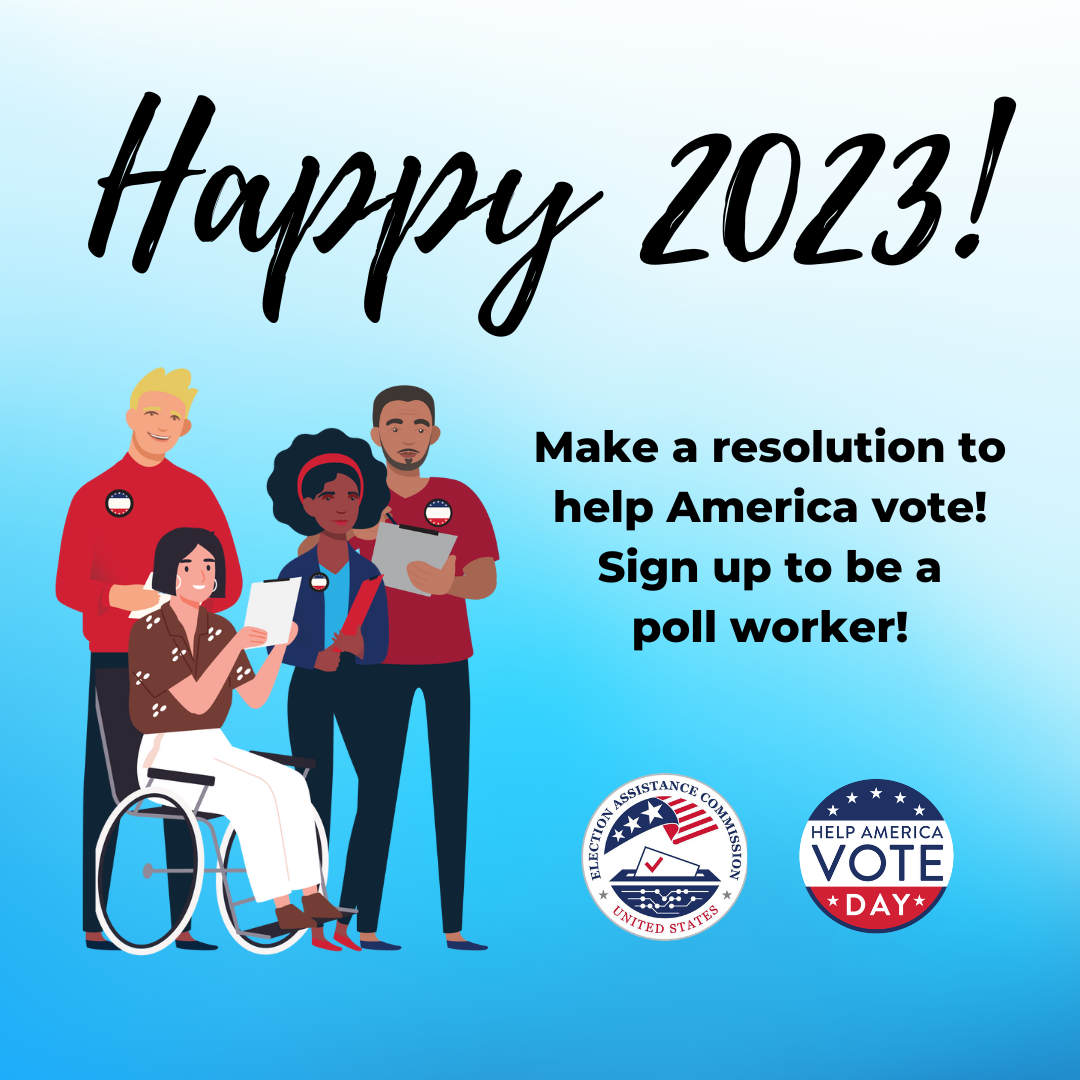 Help America Vote Day Resources
Social Media Graphics Zip file
Social Media Graphics Zip file 2
Sample Help America Vote Day graphics from the zip file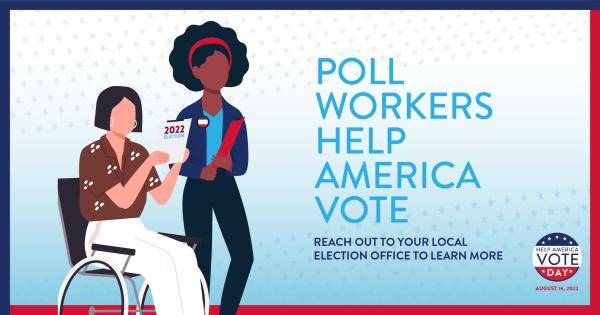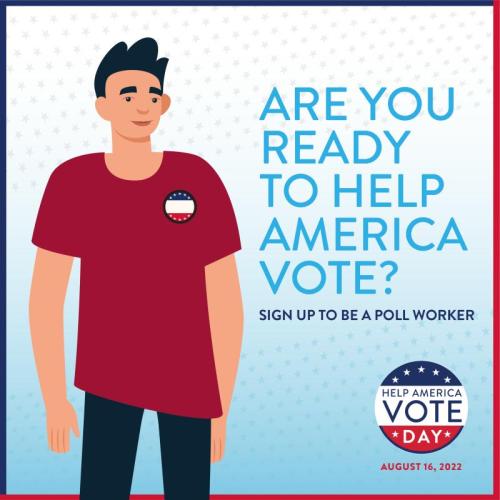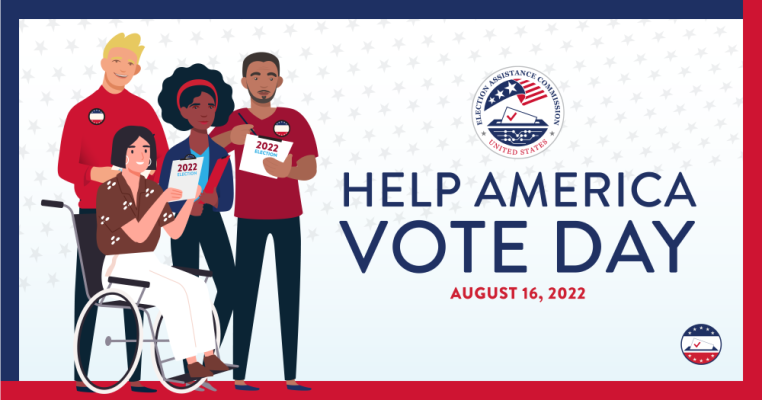 Help America Vote Day Images (right-click the images below to save to your desktop)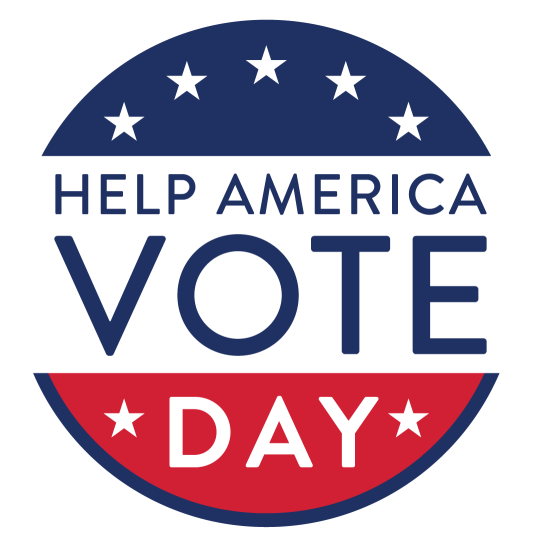 National Poll Worker Recruitment Day Resources
National Poll Worker Recruitment Day Toolkit
Social Media Graphics Zip File
Spanish Social Media Graphics Zip File
Samples of Graphics from the Zip File: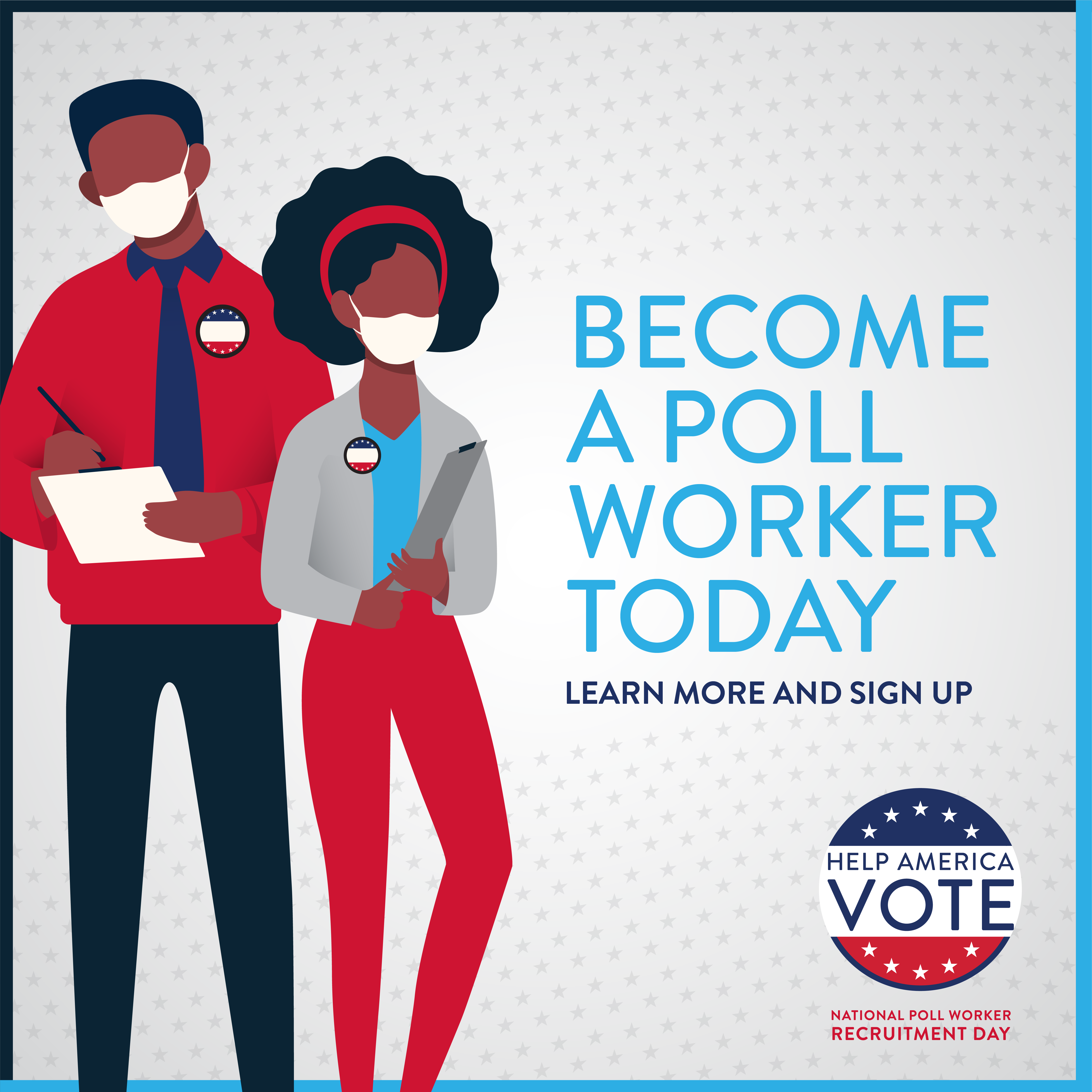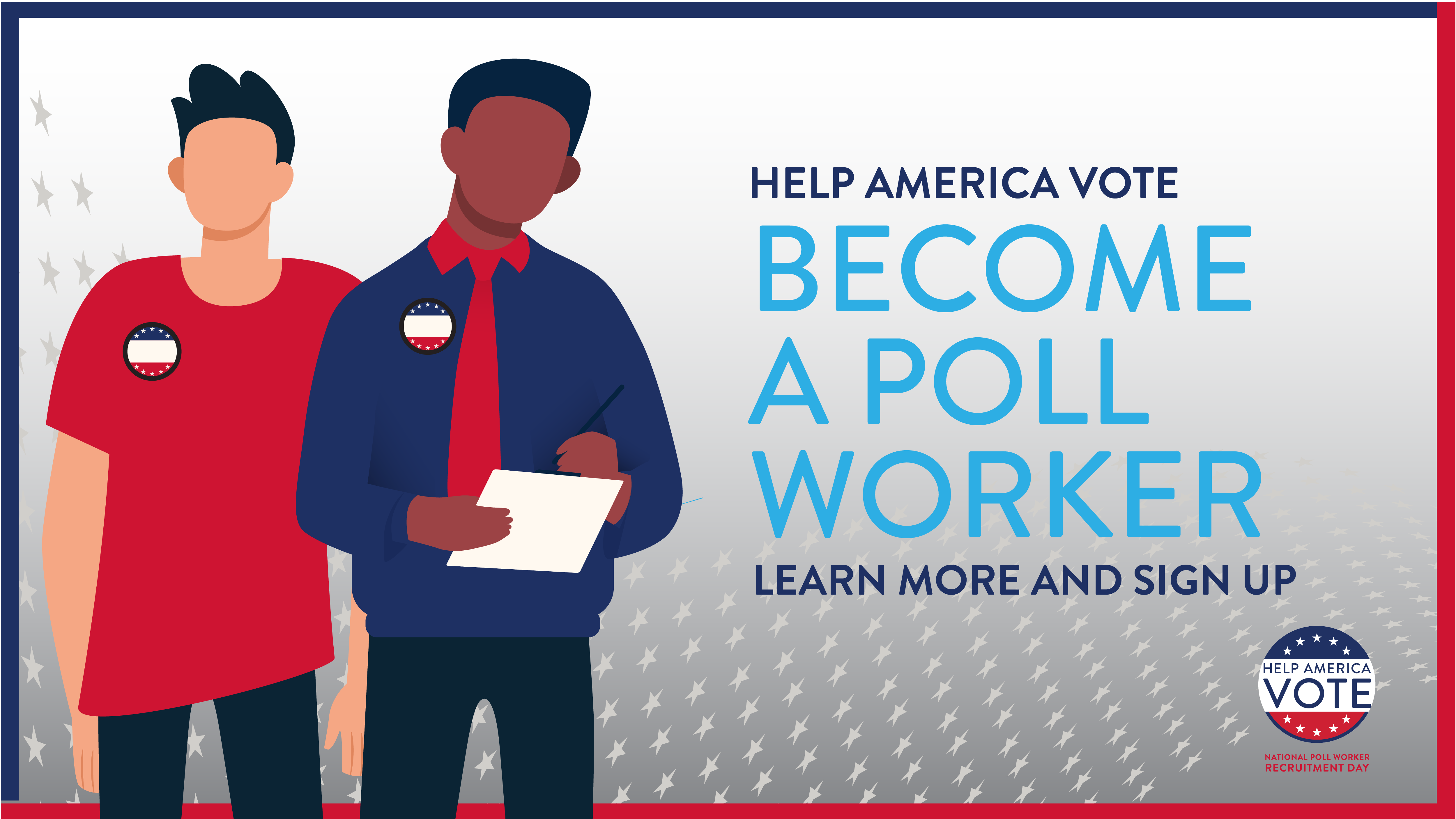 National Poll Worker Recruitment Day Images (right-click the images below to save to your desktop)