Thursday, July 13, 2023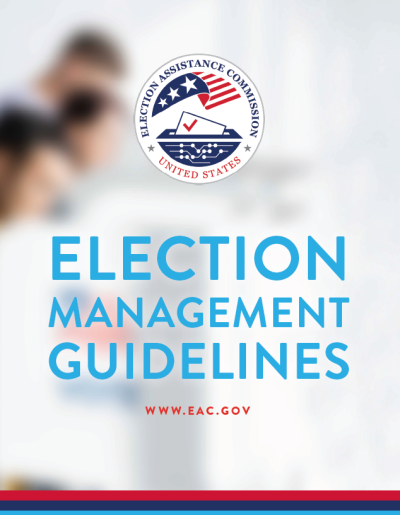 The Election Management Guidelines (EMG) was created to assist state and local election officials in effectively managing and administering elections. These guidelines complement the technical standards for the Voluntary Voting System Guidelines for voting equipment. Each chapter of the Election Management Guidelines is vetted by recognized election experts and offers practical discussions of election issues, including examples and helpful tips.  The EMG's goal is to familiarize election officials with election processes and challenges they will likely encounter during their tenure, and is designed to be accessible to election officials at all levels. 
The EAC recognizes that the election administration landscape has changed since the previous EMG was released over 15 years ago, necessitating this update. Since the federal designation of elections as critical infrastructure in 2017, the physical security, cybersecurity, and continuity of operations in the event of a disaster have become essential components of national security. State election laws and regulations, election technologies, and best practices are constantly evolving to meet the needs of resilient and secure election systems. As result, the EAC has updated the EMG to address these issues and more.
To request physical copies of the EMG, please email [email protected].  
The EMG covers in its chapters: 
Elections Office Administration 
Contingency Planning 
Accessibility 
Building Community Partnerships 
Communicating with the Public 
System Security 
Physical Security 
Voting System Certification 
Acceptance Testing 
Ballot Building 
Pre-Election Testing 
Absentee Voting and Vote-by-Mail 
Uniformed and Overseas Citizens 
Voting Location Management 
Provisional Ballots 
Documentation and Audit Trail 
Post-Election Audits 
Canvassing and Certifying an Election 
Recounts