Friday, January 06, 2023

In this month's EAC newsletter, we're excited to feature: 
New customizable social media graphics to recruit poll workers in the new year  

Two VSTLs are now ready to test voting systems to the latest standards 

Upcoming EAC Events: Jan. 26: the Technical Guidelines Development Committee (TGDC) Annual Meeting and Feb. 8: EAC Public Hearing  
2022 EAVS Submissions Due Feb. 1 

Clearinghouse Award (Clearies) Submission Period Opens on Jan. 17 

"Strengthening Election Official State Associations" Virtual Panel 
Thank you for your work in 2022!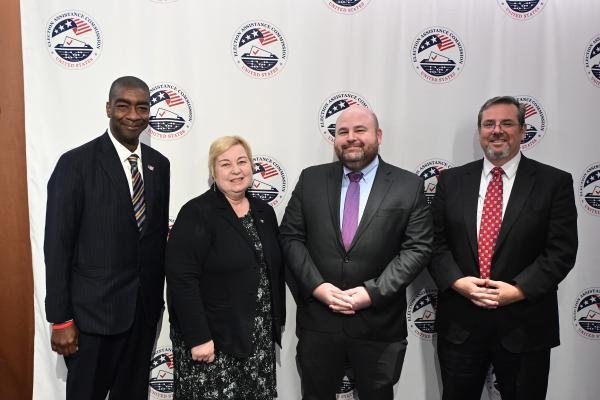 As we reflect on another successful election season, the Commissioners and EAC staff would like to thank election officials, their staff, and the poll workers who helped make it a success! 
Looking Back on 2022: Lessons Learned 
NEW EAC Blog Post: Initial Lessons Learned from the 2022 Midterm Elections: One week after Election Day, the EAC held a public hearing featuring a panel reflecting on lessons learned during the 2022 midterm election. This blog post summarizes some of the insights of The Honorable Tahesha Way, New Jersey Secretary of State and president of the National Association of Secretaries of State (NASS); Meagan Wolfe, Administrator of the Wisconsin Elections Commission and President of the National Association of State Election Directors (NASED); and The Election Center's Executive Director Tim Mattice.    
During an overseas visit to Italy, Chairman Thomas Hicks and Commissioner Donald Palmer participated in a wreath-laying ceremony at the Florence Military Cemetary. The Commissioners were traveling as part of an effort to better serve military and overseas voters.
EAC Commissioners Accredit Second Voting System Test Laboratory to Test Voting Systems to Voluntary Voting System Guidelines 2.0 
On December 21, 2022, the EAC Commissioners unanimously voted to accredit Pro V&V as the second Voting System Test Laboratory (VSTL) able to test voting systems to the Voluntary Voting System Guidelines (VVSG) 2.0 following SLI Compliance's accreditation on November 15, 2022. The VVSG are a set of specifications and requirements against which voting systems can be tested to determine if the systems meet baseline standards.  
Prior to this new certification, both Pro V&V and SLI Compliance successfully completed independent assessments by the EAC and the National Institute of Standards and Technology's National Voluntary Laboratory Accreditation Program. For more information on VVSG 2.0, visit eac.gov. 
In the New Year, Encourage Community Members to Become Poll Workers!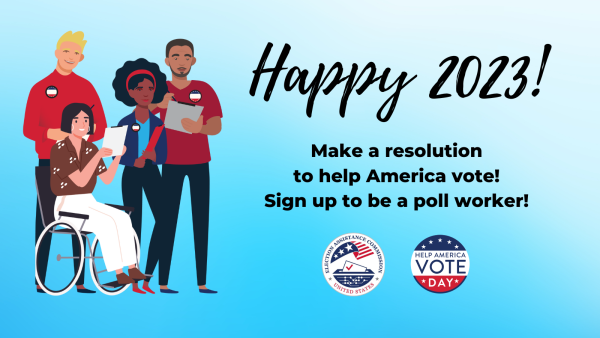 During this new year, encourage your community members to make a resolution to become poll workers! This new EAC toolkit with graphics and templates is a great way election officials can promote this opportunity on social media—just pair them with #HelpAmericaVote. You can also check out the Twitter template and Instagram template on Canva.com to customize this one! Stay tuned for more poll worker recruitment resources in 2023. 
SAVE THE DATE!   
Virtual TGDC Annual Public Meeting on Jan. 26, 2023 
The EAC's Technical Guidelines Development Committee (TGDC) will hold its annual meeting on January 26, 2023. This meeting will be held virtually and live-streamed on the EAC's YouTube Channel. Registration is not required.   
 
Learn more on the TGDC meeting event page, which will be updated with more information as it becomes available. 
EAC Public Hearing on Feb. 8, 2023

On February 8, 2023, the EAC will hold a public hearing in person at 633 3rd Street NW, Washington, DC 20001. During this meeting, the Commissioners will consider the renewal of the four FACA Board charters, including the Local Leadership Council (LLC), the Technical Guidelines Development Committee (TGDC), the Standards Board, and the Board of Advisors.  
If you plan to attend in person, register here. This meeting will also be live-streamed on the EAC's YouTube Channel. More information can be found on the public hearing's event page as it becomes available.  
Remember to Submit the EAVS by Feb. 1, 2023 
The deadline for the first Election Administration Voting Survey (EAVS) data submission is February 1, 2023! Contributing to the EAVS helps provide the nation's most comprehensive information related to election administration, registration, and voting, and includes national, state, and county-level data. This includes: 
Voter Registration  

Uniformed and Overseas Voters  

Early, Absentee, and Provisional Voting  

Voting Equipment Usage  

Poll Workers, Polling Places, and Precincts 
EAC staff are available to assist election officials. For assistance, please email [email protected] or call the EAVS helpdesk phone number: 800-889-7738. 
Clearinghouse Awards 2022 Submissions Open on Jan. 17 
The submission period for the 2022 National Clearinghouse Awards competition, also known as the Clearies, will open on January 17 and run through February 28. With six previous years of strong submissions, this program celebrates the leadership, hard work, and enterprising spirit of election officials across the U.S.  
The 2022 Clearies provide the opportunity to recognize the spirit and dedication of the outstanding public servants throughout the 2022 primaries and general election. Jurisdictions of all sizes are encouraged to submit their work. The entries will be judged based on innovation, sustainability, outreach, cost-effectiveness, replicability, and the generation of positive results. Find examples from the 2021 Award winners here. 
Please send any questions you may have to [email protected], and stay tuned to the EAC's website and social media for details on how to submit your own innovative programs. 
Watch the EAC's "Strengthening Election Official State Associations" Virtual Panel On-Demand  
EAC Commissioner Ben Hovland recently moderated a virtual panel discussion on how strengthening state associations has helped to support local election officials. He was joined by Aaron Ockerman, Executive Director of the Ohio Association of Election Officials, Kathyrne Harper, Executive Director of the Missouri Association of County Clerks and Election Authorities, and Matt Crane, Executive Director of the Colorado County Clerks Association.  
The panelists stressed that state election associations have been vital to supporting local election officials through relationship-building and mentorship efforts, especially as these positions have become more challenging with the evolution of technology and the increase in mis- and dis-information.  
As state associations have become more professionalized, often with the hiring of former election officials as staff, the panelists highlighted the importance of passing on the knowledge and experiences of those who have been in the field for decades. They agreed that developing these relationships is key to creating the best work environment and retaining local staff when turnover rates in election administration are high.   
Watch this on-demand video on the EAC's YouTube channel to hear their insights and read this blog post that summarizes their discussion to learn more.   
E2E Workshop Recap 
Last fall, the EAC and the National Institute of Standards and Technology (NIST) held a virtual workshop on protocols used in end-to-end (E2E) cryptographically verifiable voting systems for conformance to the recently revised Voluntary Voting System Guidelines, Version 2.0. The purpose was to discuss the plan and further develop the protocol requirements and evaluation criteria. 
The workshop covered: 
A keynote presentation on E2E in voting systems 

Four discussion-based panels covering: 

Integrity and Voter Confidence 

Voting System Security 
Accessibility and Human Factor Considerations 

Implementation of E2E in Voting Systems/Testings 
The recording of the event is available here. 
The EAC's Local Leadership Council held a Virtual Meeting 
On December 14, the EAC's Local Leadership Council (LLC)  held a virtual meeting to consider the Bylaws of the Board and discuss other regular business. During the meeting, EAC Vice Chair and Designated Federal Officer (DFO) Christy McCormick thanked members, who are also local election officials, for their hard work during the election season and introduced Commissioner Ben Hovland as the committee's incoming DFO. The scheduled vote on the LLC Bylaws was postponed due to a lack of quorum. Information on the next LLC meeting to consider the Bylaws will be posted on the EAC's website. A recording of the meeting is available on the EAC's YouTube channel.