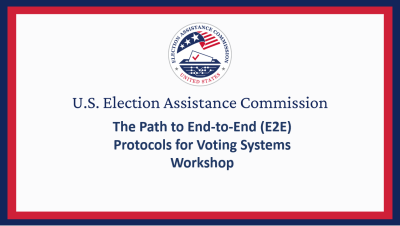 Start Time
Thursday, October 06, 2022 1:00 PM
End Time
Friday, October 07, 2022 5:00 PM
The U.S. Election Assistance Commission (EAC), in collaboration with NIST, is initiating a process to publicly solicit, evaluate, and approve protocols used in end-to-end (E2E) cryptographically verifiable voting systems for conformance to the recently revised Voluntary Voting System Guidelines, Version 2.0. This workshop will be used to discuss the plan and further develop the protocol requirements and evaluation criteria.
View the full agenda here.
The date and time is Thursday, October 06, 1:00-5:00 pm and Friday, October 07, 2022 1:00–5:00 pm.
This workshop will cover the following:
A keynote presentation on E2E in voting systems
Four discussion-based panels covering:

Integrity and Voter Confidence
Voting System Security
Accessibility and Human Factor Considerations
Implementation of E2E in Voting Systems/Testings

Next Steps
Q&A Session 
Questions about registration can be directed to [email protected].
Event Documents