Mar 12, 2019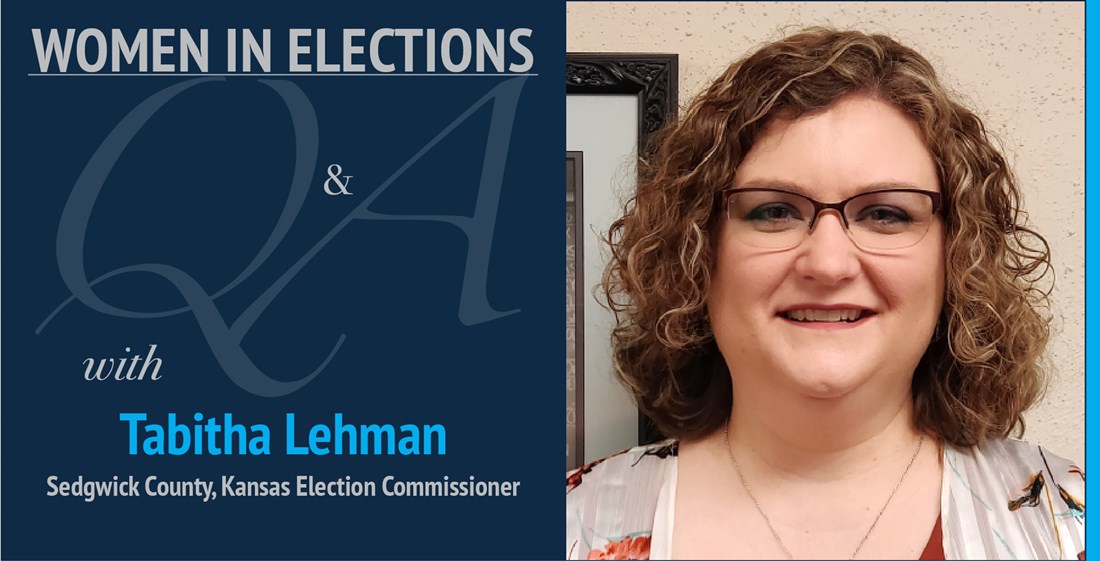 The EAC has launched a "Women in Elections" campaign to coincide with Women's History Month. During the month of March, we will interview several women at the heart of elections at the Secretary of State and county, and within academia, and share their insight about elections on the EAC's Facebook, Twitter and Instagram accounts. Follow the conversation online at #WomeninElections.
We are continuing our 2019 series with a conversation between EAC Chairwoman Christy McCormick and Tabitha Lehman, Sedgwick County, Kansas Election Commissioner.
Christy, EAC: Thank you for joining me for this series, Tabitha. I wanted to start by asking how your career in elections began.
Lehman: My career in elections began as an election worker working the polls on Election Day. Over the years, I began working in the office in different roles including recounts, helping train election workers, and as a seasonal employee through the 2008 Presidential Election cycle. I was eventually hired into the Election Office in a full time position. I began in the Advance Voting area, was promoted to Deputy Election Commissioner, and in 2011 was appointed as Election Commissioner. As they say, it's in my blood!
Christy, EAC: You've worked hard to build an effective working relationship with county leadership. What tips do you have for others in this regard?
Lehman: This is an area where we have experienced success and failure in the past. This is what I have learned along the way: Be fully engaged with county leadership, take every opportunity to participate on boards, attend staff meetings, and educate yourself on what is going on around the county, so that you understand where your department fits in the organization's overall goals and how you can participate in its success.
Communicate, communicate, and communicate! I can't stress this enough. Communicating your department's needs ahead of time will give leadership time to assess your needs and balance them with those in the rest of the organization. 
Christy, EAC: You have been with the Sedgwick County Election Office for over a decade. Describe some of the changes you've seen in that time.
Lehman: In Sedgwick County, we have experienced many changes in the last decade. We have switched from DREs to Ballot Marking Devices, paper to electronic poll books, no post-election audits to implementation of post-election audits this year. We have seen increases in in-person early voting, increases in legal challenges to laws surrounding election administration and, of course, the ever-present threats from foreign and domestic actors attempting to interfere with the electoral process. At each crossroads we have faced, we have sought to make decisions that make voting more accessible and trustworthy for the voters of Sedgwick County.
Christy, EAC: More than 300,000 people registered to vote in Sedgwick County ahead of the 2018 Midterm Election, the largest number in county history. Your office was very proactive in its approach to managing this influx of voters. Can you describe your strategy?
Lehman: When it became apparent that we were seeing an increase in voter registrations over past Midterm Elections, we sought to be as accessible to voters as possible. The biggest change was increasing our office hours leading up to registration deadline so that voters had more time to get their registrations submitted and communicating those increased hours on social media to alert the public. We also worked a significant amount of overtime processing the increased registrations to make sure voters' names appeared on the voter lists in time to vote.
Christy, EAC: Beginning this year, all Kansas counties will be required to perform post-election audits that will evaluate the entire election system from voting equipment to office procedures. Describe how Sedgwick County is preparing for these audits and what the benefits to voters will be.
Lehman: Our first step in preparing for post-election audits actually occurred several years ago by selecting and purchasing new voting equipment that produces a voter verifiable paper ballot for each vote counted. This purchase set the stage for us to be able to comply with post-election audits, in whatever form they would take. We have already performed several manual recounts since the purchase of the new equipment and have confirmed 100 percent accuracy of the equipment and of office procedures.
We are participating in the state's post-election audit implementation team. This team is tasked with helping guide the rules and regulations surrounding post-election audits. We are creating solid county procedures that comply with state law, and the rules and regulations provided by the Secretary of State's Office, and then the ever-important selection and training of the audit boards to ensure accurate and transparent results that the public can trust.
Voters benefit from post-election audits by having an election system that is being routinely audited. These audits will either confirm the trustworthiness of our equipment and processes, or they will bring to light areas that need to be improved. The end result will be improved election administration.
We at the EAC would like to thank Tabitha for her insight. Keep checking our blog for conversations with "Women in Elections" throughout Women's History Month and help us celebrate these leaders in the election community.