Mar 25, 2019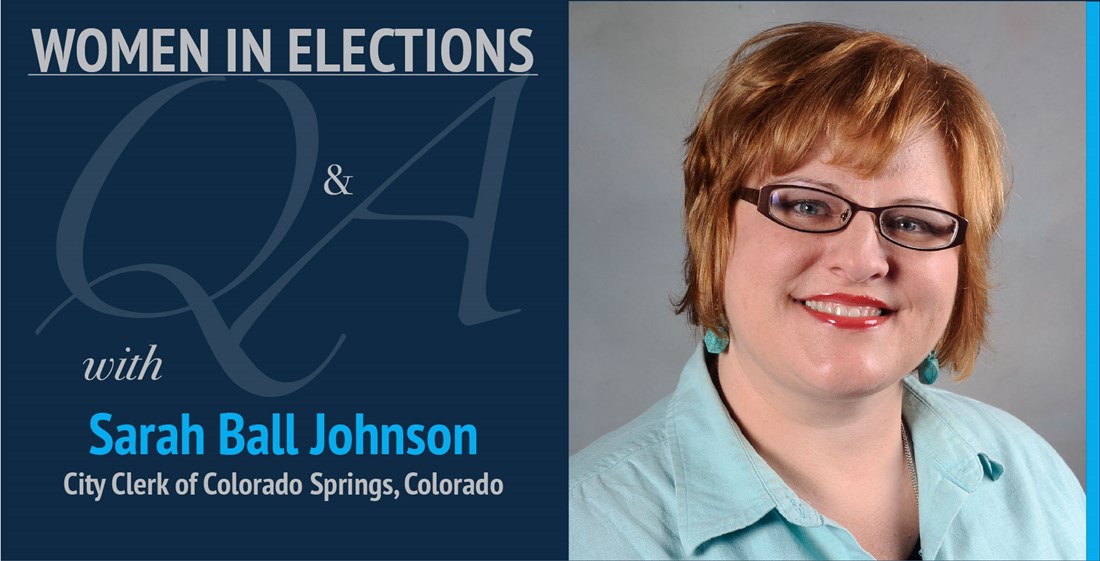 The EAC has launched a "Women in Elections" campaign to coincide with Women's History Month. During the month of March, we will interview several women at the heart of elections at the Secretary of State and county level, and within academia, and share their insight about elections on the EAC's Facebook, Twitter and Instagram accounts. Follow the conversation online at #WomeninElections.
We are continuing our 2019 series with a conversation between EAC Vice Chair Christy McCormick and Sarah Ball Johnson, City Clerk of Colorado Springs, Colorado.
Christy, EAC: Thank you for joining me for this series, Sarah. I wanted to start by asking you how your career in elections began.
Sarah: My interest in politics began at an early age. My parents were of different political parties, which meant our dinner conversations always included quite lively discussions. I am forever grateful to them for making sure my siblings and I heard both sides of every issue before forming any opinions. My interest in elections began in college when I volunteered for a U.S. Senate campaign, interned for the same Kentucky U.S. Senator and then worked for the same U.S.Senator for several years. It was during those years of exposure to election law and processes, I decided this was the career path for me. My first job in the election world was with the Kentucky Board of Elections to implement the National Voter Registration Act, which was an exciting time in the election field.
Christy, EAC: You have worked in elections in Kentucky and in Colorado and have contributed on the Federal level for many years. Please give me one or two pieces of advice that you would give with someone who is just starting out as an election administrator.
Sarah: Always approach the implementation of election law in a non-partisan manner. Your personal political beliefs have no place in the implementation, leave the partisanship to the politicians who enacted the law. My motto has always been, I follow the law regardless of which party it may or may not help.
Christy, EAC: You have been a long-time proponent of simple ballot design and voter education. Explain how these issues impact overall voter experience, what can be done to improve them and some of the obstacles election officials face in trying to improve those aspects of elections.
Sarah: Election laws and processes are often convoluted and not easy to follow for election administrators and more so for the voter. I always remind legislators and activists to remember the voter when they are proposing law changes, not just their own reasons for the change. Ballot design is often highly regulated by election law and often the main reason for a voter's confusion. For example, in Colorado, any tax-related question must be printed in all capital letters and limited to a certain word length. We all know reading in all capital letters is very difficult to read, much less understand it. Many jurisdictions require "votes of the people" on a wide variety of topics, which often leads to many long worded questions written to comply with the law and not a voter's ability to understand it. All of the above and more make it very difficult for election administrators to prepare websites, forms and education campaigns to aid the voter.
Christy, EAC: You have also noted that while many jurisdictions were quick to address election contingency planning in the post-9/11 world, many of these plans have not been evaluated over time. Tell me about some of the pitfalls associated with that approach.
Sarah: The Help America Vote Act (HAVA), implemented in 2003, required each election jurisdiction to develop election contingency plans. While I was in Kentucky, we worked closely with county clerks to develop what we all thought were great plans. As with any emergency plan, when you try to use it in real life, we soon realized our plan was too narrowly focused and missing vital elements. We had focused on the big catastrophes like a 9/11 and not enough on smaller, more common ones like power outages, flooding and fire evacuations.  Yearly evaluation of your emergency plans is necessary to make sure each jurisdiction has addressed the big catastrophes and also ones that are more common in the jurisdictions territory. You should involve not just election people, but law enforcement, National Guard and most importantly, your IT staff.  The recent focus on cyber-attacks has added even more emphasis on each jurisdiction having a detailed emergency plan for the state and local levels. Most importantly, emergency plans across the country now include chapters on voter registration database security and connectivity, voting machine security, polling place security and other areas not as extensively included in earlier versions. 
Christy, EAC: Colorado Springs experienced two devastating wildfires in June 2012 and July 2013. Could you briefly outline the outreach efforts your office conducted to ensure voters who lost their homes knew how they could cast a ballot?
Sarah: I had been in Colorado for two weeks when the 2012 Waldo Canyon fire began, and new to working in municipal government. One of the first things I did was to make sure the city team knew that the upcoming special and regular election meant we needed to make sure people knew about their voting options for our all mail-ballot elections. I worked closely with the city team to identify the addresses involved in the fire area and then, with the County Clerk and Recorder to identify the registered voters in those areas. Where appropriate, we included messaging on absentee ballots, how to update your voter registration and the replacement ballot process. The local media and relief agencies also aided us in getting the message out to those affected by the fires in 2012 and 2013. It was a true team effort by everyone!We at the EAC would like to thank Sarah for her insight. Keep checking our blog for conversations with "Women in Elections" throughout Women's History Month and help us celebrate these leaders in the election community.