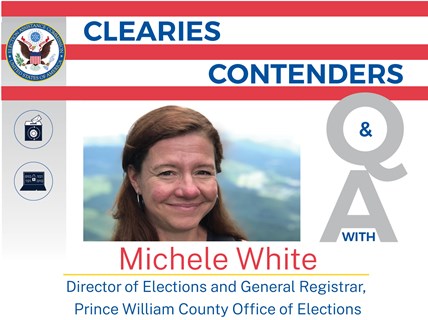 Sep 13, 2019
This week, the EAC launched the fourth annual Clearinghouse Awards, better known as the "Clearies." In conjunction with our call for submissions, during September and October, we are highlighting past Clearie entrants and awardees. Recently, I interviewed Michele White, Director of Elections and General Registrar for Virginia's Prince William County Office of Elections, regarding their 2018 Clearie submission.
The Prince William 2018 Clearie entry, "A Lesson on How to Lessen the Lines on Election Day," chronicled an effective program to decrease wait times at the polls by increasing voter awareness of absentee ballot options and voter registration. Started in 2016, the cost-effective and practical effort continues to assist Prince William County voters by advertising upcoming elections, voter registration requirements, and absentee ballot options. Below are my questions for Michele and her responses:    
EAC: Please tell us about Prince William County's Office of Elections program "A Lesson on How to Lessen the Line on Election Day."
Michele White: When we started preparing for the 2016 Election, one of the first things we did was to look back at everything that happened in 2012. The 2012 Presidential Election conducted in Prince William County (PWC) made national headlines for 3- to 4-hour wait times for voters. Compounding this problem, we also found equipment was faulty, checking people in at the Poll Book became problematic, and Elections Officers were on the verge of exhaustion.
Our program was a response to these voting conditions. After establishing the need to shift voters to Absentee Voting (early voting), we identified "myths" as to why voters were not utilizing Absentee Voting. Then PWC determined specific groups of voters to target and carefully crafted voter information messages. This resulted in a significant shift of voters from voting on Election Day to voting absentee ahead of Election Day, decreasing the number of people in line at precincts. We realized that by focusing on the voters themselves, we could improve their voting experience. By better educating and empowering voters to take responsibility over details like confirming their designated voting place and ensuring their registrations were up to date, we ensured that lines would still move quickly even if a lot of people came out to vote.
EAC: The program identified methods of outreach such as public ads, mailings, trading cards, and social media videos. Do you have any feedback on which of these were most effective?
Michele White: The most positive feedback we received was regarding the "Voter Information Guide." We created, for the first time in Prince William County, a small booklet that had everything a voter needed to know about the upcoming election. What and who was going to be on the ballot, how to use the State's citizen portal to check registration information, and a whole section dedicated to the conveniences of In-Person Absentee Voting. Once it was created, we mailed it out to everyone in the County.
We also developed trading cards that talked about different reasons to Absentee Vote and passed them around. The most interesting program we took on was a partnership with our local minor league baseball team. We ran promotions and conducted a mock election night complete with presidential candidate bobbleheads.
In order to meet voter's needs for information, we had to hire a team of temporary elections staff just to keep up with phone calls because people wanted to make sure their registration was correct as well as double check on their ballot.
EAC: The Lessening Lines on Election Day initiative has produced quantifiable results. Please share a few of these positive outcomes from the 2016 and 2018 elections.
Michele White: I think there are two pieces of data that convey what we accomplished in 2016. In 2012 there were 17,000 absentee voters. In 2016 there were 53,000 absentee voters. At the time, that meant 20% of our registered voters had already been taken care of. That 20% became a little less than a third of our overall turnout. The other number is the last recorded vote. At the 7pm close of polls in 2016, all but a small few precincts reported that they had no one in line. This represented a dramatic change from the 2012 election, wherein the last vote was recorded almost four hours after the polls closed.
After the 2016 Presidential Election, the nonprofit Virginia Public Access Project studied absentee data across all cities and counties in the state. The data visualizations completed by VPAP showed quantifiable positive results of Prince William County's voter messaging program.
EAC: This program was overwhelmingly successful in its goal of decreasing wait times on Election Day. Did you see other benefits from the program?
Michele White: I would say overall voters were much more prepared for the election. They seemed much more aware of what they should expect and I personally feel like voters were asking thoughtful questions about the overall process, which gave us a chance for further education. The ongoing effects of the 2016 effort were still apparent in our 2018 programs regarding Absentee voting. The overall percentage may not have been as high as in 2016, but more people are consistently taking advantage of it, which feeds back into trying to decrease the wait times on Election Day.
EAC: Virginia is currently preparing for the 2019 elections. What types of enhancements are you making to the program for November and beyond?
Michele White: Moving forward, we don't have plans to change much of anything. The Voter Information Guide seems to be our best method for educating voters and as mentioned before, voters really seem to enjoy it, along with the other outreach efforts.
The results of this program were empowering for PWC voters. We look forward to conducting the initiative in our upcoming 2019 November elections.
We would like to thank Michele and her team for their dedication and results-driven approach to innovative election administration solutions. You can see more information about their analysis and work at the following links:
As the Clearinghouse Awards start this month, we hope election offices, both small and large, will consider participating. You can learn more about the 2019 competition on the EAC's website.  
Please check back with us over the upcoming weeks for additional interviews as we celebrate the Clearies and the can-do spirit of election officials across America.