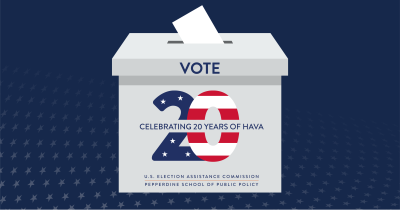 Part one of a four-part blog series honoring 20 years of the Help America Vote Act (HAVA)   
In honor of the 20th anniversary of the Help America Vote Act (HAVA), the U.S. Election Assistance Commission (EAC) partnered with Pepperdine University's School of Public Policy to host a special event, "HAVA At 20: Building Trust in Elections." This September, election officials and subject matter experts from across the country gathered in Southern California to discuss important issues ahead of the 2022 midterm election and reflect on the impact of HAVA.   
The historic legislation, which officially turns 20 on October 29, 2022, made sweeping reforms to the nation's voting process following the 2000 presidential election. HAVA also established the EAC to serve as a national clearinghouse for information on election administration as well as accredit testing laboratories, certify voting systems, and administer and audit HAVA grants.​ 
In part one of the four-part "Celebrating HAVA At 20" blog series, we provide key takeaways on building confidence in elections by identifying and addressing misinformation in elections.  
Ways to identify and address mis- and dis-information in elections  
A rise in mis-, mal-, and disinformation, as well as unfounded allegations of election irregularities, has increased public distrust in election administration. During the first panel, "Confidence in Elections," EAC Chairman Thomas Hicks moderated a conversation about this with Auburn University Professor Mitchell Brown, Claremont McKenna College's Andrew Sinclair, and Charles Stewart III, Founding Director, of the Massachusetts Institute of Technology Election Data and Science Lab.  
In Chairman Hicks's opening remarks, he laid out the importance of confronting this issue. "One of our many responsibilities as election officials is educating about the voting process and the safeguards in place to ensure the results are accurate. Now, more than ever, these processes of faith and the dedicated public assistants who run elections have come into question."  
The panelists examined how the rise in mis- and dis-information has developed. "The use of disinformation isn't new," said Professor Brown. "It has been around for about a century. What is new is its use in a social media environment that's characterized by incivility and the use of algorithms designed to engage people in content they react strongly to. This has magnified disinformation's impact as a weapon."    
One way to reduce misinformation, the panelists said, is making sure voters understand how elections are run at the local level. Professor Sinclair noted that becoming a poll worker is a great way to learn about the democratic process. He joined his fellow panelists in strongly encouraging students and the public to participate in the election process and said that having that experience will often build trust in elections.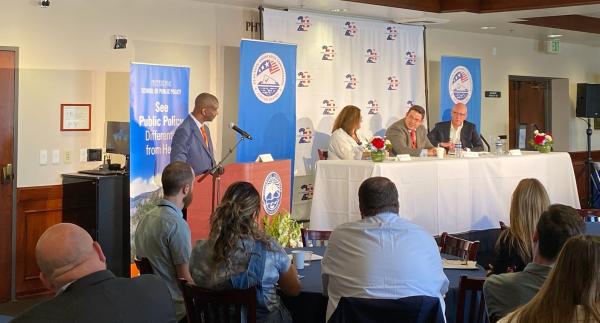 Caption: EAC Chairman Thomas Hicks moderates the "Confidence in Elections" panel (from left to right: Chairman Hicks, Mitchell Brown, Andrew Sinclair, and Charles Stewart III). 
Professor Brown commented that partnerships between government and civic organizations are also key based on her research at Auburn University. "Combating misinformation and disinformation is not something that we can expect election officials to do on their own or in isolation," said Professor Brown. "Our work suggests that what we really need is a whole society approach to combat this, where government works with other kinds of groups to address these problems… chief among them are political parties."  
They also discussed how the level of election funding and training can impact public trust and voter confidence. "There might not be a whole lot you can do to make people trust the election, but there are things you can do to make them distrust the election," said Professor Sinclair. "And the worse the administration, the more you're struggling with resources, the more likely it is that those sorts of things can happen."   
Professor Stewart noted that providing additional resources to election officials is especially important to meet the demands of today. "Things have gotten more complex," said Professor Stewart. "I do wonder about the ability of the system to meet the demands of the time, when we have so many small jurisdictions."  
The panelists stressed that putting the proper resources at the local and federal level is the most important way to maintain and improve trust in elections.  
Read the rest of the series: Security and Technology in Elections, Current Issues in Election Administration, and Future of Elections- HAVA 20 Years from Now. 
If you missed any part of this discussion, you can watch the event keynote address and all four panels on the EAC's YouTube channel.