Thursday, December 08, 2022

In this month's EAC newsletter, we're excited to feature: 
The EAC's November public hearing recap  

EAC Accredits First VSTL to Test Voting Systems to VVSG 2.0 

2022 EAVS Survey has been distributed to election officials; submissions due Feb. 1, 2023   
Upcoming EAC Events: December 14: Local Leadership Council Bylaws Meeting and January 26: the Technical Guidelines Development Committee (TGDC) annual meeting  

Clearinghouse Award (Clearies) Submission Period Opens in January 
NOVEMBER EAC PUBLIC HEARING  
Commissioners Accredit First VSTL to Test Voting Systems to VVSG 2.0 and Hear EAC Updates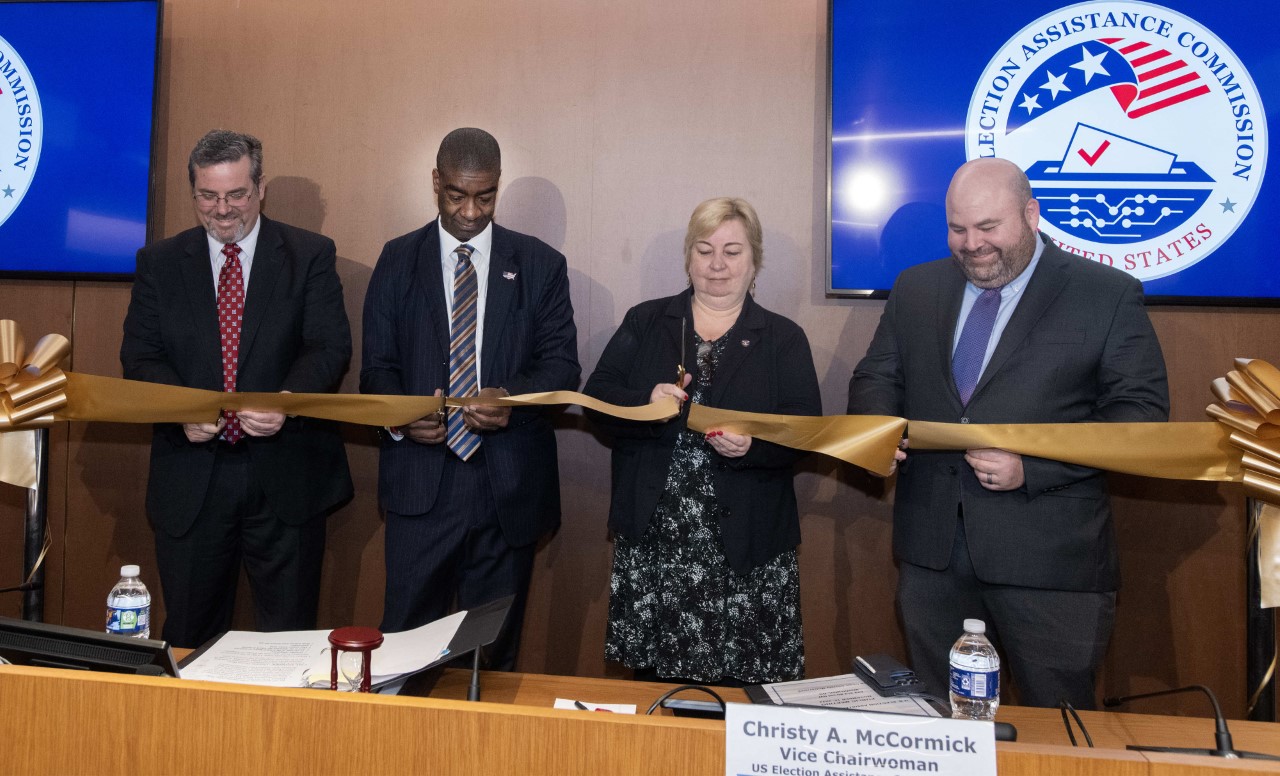 On Tuesday, November 15, the U.S. Election Assistance Commission (EAC) hosted an in-person public hearing in the agency's new hearing room. To kick off the meeting, which was also live streamed on YouTube, the Commissioners held a ribbon-cutting ceremony (in the photo above from left to right: Commissioner Donald Palmer, Chairman Thomas Hicks, Vice Chair Christy McCormick, and Commissioner Ben Hovland).  
During the meeting, the Commissioners heard an overview of agency activities from Interim Executive Director, Mark A. Robbins, and a presentation from the EAC Inspector General, Brianna Schletz, on EAC management challenges and recent audits.  
The Commissioners also unanimously voted to accredit the Voting System Testing Lab (VSTL) SLI Compliance to test voting systems to the Voluntary Voting System Guidelines (VVSG) 2.0.  This follows SLI Compliance's successful completion of independent assessments by both the EAC and National Institute of Standards and Technology's National Voluntary Laboratory Accreditation Program. 
Accreditation of a VSTL to test systems against VVSG 2.0 means the EAC is now prepared to accept applications to test and certify equipment to the new standard. Modifications to systems certified to VVSG 1.0 will continue to be accepted through November 15, 2023. After that point, VVSG 1.0 and 1.1 will be deprecated and only maintenance modifications will be accepted for systems certified to the deprecated standards. All voting systems submitted to the EAC going forward will undergo penetration testing.  
Initial Lessons Learned from the 2022 Midterm Elections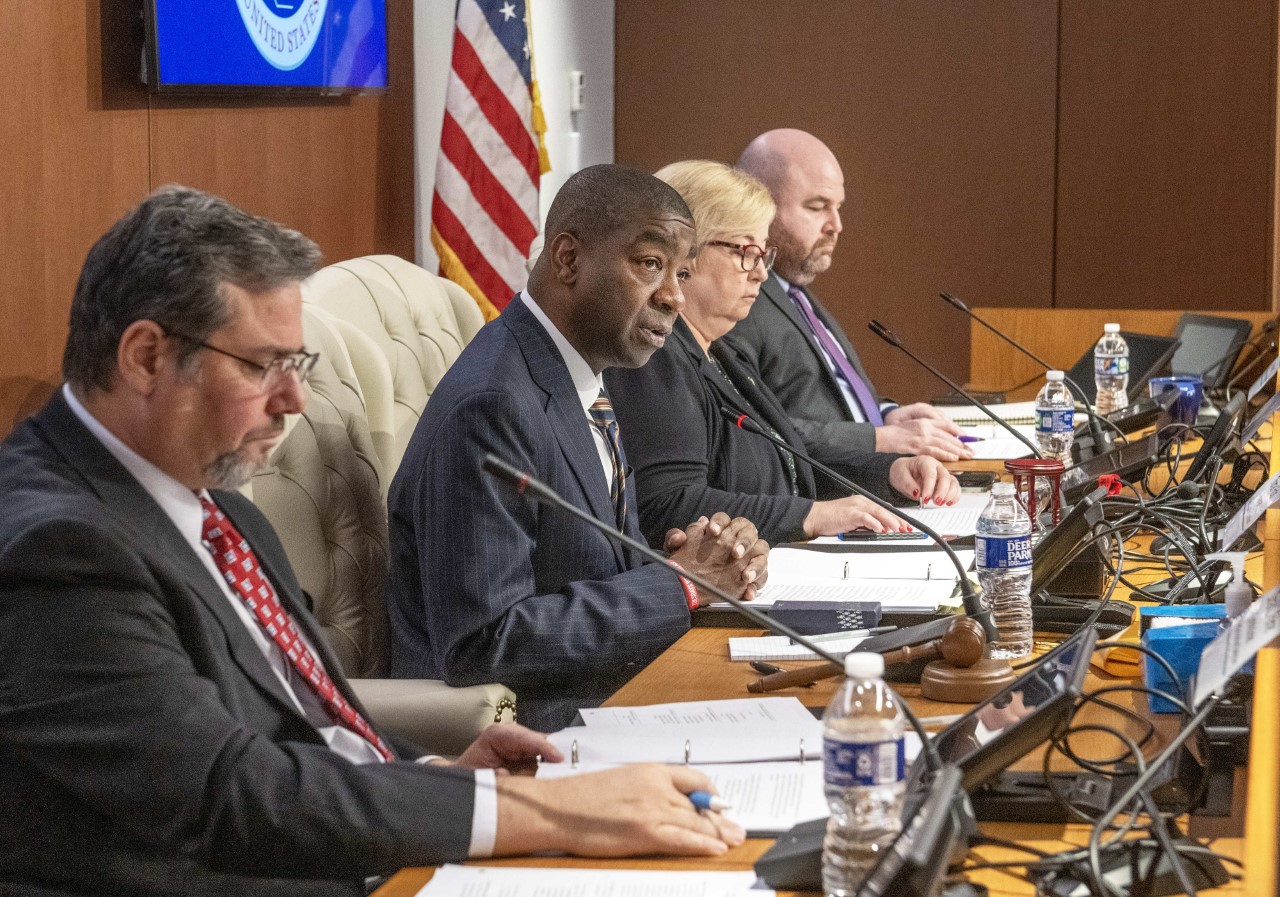 "As with any election there are incidents that require rapid response and the coordination of staff across jurisdictions. 2022 was no different and the resilience of our elections and security measures to safeguard our system stood strong. The increasing coordination between local, state and federal partners in recent years has contributed to that success, but the credit goes to the state and local election officials who were on the ground." 
-- Chairman Thomas Hicks 
During the EAC public hearing, representatives from the National Association of Secretaries of State (NASS), the National Association of State Election Directors (NASED), and the Election Center provided initial lessons learned from the 2022 midterm elections to the Commissioners.  Here are some of their key insights from one week after Election Day: 
"From a cybersecurity perspective, the election administration community and those that support us have come so far in the past five years. We progress with each election, adding cybersecurity protections and robust plans for resilience and response. Our elections are a target for bad actors, including nation-states, cybercriminals, and others. That is not going to change. Therefore, we must remain vigilant by improving our defenses and maintaining strong threat awareness." 
"As with every election, there were isolated administrative and technology issues on Election Day and during early voting. However, we had backups in place to protect vote casting and tabulation from being compromised on these prospective issues. I know in New Jersey a few counties activated their continuity of operations plans. These plans ensured our county election partners had plan B, plan C, and all the way on to plan Z to counter any incidents and challenges."  
-- The Honorable Tahesha Way, Secretary of State of New Jersey and NASS President  
"In terms of challenges that we have faced, false information about election administration continues to be one of the greatest problems facing our field. And unfortunately, it touches every single part of what we do, before, during, and after Election Day. I cannot responsibly talk about how things went on November 8th without talking about the outsized role that false information and addressing it proactively, responding to it through questions, and open records requests, and planning for its physical impact plays in the election ecosystem right now. The drain on resources at the state level is significant and I know from my local election officials in Wisconsin, where I serve proudly as chief election official, that it is an even bigger problem at the local level." 
-- Meagan Wolfe, Administrator of the Wisconsin Elections Commission and President of NASED  
"With each of these challenges, and each of these major shifts in our election administration processes, they (election officials) have met the challenge, they have exceeded the challenge, and they continue to confront all of these new things with professionalism and with a positive attitude." 
-- Tim Mattice, Executive Director for the National Association of Election Officials (Election Center) on election officials rising above the pandemic, adapting to new technology, and facing new threats. 
The entire November 15 public hearing is available to watch on the EAC's YouTube Channel.   
In advance of the 2022 general election, EAC Chairman Thomas Hicks, Vice Chair Christy McCormick, Commissioner Ben Hovland, and Commissioner Donald Palmer issued a joint statement in recognition and thanks for the hard work of election officials, their staff, and poll workers across the country who make elections possible.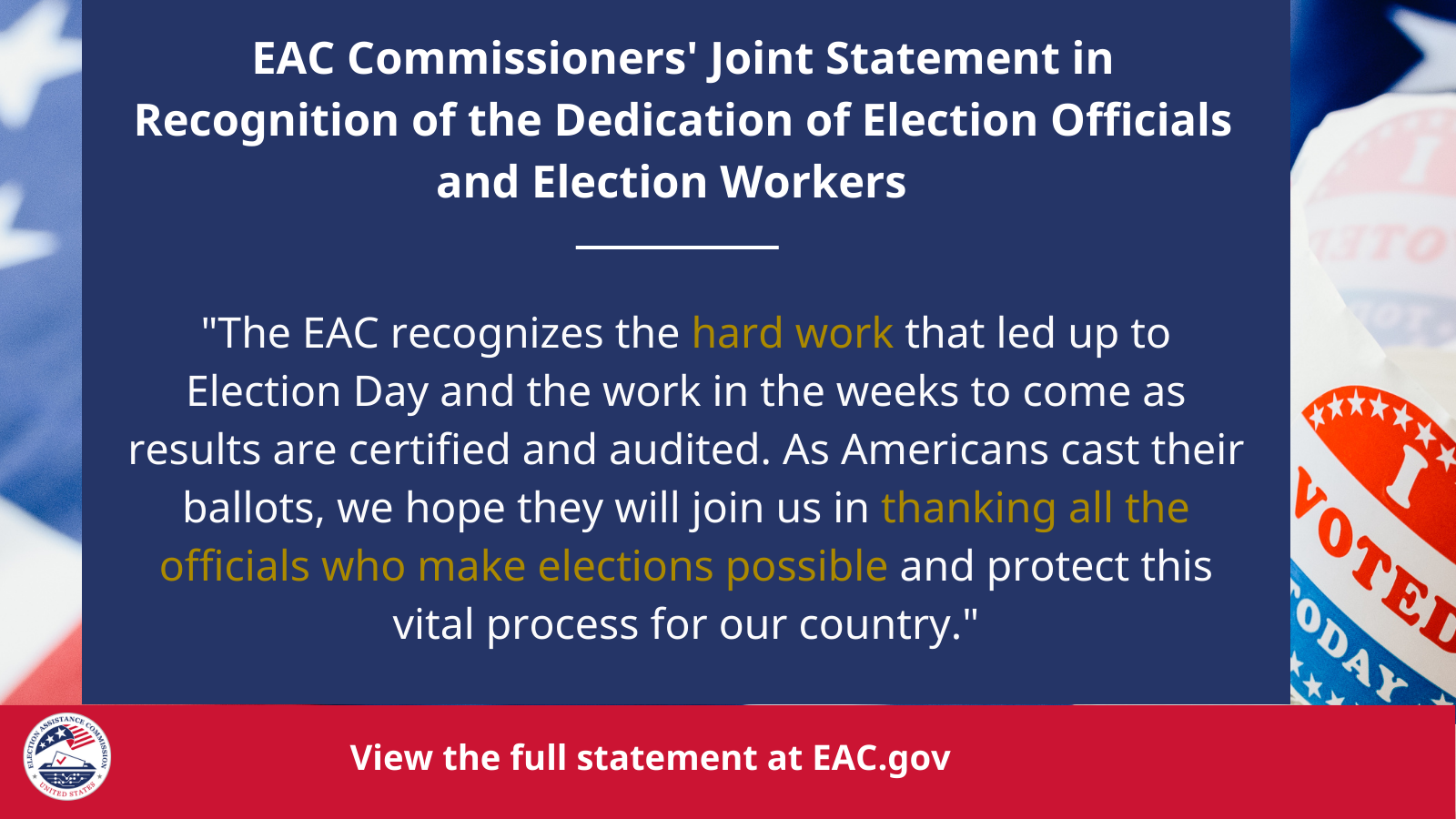 Read the full statement here 
Remember to submit the EAVS by Feb. 1, 2023 
The Election Administration and Voting Survey (EAVS) was sent to all states on November 14, 2022! The deadline for the first data submission is February 1, 2023, and EAC staff are available to assist election officials.  
Your contribution to the EAVS helps provide the nation's most comprehensive information related to election administration, registration, and voting, and includes national, state, and county-level data. This includes: 
Voter Registration  

Uniformed and Overseas Voters  
Early, Absentee, and Provisional Voting  

Voting Equipment Usage  

Poll Workers, Polling Places, and Precincts 
For assistance, please email [email protected] or call the EAVS helpdesk phone number: 800-889-7738.  
On-Demand Webinars to Guide You Through the 2022 EAVS 
Preparing for the 2022 EAVS – on the EAVS process and timeline and advice and resources to election officials. 
Working with Local Jurisdictions – for state or territory points of contact who will be working with local jurisdiction officials to collect data for the 2022 EAVS. 
New EAVS Points of Contact (POC) – for points of contact who are new to leading the EAVS in your state or territory. 
A Closer Look: 2022 EAVS – a six-part webinar series that covers how to fill out each section of the 2022 EAVS.  
SAVE THE DATE!   
Virtual LLC Bylaws Meeting on Dec. 14, 2022 
The EAC's Local Leadership Council (LLC) will host a virtual meeting on December 14, 2022, that will be live streamed on the EAC's YouTube Channel. During the meeting, the EAC's LLC members will examine the council's organizational structure, discuss the logistics of the LLC annual meeting, and consider the adoption of the initial committee Bylaws. Registration is not required. Learn more on the LLC meeting event page.   
Virtual TGDC Annual Public Meeting on Jan. 26, 2023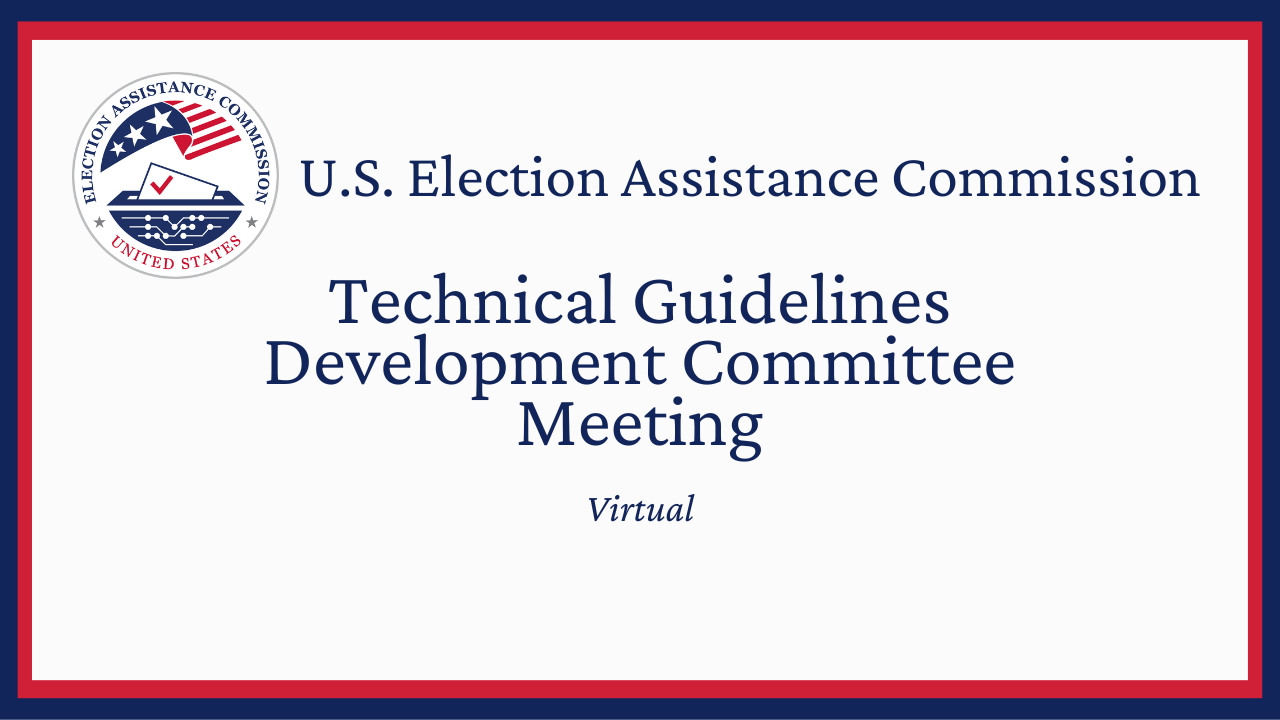 The EAC's Technical Guidelines Development Committee (TGDC) will hold its annual meeting on January 26, 2023. This meeting, which was previously scheduled for December 1, 2022, will be held virtually and live streamed on the EAC's YouTube Channel. Registration is not required.   
Learn more on the TGDC meeting event page, which will be updated with more information as it becomes available.
Clearinghouse Awards 2022 Submissions  
In January, the EAC will open the submission period for the 2022 National Clearinghouse Awards competition, also known as the Clearies. Now in its seventh year, this program celebrates the leadership, hard work, and enterprising spirit of election officials across the U.S.  
Throughout the 2022 primaries and general election, officials have worked diligently to address the challenges of an ever-evolving elections landscape, while also dealing with ongoing needs related to election security and accessibility. The 2022 Clearies will provide the opportunity to once again recognize the spirit and dedication of these outstanding public servants.  
Jurisdictions of all sizes are encouraged to submit their work. The entries will be judged based on innovation, sustainability, outreach, cost-effectiveness, replicability, and the generation of positive results. More information on the 2021 Clearies winners can be found here. 
Please send any questions you may have to [email protected], and stay tuned to the EAC's website and social media for details on how and when to submit your own innovative programs. 
EAC Resources 
Google PII Memo 
As has been experienced by some election officials and election workers, personal information, which is often part of the public record for such individuals, can be exploited and shared online for the purpose of intimidation and harassment. One option for election officials to remove URLs containing personal information is Google's expanded Personal Identifying Information (PII) Removal process. This EAC memo provides information about the program and how state and local election officials can learn more about this process.