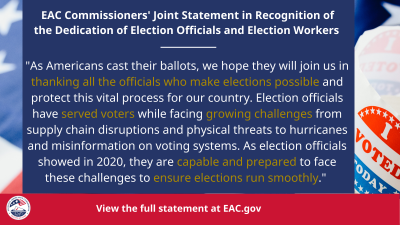 PRESS RELEASE 
November 7, 2022 
For Immediate Release 
Washington DC – Election Day is the last day of voting. With that in mind, the U.S. Election Assistance Commission (EAC) recognizes the hard work and dedication of officials and poll workers who make elections possible. EAC Chairman Thomas Hicks, Vice Chair Christy McCormick, Commissioner Ben Hovland, and Commissioner Donald Palmer issued the following joint statement: 
During the time leading up to the general election, and throughout the primaries, and local elections in 2022, election officials and their staff, as well as poll workers, have served the American people and helped voters cast their ballots. The EAC recognizes the hard work that led up to Election Day and the work in the weeks to come as results are certified and audited. As Americans cast their ballots, we hope they will join us in thanking all the officials who make elections possible and protect this vital process for our country. 
Election officials have served voters while facing growing challenges from supply chain disruptions and physical threats to hurricanes and misinformation on voting systems. As election officials showed in 2020, they are capable and prepared to face these challenges to ensure elections run smoothly. 
These public servants are dedicated not only to the job they are charged with but also to the millions of voters they serve. Whether they are an election official who works year-round or a poll worker who staffs a voting location just on Election Day, there is no job that is too small when it comes to making elections safe, secure, accurate, and accessible.