Monday, June 12, 2023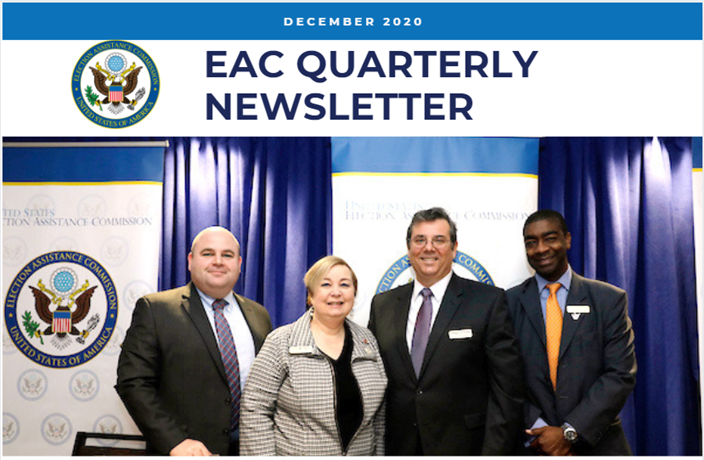 2020 ELECTIONS LESSONS LEARNED
As 2020 comes to an end, and we get ready for 2021, the EAC would like to thank all of you for your hard work and dedication during these challenging times. As we move into the new year, we want to hear from election officials!
During the 2020 elections, officials overcame significant challenges. The EAC is compiling lessons learned from the 2020 elections. If you would like to share information on what went well and what challenges you faced, and other improvements and solutions from the 2020 election please email the EAC at [email protected].
You can read our most recent statement How the United States Election Assistance Commission Facilitates Fair and Secure Elections here.
Make sure that you never miss an update by signing up for the EAC Quarterly Newsletter. Email Rebecca at [email protected] to be added to the mailing list.
DID YOU KNOW?
During summer 2020, EAC partnered with the Center for Tech and Civic Life (CTCL) to offer no-cost online cybersecurity training for election officials and staff. Take advantage of this opportunity before it expires at the end of May 2021!
WE HAVE MOVED!
U.S. Election Assistance Commission
633 3rd Street NW, Suite 200
Washington, DC 20001
RESEARCH UPDATES
ELECTION ADMINISTRATION AND VOTING SURVEY (EAVS)
The EAC publishes biennial Election Administration and Voting Survey (EAVS) Comprehensive Reports, which feature key election administration data findings from all 50 U.S. states, the District of Columbia, and U.S. territories. On August 10, 2020, the EAC released an updated policy guide for EAVS detailing the process and timeline for state data submissions as well as other important information. The 2020 EAVS launched on November 9, 2020. State and local EAVS respondents have until February 1, 2021 to submit their first round of data. Respondents can find videos, newsletters, and other resources to assist in their EAVS submissions by checking out the EAVS Portal Resources page here.
VOTE BY MAIL TURNOUT TRENDS
In October 2020, the EAC published a blog that explains vote by mail and turnout trends for general elections from 2008 through 2018. The blog is can be reviewed here. The research department can be contacted at [email protected].
WORKING WITH RUTGERS & MIT
In an upcoming partnership with MIT's Election Data and Science Lab (MEDSL), the EAC will also study the overall impact of the 2020 general election on election administration. The study will be geared toward assessing innovative ways election officials managed COVID-19, as well as identifying any lessons learned for future application.
The EAC is also working with a team from Rutgers University to survey voters with disabilities about their experiences during the 2020 election season. The survey focuses on three areas: assessing poll worker assistance for voters with disabilities, current and future voting technological accessibility solutions - including security concerns, and accessible mail and absentee voting alternatives such as electronic ballot delivery and marking. Results from the survey should be available in early February.
THE CYBER ACCESS AND SECURITY PROGRAM
The EAC's Cyber Access and Security Program provides access to security training, best practices, expertise, and other assistance for election officials tasked with protecting critical election infrastructure. The program collaborates with public and private security experts to ensure that election officials have the most up-to-date and best in class information available through the EAC's Clearinghouse.

The CAS program offers training, webinars, and white papers on cyber risk and crisis management, and is hosting the CISA-developed election security risk profile tool. Finally, the program worked with CISA, FBI, and NIST to create the first of its kind risk assessment of remote voting technologies. These materials and more are available here.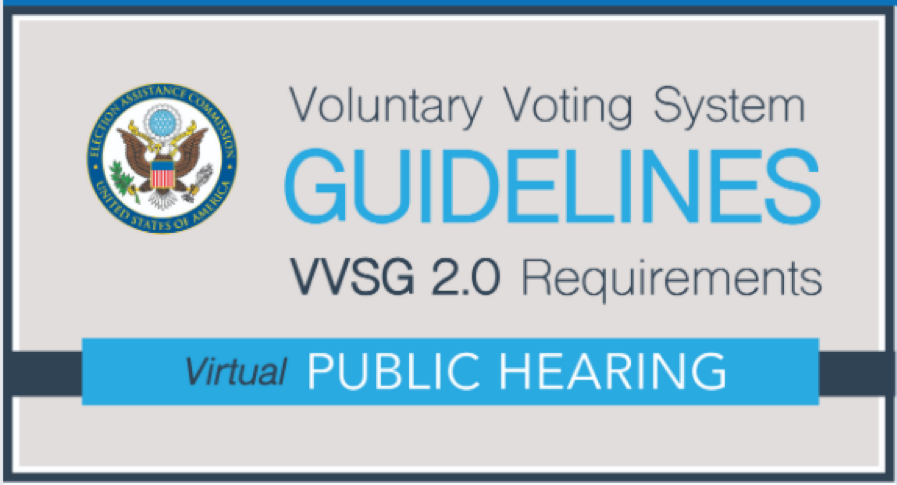 TESTING AND CERTIFICATION
VVSG 2.0 
EAC staff collaborated with the NIST Voting Systems Program to
review and address public comments for the VVSG 2.0 Requirements throughout the summer and fall. EAC staff has also drafted test assertions for many of the requirements. Currently, EAC staff is reviewing the revised requirements, reviewing and revising the Testing and Certification and Voting System Test Laboratories Program Manuals, and drafting a VVSG 2.0 implementation policy.
VOTING SYSTEM ANOMALY REPORTING 
Voting system anomaly reporting is an important pillar of the
EAC's Testing and Certification program. These reports help the EAC identify areas for improvement within our program, improve manufacturing quality, share information among jurisdictions who use similar systems, and increase voter confidence in the technology they use to cast their ballots. In some cases, information provided by you may also initiate an investigation of a voting system or voting system manufacturer that may warrant suspension or de-certification. The EAC's Testing and Certification program relies on field reporting as a critical measure of its success. For more information, go to: https://www.eac.gov/voting-system-anomaly-reporting-january-28-2020
OCIO UPDATE
SOLARWINDS ORION UPDATE
The EAC is not directly affected by the Solarwinds Orion compromise as we do not run this software and we continue to closely monitor activity on our network for signs of malicious activity related to the compromise. Additionally, the EAC has reached out to its accredited laboratories and registered voting system manufacturers for information on whether or not their systems were exposed to the compromise. To date, the information we have received indicates that our laboratories and registered manufacturers were not affected. The EAC will continue to monitor the situation and work with our partners to ensure that the agency, its laboratories, and registered manufacturers have the most up-to-date information and mitigations for this activity.
GRANTS AND FUNDING
As election officials worked through the certification of their election results, they also submitted required reporting on how the CARES Act funds for coronavirus response were spent. We appreciate everyone's hard work submitting these reports during such a busy time. The reports can be found here.  
HAVA Security Grant reports are due December 29th and are usually reviewed and made available by middle of February. They will be posted here when available.
CARES ACT GRANTS
CARES Act Funding Webinar on April 9, 2020 
The CARES Act of 2020: Meeting the Match 
Interview 1: Considerations for CARES Act Grant Funding Use (Alabama and Florida) 
Interview 2: Consideration for CARES Act Grant Funding Use for elections in this COVID environment (Pennsylvania and Kentucky) 
Interview 3: Considerations for CARES Act Grant Funding Use at the Local Level (Missouri and Iowa) 
Interview 4: Considerations for CARES Act Funding (Louisiana and Connecticut)

2020 CLEARIE AWARDS
The EAC is accepting submissions for the 5th annual National Clearinghouse Awards. The Clearinghouse Awards, known as the "Clearies," honor the enterprising spirit and hard work of election officials across the country. It's easy to enter and a great way to celebrate the accomplishments of state and local election offices. Information on how to enter is available on the Clearie webpage.
All sizes of jurisdictions are encouraged to submit their work. If you have an achievement to celebrate, or know of an achievement that deserves recognition, we want to hear from you. 
The 2020 Clearie award categories are:      
Improving Accessibility for Voters with Disabilities;
Outstanding Innovations in Elections;
Best Practices in Recruiting, Retaining. and Training Poll Workers;
Creative and Original "I Voted" Stickers; and
Outstanding Innovation in Election Cybersecurity and Technology.
The deadline for entries is January 22, 2021. Contact Patrick Leahy at [email protected] with questions.
NATIONAL POLL WORKER RECRUITMENT DAY
September 1, 2020 marked the first National Poll Worker Recruitment Day. The EAC established this day to help election administrators respond to poll worker shortages due to the coronavirus pandemic. The day was a huge success and received bipartisan support including 37 state election offices sharing information. The EAC's HelpAmericaVote.gov provided poll worker recruitment information and a lookup tool potential poll workers can utilize to sign up to work in their area.
VOTE.GOV
The EAC expanded their partnership with GSA to improve the usability of and information on vote.gov this year. Voter registration deadlines for in-person, online, and by mail were all checked and updated regularly to ensure that the website reflected the most accurate information as deadlines changed due to COVID-19, litigation, or other issues. The vote.gov team also worked to add COVID-19 information to each state or territory page so users could get accurate information for precautions or changes to Election Day in their specific state or territory.
CORONAVIRUS RESOURCES
The EAC is committed to assisting election officials administer safe elections as the pandemic continues. Our COVID-19 election preparedness resources are still available online.
---
Additional Links