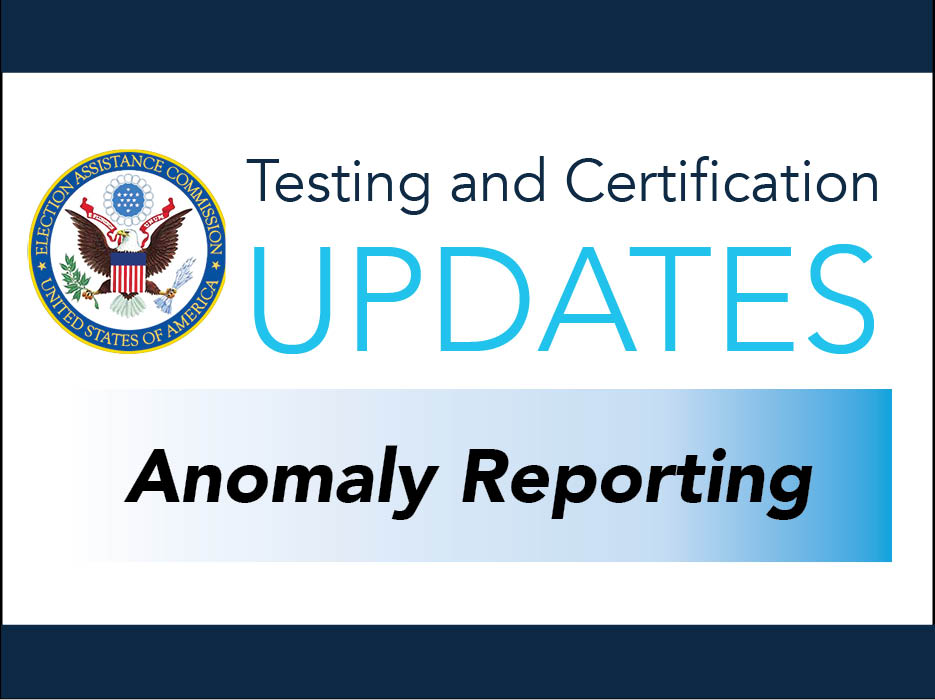 Jan 28, 2020
With the 2020 election year kicking in to full swing, I thought it was a great time to remind everyone of an important pillar of the EAC's Testing and Certification program – voting system anomaly reporting. These reports help the EAC identify areas for improvement within our program, improve manufacturing quality, share information among jurisdictions who use similar systems, and increase voter confidence in the technology they use to cast their ballots. In some cases, information provided by you may also initiate an investigation of a voting system or voting system manufacturer that may warrant suspension or decertification. The EAC's Testing and Certification program relies on field reporting as a critical measure of its success.
What is a voting system anomaly?
The EAC defines a voting system anomaly as: "an irregular or inconsistent action or response from the voting system, or system component, which has resulted in the system or component not functioning as intended or expected." While we encourage the reporting of all anomalies, it is important to point out that user error or procedural deficiencies are not considered by the EAC when reviewing submitted reports.
Who should report an anomaly?
Voting system anomaly reports should be submitted by state or local election officials who have experienced the anomaly in their jurisdiction. In order to provide the most accurate information, the reporter should have firsthand knowledge of or an official responsibility over the anomaly being reported.
Voting system manufacturers are also responsible for reporting any anomaly of an EAC-certified voting system within 30 business days of occurrence during or in preparation for a Federal election. Voting system manufacturers must determine the root cause of the reported anomaly, develop a permanent fix, and submit the final report to the EAC's Testing and Certification Program Director.  
How should reports be submitted?
The EAC provides an anomaly reporting form on its website at https://www.eac.gov/sites/default/files/TestingCertification/Voting_System_Anomaly_Reporting_Form.EAC_003C.pdf
This form or any correspondence containing information contained in the form (contact info, date/time of observation, voting system details) can be sent directly to the voting system Testing and Certification Director, Jerome Lovato (jlovato@eac.gov), or via mail to:
U.S. Election Assistance Commission
ATTN: Director, Testing and Certification
1335 East-West Highway, Suite 4300
Silver Spring, MD 20910