Thursday, June 09, 2022

Newsletter Highlights 
New EAC resources for election officials on mitigating supply chain challenges, election official security, and post-voting processes 

VVSG Lifecycle Policy Adopted  

Women's History Month 2022 interview series featuring discussions with EAC Commissioners and state and local women in elections.  
Report on Native American Voting Rights 
EAC Events 
The EAC approves VVSG Lifecycle Policy - The EAC Commissioners adopted the VVSG Lifecycle Policy during a public meeting held on April 5. The meeting included a presentation on updates to the VVSG 2.0 implementation and Lifecycle Policy from EAC Testing and Certification Program Director Jon Panek. This new policy will help facilitate migration to new VVSG standards by providing guidance and timelines. A recording of this meeting is available on the EAC's YouTube Channel. 
Standards Board 2022 Annual Meeting – The annual meeting of the EAC Standards Board was held on April 14. Members heard presentations on EAC agency and program updates, the Voluntary Voting System Guidelines (VVSG) 2.0 implementation, the next steps for the EAC's electronic poll book pilot program, a panel discussion on mitigating supply chain issues that affect the 2022 midterm elections, a presentation on voter registration system security, and conducting regular board business. A recording of this meeting is available on the EAC's YouTube Channel. 
New EAC Resources 
Communicating Election and Post-Voting Processes Toolkit- This toolkit is to help election officials create educational materials about pre- and post-voting processes, intended for the public audience. It includes templates for sharing trusted information, combatting mis/disinformation, providing information to news media, and providing information to political parties about the post-voting process.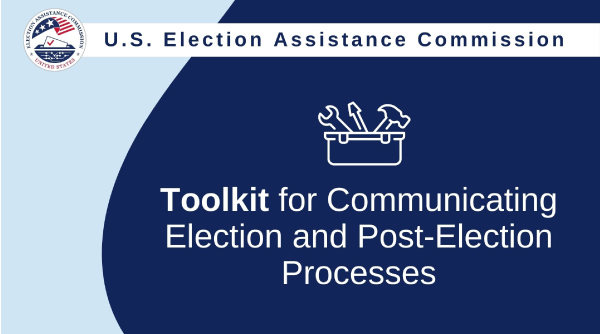 Introduction to the End To End (E2E) Protocol Evaluation Process- This webpage describes the scope, properties, and evaluation criteria for the process of soliciting, evaluating, and approving protocols used in end-to-end cryptographically verifiable voting systems to conform to the recently revised Voluntary Voting System Guidelines 2.0. Email e2einfo@eac.gov with questions on the E2E protocol evaluation process. 
Security Resources for Election Officials- Two additional documents were added to the EAC's compilation of resources on election official security. The Byrne JAG Memo and the Personal Security for Election Officials Toolkit provide guidance and steps toward protection and safety for threats faced by election officials. This includes documenting threats, contacting law enforcement, and information on federal grant funding used to protect election officials.  
Supply Chain Considerations for Election Officials- These materials address paper supply chain issues and how to identify, assess, prevent, and mitigate the impact of these challenges faced by election officials. This page includes the Election Official Alert: Paper Supply Chain Risk Management resource, 2022 Supply Chain Challenges and Mitigation Strategies for Election Officials interview with Commissioner Donald Palmer and Jeff Ellison from Runbeck Election Services, a recording of the recent Committee on House Administration Republicans' Roundtable on Ballot Paper Shortage that Commissioner Christy McCormick participated in, and the Ballot Paper Supply Chain Risk Management (BP-SCRM) Subsector Coordinating Council (SCC) report.  
Report Of The Interagency Steering Group On Native American Voting Rights - This report from the White House references some EAC resources released last year including:  
Women's History Month 2022 – Women across the country are election officials at the state and local levels. To recognize their leadership and contributions in this field, the EAC Commissioners recorded a series of interviews asking about their service to the voters in their communities and advice they have for other women entering the field. Featured in this series are Alice Miller from the DC Board of Elections, Clerk Ellen Craig-Bragg from Romulus Michigan, Clerk Cathy Allen Darling from Shasta County, California, Oregon Secretary of State Shemia Fagan, West Virginia Director of Elections Brittany Westfall, Pennsylvania Acting Secretary of the Commonwealth Leigh Chapman, and Virginia Secretary of the Commonwealth Kay Coles James. 
Vice Chair Christy McCormick also posted a blog about the fight for women's voting rights. She discussed the history and importance of people and events to the effort from 1848 to the present day, including the beginning of the suffrage movement and the 19th Amendment. Women in Elections: The EAC Celebrates Women's History Month.