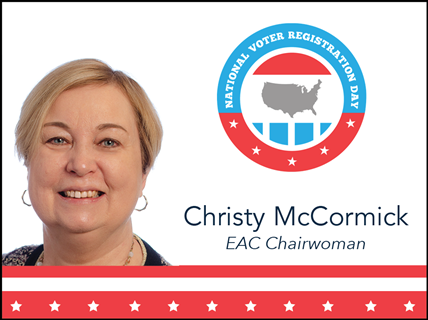 Sep 03, 2019
Registering to vote is much more than a bureaucratic formality. It's a promise to participate in shaping our representative democracy by casting your ballot. And, it's this sacred privilege of voting that makes National Voter Registration Day such an important event. It's a time when Americans from all walks of life come together to encourage more citizens to take the first official step toward exercising one of their most important civic duties.
According to the EAC's 2018 Election Administration and Voter Survey (EAVS), more than 211 million people were reported as registered and eligible to vote in the 2018 Midterm Election, an increase of 11 percent over the 2014 Midterm Elections. Nearly 80 million voter registration applications were received between the 2016 and 2018 Federal Elections, mostly through Departments of Motor Vehicles (DMVs). In fact, DMVs accounted for 45 percent of registrations, an increase of 33 percent over 2014.
I am heartened by the EAVS statistics that show so many Americans choosing to take the important step of registering to vote. But in 2018, just over half of those registered and eligible to cast their ballot did so. And while that is more than 120 million Americans who voted, 15.5 percentage points higher than in 2014 Midterm Election, I am hopeful we will see that number rise even higher in 2020.
National Voter Registration Day is just one important step in your 2020 #PlantoVote. I encourage you to register for the first time or to verify your existing registration as we mark National Voter Registration Day this month. You can do so on our website, www.eac.gov. Then, I hope you'll think about the promise you've made and take steps to participate in the 2020 Presidential Election. For example, take a moment to moment to mark important election dates and deadlines in your calendar. Spend time learning about the candidates and issues that will be on the ballot, go to your local election office to observe pre-election testing of voting machines, or to volunteer to be an election worker. Last, but certainly not least, plan to cast your ballot and vote in person or by mail.
The sacred right to vote and participate in shaping our government starts with voter registration. But, don't let it end there. Keep your promise and cast your ballot.