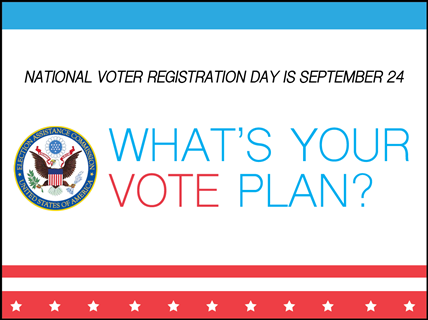 Aug 28, 2019
September 24, 2019 will mark the seventh annual National Voter Registration Day and, as an official partner in this effort, the EAC will spend the coming weeks helping you plan to vote in 2020!
Through its blogs and social media platforms, the EAC will provide resources (and reasons!) for Americans to participate in this annual event. Whether you're registering to vote for the first time or taking time to verify that your voter registration is up-to-date ahead of next year's Presidential election, the EAC will point you in the right direction. We also hope you'll engage us on Twitter and Facebook to let us know what questions you have and how we can assist you.
In the meantime, here are some initial resources to get you started:
Visit our Register and Vote in Your State webpage to get information about how to register to vote in your state, check your registration, or find information about upcoming elections and deadlines.  
Check out the official National Voter Registration Day website to learn more about upcoming events and activities planned to commemorate this year's campaign, as well as a phone hotline and online portal to answer specific voter registration questions.
As the nation's only federal agency focused solely on election administration, the EAC is a proud to support National Voter Registration Day. We look forward to sharing more information in the coming weeks. Stay tuned!