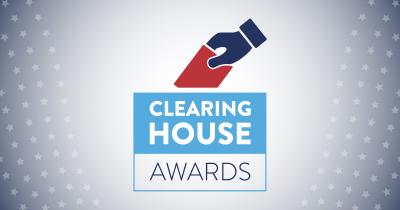 WASHINGTON, D.C. – On Tuesday, January 17, the U.S. Election Assistance Commission (EAC) opened the call for submissions for its seventh annual national Clearinghouse Awards. Also known as the "Clearies," the awards program celebrates the hard work of election offices across the country. Submissions will be judged on innovation, sustainability, outreach, cost-effectiveness, replicability, and the generation of positive results. Entries must be received by Tuesday, February 28, 2023. The 2022 Clearies honorees will be announced in spring 2023.
The Clearies and the efforts they celebrate play an essential role in fulfilling the EAC's mission to serve as a clearinghouse for election administration information under the Help America Vote Act. For this year's effort, EAC Commissioners would like to call upon election officials to consider entering any deserving program, no matter the size of the jurisdiction or the project's scope.  Submission guidelines are available at eac.gov/clearies. All entries and supporting materials should be uploaded through the EAC's online submission form.
EAC Chairman Thomas Hicks, Vice Chair Christy McCormick, Commissioner Ben Hovland, and Commissioner Donald Palmer issued the following joint statement: "Over the past year, election officials and their staff have continued to meet the challenges of an ever-evolving elections landscape, and the 2022 midterms were successful because of those efforts. We recognize the commitment needed to address vital security concerns, growing accessibility needs, and more. The Clearies encourage innovations in election administration to meet these needs while publicizing the achievements of election offices and building on the positive results of past competitions."
From a 2022 pilot effort to an initiative running for years, the Clearies seek to recognize excellence in all forms. Any program used in an election can be submitted for consideration. To highlight their crucial contributions, the EAC is also expanding the state association program category to include local offices.
The 2022 Clearies award categories are:
Outstanding Use of HAVA Grants in Elections Modernization, 

Updated!

Outstanding Election Official State Association Program or Local Office,

Outstanding Innovation in Election Cybersecurity and Technology, 

Improving Accessibility for Voters with Disabilities,

Outstanding Innovations in Elections, 

Best Practices in Recruiting, Retaining, and Training Poll Workers, and

Creative and Original "I Voted" Stickers.  
More information on the 2021 Clearies winners can be found at eac.gov/clearies. Please send any questions to the EAC at [email protected].
###
The U.S. Election Assistance Commission (EAC) was established by the Help America Vote Act of 2002 (HAVA). It is an independent, bipartisan commission charged with ensuring secure, accurate, and accessible elections by developing guidance to meet HAVA requirements, adopting voluntary voting system guidelines, and serving as a national clearinghouse of information on election administration. The EAC also accredits testing laboratories and certifies voting systems, as well as administers the use of HAVA funds. For more information, visit www.eac.gov.