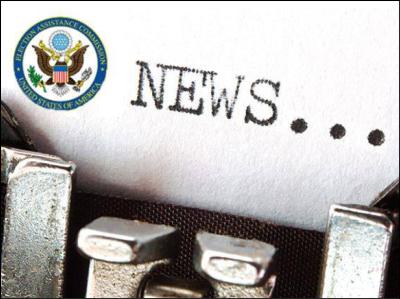 PRESS RELEASE
June 10, 2020
Silver Spring, MD – Today, the U.S. Election Assistance Commission (EAC) announced appointments for Mona Harrington as Executive Director and Kevin Rayburn as General Counsel. The EAC Commissioners unanimously voted to approve the appointments for both positions via tally vote.
"This unanimous vote of the Commission shows the confidence we have in these great candidates to lead the EAC into its next chapter," said Chairman Ben Hovland. "Ensuring elections are secure, accessible, accurate and safe is critical for every election, and 2020 has presented unique challenges. With Ms. Harrington and Mr. Rayburn leading our staff, the EAC is better positioned to add value to the elections community and help election officials in the lead up to November and for years to come."
Ms. Harrington was named Acting Executive Director of the EAC in October 2019. During this time, she strategically reorganized the agency and directed a significant hiring initiative to recruit talent and fill numerous key personnel positions. She has also directed the distribution of over $425 million in security grant funds and $400 million in CARES Act COVID-19 response funds to the states. Recently, Ms. Harrington assembled a new cyber-team to assist EAC stakeholders leading up to the 2020 election, and she directed an immediate response to COVID-19, providing online resources to election officials as they prepared to administer elections during the pandemic. Ms. Harrington directed numerous events addressing election administration topics such as accessibility, security, and the Voluntary Voting System Guidelines. Prior to her Acting Executive Director role, Ms. Harrington served as the Chief Information and Security Officer at the EAC, beginning in 2018. While in that role, she was credited with modernizing the network and improving the EAC security posture of IT systems and infrastructure, as well as coordinating and leading multiple parallel initiatives to modernize and secure systems.
"Ms. Harrington has led the expansion and reorganization of the EAC, and we have been impressed with the additions to our staff and expanded programing she achieved in a very short time. In addition to the traditional responsibilities of the Executive Director, Ms. Harrington directed the internal and external agency response to COVID-19, while advancing the mission of the agency. What she has accomplished over these past months, paired with 18 years of federal government experience and expertise in cybersecurity and IT made her an ideal candidate to continue in this role and guide the agency in the coming years," said EAC Vice Chair Donald Palmer.
"I'm honored to accept the role of Executive Director at the EAC and I appreciate the confidence the Commissioners have placed in me. I look forward to serving the Commission and providing the best service to our stakeholders. I often say the EAC is small but mighty, and I'm proud to lead our staff as we continue to grow," said EAC Executive Director Mona Harrington.
Mr. Rayburn brings a decade of experience as an attorney in various capacities in the public and private sectors. Most recently, he served as the Deputy Elections Director and Deputy General Counsel for the Georgia Secretary of State's Office, where he provided guidance to state and local election officials on election administration and law, ensured compliance with state sunshine laws, helped reform the state's election code and regulations, and was an integral part in modernizing the state's voting equipment. He also collaborated with national experts to implement post-election audits in Georgia. In his previous role, Mr. Rayburn also served as an advisor to the EAC EAVS working group, the Bipartisan Policy Center Task Force on Counting Votes, the Center for Election Innovation and Research, and the MIT Election Data and Science Lab.
"Mr. Rayburn's background in elections at the state level and his extensive legal expertise will be a huge asset for the EAC," said EAC Vice Chair Donald Palmer. "We are confident that Mr. Rayburn will be a great addition to the team and have an immediate impact."
Ms. Harrington's appointment as Executive Director and Mr. Rayburn's appointment as General Counsel are effective as of June 3, 2020.
Full bios will be available for Mona Harrington and Kevin Rayburn on the EAC's website.
# # #
The U.S. Election Assistance Commission (EAC) was established by the Help America Vote Act of 2002 (HAVA). It is an independent, bipartisan commission charged with ensuring secure, accurate and accessible elections by developing guidance to meet HAVA requirements, adopting voluntary voting system guidelines, and serving as a national clearinghouse of information on election administration. EAC also accredits testing laboratories and certifies voting systems, as well as administers the use of HAVA funds. For more information, visit www.eac.gov.