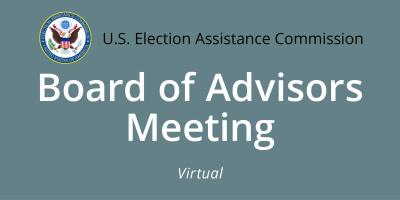 Start Time
Wednesday, January 13, 2021 2:00 PM
End Time
Wednesday, January 13, 2021 3:00 PM
The Board of Advisors quarterly meeting was open to the public and livestreamed on the U.S. Election Assistance Commission YouTube Channel: https://www.youtube.com/channel/UCpN6i0g2rlF4ITWhwvBwwZw
FOR FURTHER INFORMATION CONTACT:
Phillip Olaya, Telephone: (202) 336-3980, Email: [email protected].
SUPPLEMENTARY INFORMATION:
Purpose: In accordance with the Federal Advisory Committee Act (FACA), Public Law 92-463, as amended (5 U.S.C. Appendix 2), the U.S. Election Assistance Commission (EAC) Board of Advisors conducted a virtual meeting to discuss current EAC activities.
Agenda:  The Board of Advisors (BOA) received updates of EAC activities and Annual Meeting and BOA Committee/Sub-Committee Updates. The Board of Advisors discussed the next Quarterly BOA Conference Call.
Event Documents
Tags