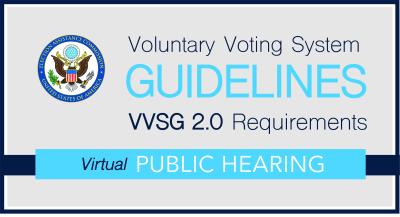 Start Time
Friday, March 27, 2020 10:00 AM
End Time
Friday, March 27, 2020 12:00 PM
Commissioners held a hearing to discuss the proposed Voluntary Voting System Guidelines (VVSG) 2.0 Requirements as submitted by the Technical Guidelines Development Committee (TGDC). The VVSG 2.0 Requirements are currently published for a 90-day public comment period. Commissioners heard from a panel of experts who provided an introduction to the VVSG process as well a high-level overview of the proposed VVSG 2.0 requirements. Commissioners also heard from members of the public who wished to offer verbal testimony on the VVSG 2.0 requirements. 
The TGDC unanimously approved to recommend VVSG 2.0 Requirements on February 7, 2020, and sent the Requirements to the EAC Acting Executive Director via the Director of the National Institute of Standards and Technology (NIST), in the capacity of the Chair of the TGDC on March 9, 2020. Upon adoption, the VVSG 2.0 would become the fifth iteration of national level voting system standards. The Federal Election Commission published the first two sets of federal standards in 1990 and 2002. The EAC then adopted Version 1.0 of the VVSG on December 13, 2005. In an effort to update and improve version 1.0 of the VVSG, on March 31, 2015, the EAC commissioners unanimously approved VVSG 1.1.
---
The latest version of the draft VVSG 2.0 Requirements, as recommended to the EAC by the Technical Guidelines Development Committee, is available on the EAC website here.
Event Documents
Tags