Wednesday, May 25, 2022

Have you ever wondered what happens to your ballot after you get your I Voted Sticker? After the polls close, ballots and electronic vote records are securely transferred to the elections office. Election officials make election results public as quickly as possible. However, even when those results say "100% Precincts Reporting," they are still unofficial. 
The process of reporting, canvassing, and certifying election results takes a great deal of work. This page contains information about how election results change from unofficial to official as well as best practices and resources to help election officials communicate this essential process to voters. While detailed information about post-election audit processes is not included here, more information about audits can be found in the EAC report Election Audits Across the United States.  
Additionally, election officials can use the Communicating Election and Post-Election Processes Toolkit to create educational materials about pre- and post-election processes that observers and the public can understand. Election officials in any size jurisdiction can adapt this toolkit to fit their observer and voter education needs.

The election results reported on election night are never the final, certified results. Election officials well know there are various other steps and factors that impact when election results are final. Communicating that information with the public can be a challenge. Voters look to election officials for trusted information about election results. How election officials display election results can play a key role in facilitating public confidence in election outcomes.   
Election officials can use the Checklist for Securing Election Night Results Reporting as a baseline to assess their current Election Night Reporting cybersecurity protocols. These protocols would be in addition to other physical and administrative procedures election officials implement to ensure data reliability, including documented chain of custody, data verification procedures, and using certified technology to tabulate vote totals. 
Checklist for Securing Election Night Results Reporting
To help communicate the nuances of this process,the resources below help provide context when voters are viewing election results online. 
Best Practices: Election Results Reporting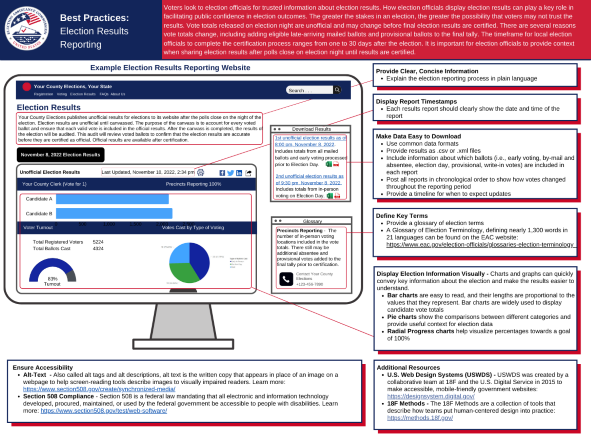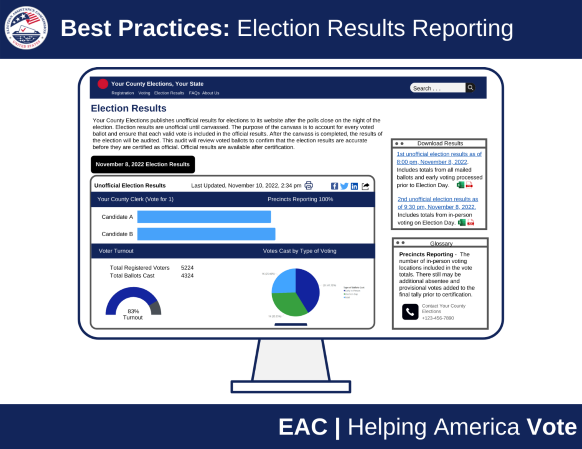 ---
Leading up to the 2020 general election, the EAC hosted a discussion on preparing for election night reporting and press coverage on election results. Speakers offered remarks on issues surrounding misinformation and disinformation, unofficial results, managing expectations, ballots received after the election, and audits. Joining the EAC Commissioners were New Mexico Secretary of State Maggie Toulouse Oliver, Iowa Secretary of State Paul Pate; Brian Carovillano, Vice President and Managing Editor of the Associated Press; and Nate Persily, Professor of Law, Stanford Law School. Watch a recording of the event below.

The canvass is a culmination of all the data generated during an election cycle. More importantly, it is a process that allows election officials to confirm the accuracy of election data and identify areas for improvement. The canvass process aggregates and confirms every valid ballot cast and counted, including mail, uniformed and overseas citizen, early voting, Election Day, and provisional ballots. 
Election officials can find information about the canvass process in the best practices guide below, Guide to the Canvass. This document includes best practices for conducting post-election canvasses, including checklists for key parts of the canvass.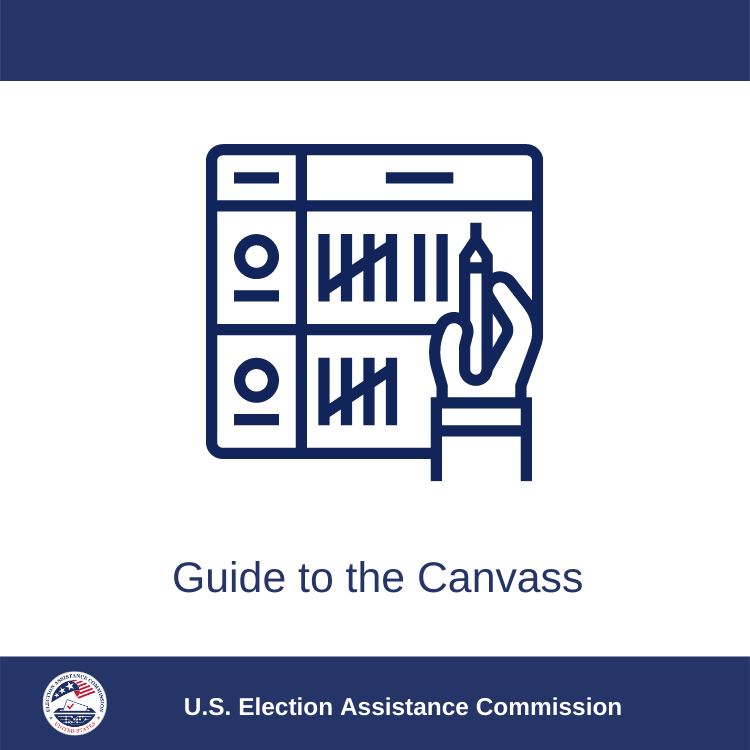 Voters may have questions about the canvass process, and how this process ensures that election results are both secure and accurate. The resources below are intended to help election officials explain this process to their voters. 

Election certification refers to the process of election officials attesting that the tabulation and canvassing of the election are complete and accurate and that the election results are a true and accurate accounting of all votes cast in a particular election. 
After the canvass, election officials certify election results using a variety of methods. Many states authorize a local board to canvass and certify election results. Other states authorize the Chief Election Official to canvass and certify election results. Many states also have state canvassing boards that are responsible for aggregating local results and certifying official results at the state level. Other states authorize a single official, such as the Secretary of State, to aggregate and certify official election results. The timeframe for local election officials to complete the certification process ranges from one day after the election in New Hampshire to 30 days after the election in West Virginia.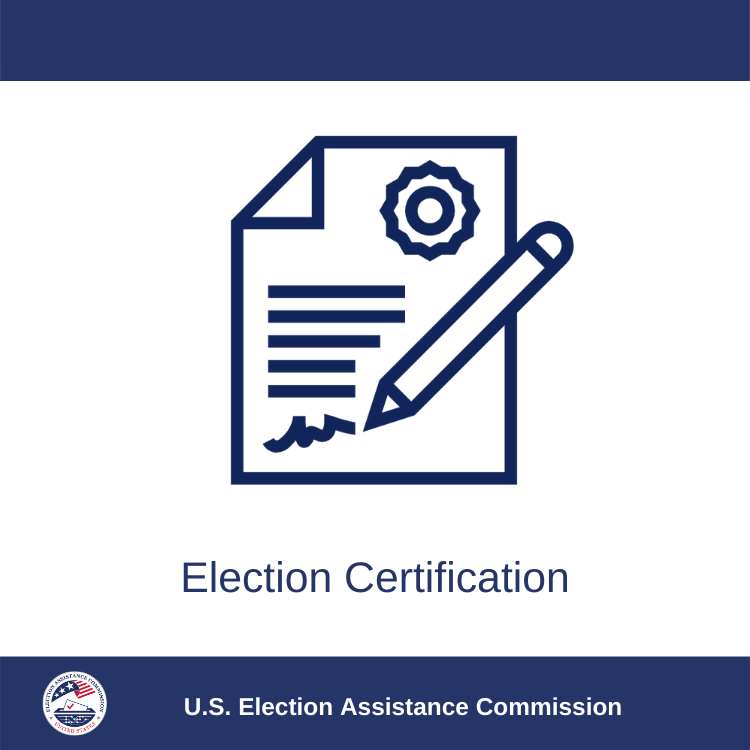 Guide to Election Certification

California 
Yolo County 
Harnessing Technology to Improve Polling Place Resources and Response Time, Strengthen Voter Communications, and Increase Future Turnout which has streamlined election night reporting and improve voter participation. 
In 2018, the county harnessed GIS Systems and Mapping, along with a new poll worker app, to streamline election night reporting and improve voter participation. The Elections Office partnered with the county's Information Technology division of the General Services Department to attain several innovative successes. The effort resulted in improved resource allocation, greater response time to polling places, strengthened communication of election results to citizens, and the likelihood of increasing future turnout through targeted outreach and education. 
https://www.eac.gov/election-officials/yolo-county-elections-office-ca-2019-clearinghouse-award-winner 
North Carolina 
Durham County 
Wait-Time Tracker for Early Voting 
This innovative app allowed voters to locate polling places closest to them, view voting information, and see current polling place wait times. Users could also find bus routes or get GPS directions. The results from using this application were extremely positive for both election workers and voters. In the 2020 General Election, over 48% of registered voters in Durham County chose to vote early. This new service helped to alleviate crowds at busy polling places by offering alternatives, provided voters with streamlined real-time information, and fostered staffing needs for early in-person locations.   
https://www.eac.gov/election-officials/durham-county-board-elections-nc-2020-clearinghouse-award-winner 
Utah  
Utah County 
GIS Solutions 
The Elections Division and GIS Department in Utah County collaborated on the use of GIS software to improve ballot security, public accountability, office efficiency, and real-time reporting and technology. Three major solutions were developed: a public-facing election results map, a secure dropbox ballot tracker dashboard, and a public-facing real-time ballot workflow dashboard system. These efforts accelerated the ballot counting process, increased security of dropbox information, provided data analysis to improve future elections, and reduced bottom-line costs. 
https://www.eac.gov/election-officials/utah-county-elections-division-and-gis-department-ut-2020-clearinghouse-award