Monday, September 11, 2023
Elections and voting-related activities are essential parts of governmental operations. Election officials are expected to continue their work, even during a crisis. This was especially evident during the 2020 election cycle when election officials confronted many challenges in responding to the COVID-19 pandemic. However, the threats faced by election officials continue to evolve. Contingency planning activities can help election officials prepare for unexpected circumstances.  
COOP planning is defined in the National Continuity Policy Implementation Plan (NCPIP) and the National Security Presidential Directive-51/Homeland Security Presidential Directive-20 (NSPD-51/HSPD-20) as "an effort within individual executive departments and agencies to ensure that Primary Mission Essential Functions (PMEFs) continue to be performed during a wide range of emergencies, including localized acts of nature, accidents and technological or attack-related emergencies." (Continuity of Operations – An Overview; FEMA) 
Image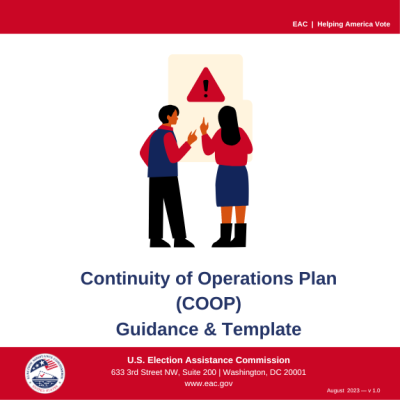 Continuity of Operations Plan (COOP) Template 
A Continuity of Operations Plan (COOP) captures (in a single document) all the information that describes the Agency's
ability to withstand an incident/disaster and the processes that must be followed to recover from such an incident/disaster.
The COOP Template can help election officials create or revise their COOPs. 
COOP Template Editable Word Document 
Additional Information and Resources 
Quick Start Guide Contingency Planning - This brief quick start guide summarizes the steps election officials can take to identify and plan for potential contingencies. 
Election Management Guidelines Chapter 2: Contingency Planning – The second edition (2023) of the Election Management Guidelines was created to assist state and local election officials in effectively managing and administering elections. Each chapter explores a different aspect of elections administration and includes examples and helpful tips.   
Disaster Preparedness and Recovery Working Group - In 2019, the EAC hosted a Disaster Preparedness and Recovery Working Group meeting with commissioners and members of the working group for an information-sharing exercise that informed outreach to federal agencies and laid the foundation for EAC products designed to assist election officials facing disasters. This webpage includes presentations from the meeting and video interviews with election officials about disaster preparedness and recovery.  
CISA's Cyber Incident Detection and Notification Planning Guide – CISA's planning guide with templates to help jurisdictions effectively recognize and respond to potential cyber incidents. Election offices can use this information as a basic cyber incident response plan or integrate it into a broader plan based on their specific needs. 
CISA's Elections Cyber Tabletop in a Box - CISA developed the Elections Cyber Tabletop Exercise Package (commonly referred to as "tabletop in a box") as a resource for state, local, and private sector partners. The package includes template exercise objectives, scenario, and discussion questions, as well as a collection of cybersecurity references and resources.  Partners can use the exercise package to initiate discussions within their organizations about their ability to address the potential threats to the election infrastructure.