Wednesday, August 03, 2022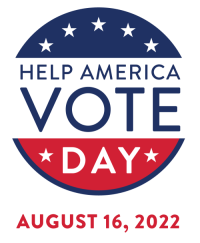 Recruit Poll Workers!  
Share Trusted Voting Information!  
Participate in Help America Vote Day on August 16! 
To better assist state and local election officials with the recruitment of poll workers leading up to the 2022 midterm election, the EAC established Help America Vote Day as a day of action to raise awareness of the ongoing need for poll workers.  
A toolkit that includes links to a suite of graphics, draft social media content, and other key information is available here and on the EAC site. As many state and local election offices already have their own forms and online information for the recruitment of poll workers, please feel free to use your jurisdiction's direct links instead of helpamericavote.gov and customize the graphics as you share information on August 16th.  
If your jurisdiction is not actively recruiting poll workers, please use Help America Vote Day to raise awareness of where residents and voters can find trusted information for registration and voting. 
The EAC wants to make sure the lookup tool on HelpAmericaVote.gov includes updated information for local jurisdictions. Please visit this site to make sure the information for your jurisdiction is correct. If you have any updates, please email [email protected].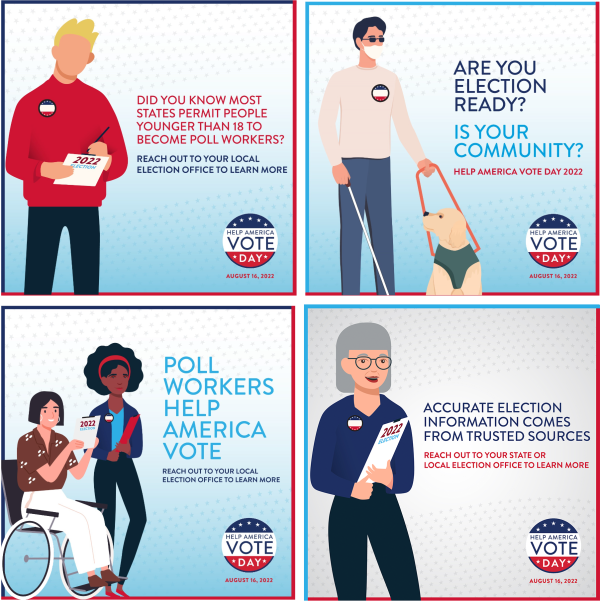 Upcoming EAC Event! HAVA at 20: Building Trust in Elections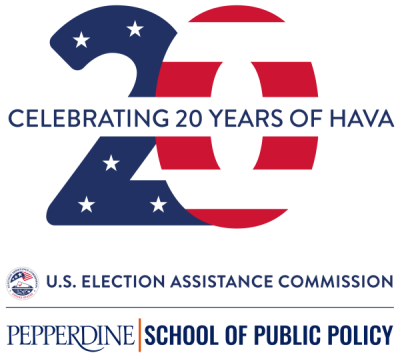 In recognition of the 20th anniversary of the signing of the Help America Vote Act of 2022, the EAC and Pepperdine University's School of Public Policy will host "HAVA at 20: Building Trust in Elections" on Thursday, September 1. This in-person event is open to the public and will be hosted on Pepperdine University's campus. The EAC will be joined by election officials and subject matter experts to discuss confidence in elections, the evolution of security and technology in elections, current issues in election administration, and the future of elections. The event will also be live streamed on the EAC's YouTube channel. Event details and future updates are available on the EAC's website. 
New EAC Study: Disability, the Voting Process, and the Digital Divide 
The EAC commissioned Rutgers University to conduct a new study titled "Disability, the Voting Process, and the Digital Divide" as part of the agency's ongoing effort to assist election officials as they serve voters with disabilities. The research focused on computer and internet use, sources of information on the voting process used in 2020, accessibility of information sources, preferred ways of receiving information about the voting process, trust in information sources, expectations about voting and information sources in 2022, and knowledge of rights for accessible information. Access to this data is critical for election officials who are continuously working to communicate and meet the needs of their jurisdictions. Understanding how to better communicate with voters with disabilities – regardless of access to the internet – is crucial to making elections more accessible.  
The EAC Commissioners also discussed the findings of this study with the research team from Rutgers. Watch the discussion here.  
Election Official Security Panel 
EAC Chairman Thomas Hicks moderated a panel on the landscape of election official security and techniques to manage threats with Sheriff Peter Koutoujian from the Middlesex Sheriff's Office in Massachusetts, Chris Harvey Deputy Director with the Georgia Peace Officers Standards and Training Council, and Neal Kelley, retired Registrar of Voters for Orange County, California. Participants offered a summary of threats they and others in elections have faced, how they dealt with these circumstances, and successful mitigation strategies. Watch the full video here.  
"I couldn't stand by while election officials and clerks, volunteers and everyday citizens working at the polls are being threatened and harassed." - Sheriff Peter Koutoujian (24:29)  
"We're made up of law enforcement and election officials... to have these men and women at the table talking about these security issues is extremely important." - Neal Kelley (7:41) 
"Really what we need to do is build a bridge between the law enforcement world and the elections world because in both groups you've got very dedicated, conscientious people that are interested in public service." - Chris Harvey (9:30)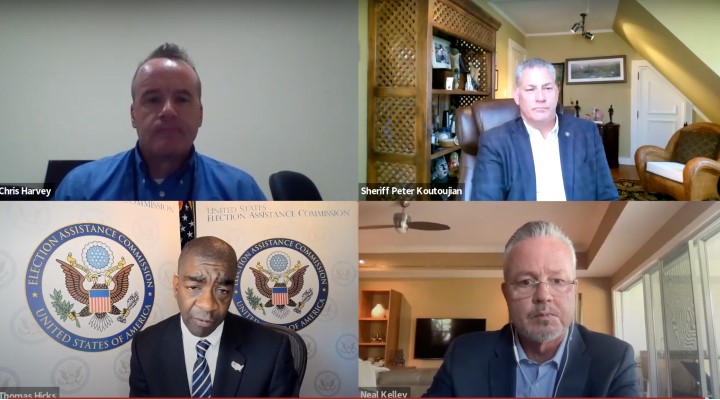 Have you seen the EAC at a recent conference? 
The EAC Commissioners and staff are traveling the country to meet with state and local election officials. Commissioners or staff were recently at the National Association of Secretaries of State (NASS), the National Association of State Election Directors (NASED), and the National Association of Counties (NACo) Summer Conferences – with the goal of meeting with even more members of the election community throughout the remainder of 2022. If you see the EAC's booth, please stop by to learn more about our latest resources for election officials and voters.  

The EAC distributes, monitors, and provides technical assistance to states and grantees on the use of HAVA funds. Part of those duties includes issuing the annual Grant Expenditure Report, containing detailed information on how states have used HAVA funds. Between 2003 and September 30, 2021, a total of $4,154,617,623 in federal funds has been awarded to 50 states, the District of Columbia and five U.S. territories. 
Election Administration and Voting Survey (EAVS) Updates 
The 2022 EAVS Policy Survey was deployed on August 1, with all responses due by September 30. Beginning in July 2022, the EAC Commissioners adopted the latest version of "A Guide to the Election Administration and Voting Survey," which includes updates on the process and timelines, publications of the reports and data, and changes to survey questions. More information on the 2022 EAVS data collection will be available soon. For questions about the 2022 EAVS, contact [email protected].