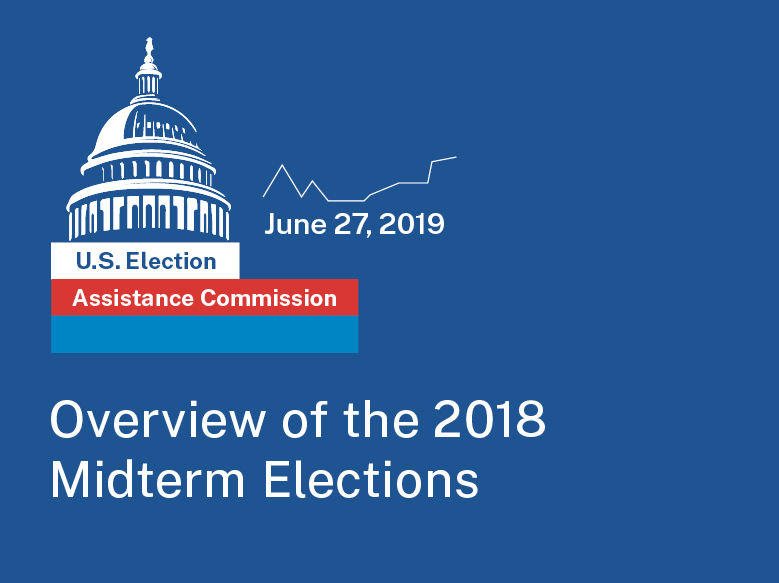 Jun 24, 2019
Important data on the 2018 midterm elections will be released on Thursday, June 27. This includes the final report and dataset from the U.S. Election Assistance Commission's (EAC) 2018 Election Administration and Voting Survey (EAVS), as well as findings from a recent national survey of local election officials conducted by the Democracy Fund in partnership with Reed College.
Key findings from both surveys will be discussed during the first panel at the EAC's 2019 Election Data Summit, along with reflections on the 2018 midterms from a local election official.
The EAVS is the EAC's biennial survey that collects the most comprehensive nationwide data on election administration from more than 6,000 local election jurisdictions across all 50 states, the District of Columbia, and U.S. territories. It includes questions on voter registration and list maintenance, by-mail voting, voting by individuals covered by the Uniformed and Overseas Citizens Absentee Voting Act (UOCAVA), provisional voting, election technology, poll workers, polling places, and turnout.
The Democracy Fund's survey seeks to better understand local election officials' views on the role of technology in elections, cybersecurity preparedness, voter registration modernization, and the election administration profession.
Today, I am pleased to announce the panelists who will be joining me for this discussion:
Dr. Paul Gronke, Director, Early Voting Information Center, Reed College
Linda Lindberg, General Registrar, Arlington County, Virginia
Lindsay Nielson, Researcher, Fors Marsh Group
The 2019 Election Data Summit is free and open to the public and media. We hope you will join us for this important discussion. Attendees are strongly encouraged to register in advance, as space is limited. Additional information on summit panels will be released in the coming days on this blog.