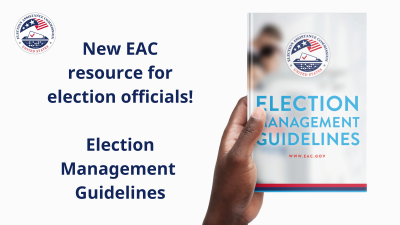 WASHINGTON, D.C.— The U.S. Election Assistance Commission (EAC) has released the second edition of the Election Management Guidelines (EMG) to assist local and state election officials in administering elections. This updated version covers 19 chapters on topics such as accessibility, voting system certification, system security, audits, ballot building, absentee voting, and recounts. Using input from local and state election officials and other stakeholders, the EMG serves as a resource for new and experienced election officials, regardless of their jurisdiction size or resources.
The EAC recognizes that the election administration landscape has changed since the previous EMG was released over 15 years ago, necessitating this update. With the designation of elections as critical infrastructure in 2017, physical security, cybersecurity, and continuity of operations during a disaster have become essential components of national security. State election laws and regulations, election technologies, and best practices are constantly evolving to meet the needs of resilient and secure election systems. There also has been an influx of new election officials, as many others have entered retirement. The EMG was updated to address these issues and more.
"With preparations for the 2024 presidential election underway, the Election Management Guidelines represents an excellent addition to the EAC's growing library of election administration resources to support these efforts," said EAC Chairwoman Christy McCormick, Vice Chair Ben Hovland, Commissioner Donald Palmer, and Commissioner Thomas Hicks in a joint statement. "Election officials must have a wide range of knowledge and serve many roles in addition to administering elections — from IT specialist and communications expert to ballot security manager. The EMG provides guidance on various election processes and topics election officials may encounter during their tenure, no matter how long they have served."
The second edition of the EMG includes additions to the original topics and incorporates references to many of the EAC's latest Clearinghouse resources. One significant change is the addition of a chapter dedicated to Post-Election Audits due to the increased public attention on audit types and procedures. Conversely, the former Technology in Elections chapter was eliminated, so relevant technologies are discussed throughout the updated EMG. 
New election officials and office staff members can use the EMG as an introduction to unfamiliar aspects of election administration. Experienced officials may use the EMG as a helpful reference to find ways to update or improve their procedures. Similarly, the EAC offers a 26-part series of Quick Start Guides with best practices and practical tips, especially for new hires in election offices.  
The second edition of the EMG, the Quick Start Guides, and other EAC resources can be found at eac.gov, with specific election official resources available at eac.gov/election-officials.