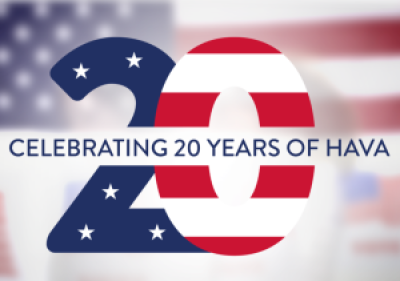 October 27, 2022 
Twenty years ago, the Help America Vote Act was signed into law by President George W. Bush on October 29. The landmark legislation addresses a variety of improvements to voting systems and voter access that were identified following the 2000 election.
In recognition of the 20th anniversary of HAVA this Saturday, EAC Chairman Thomas Hicks, Vice Chair Christy McCormick, Commissioner Ben Hovland, and Commissioner Donald Palmer issued the following joint statement: 
"The 2000 election was a clear inflection point for our electoral system – not only revealing the challenges of our election infrastructure at the time, but also setting the stage for a continuous stream of improvements that have led to expanded voting access and technology nationwide. As we celebrate the 20th anniversary of the Help America Vote Act (HAVA), we acknowledge the immense advancements made at the local, state, and federal levels since the passage of this landmark legislation."
HAVA at a Glance  
Created new mandatory minimum standards for states to follow in several key areas of election administration  
Provided funding to help states meet these new standards and continue to evolve by replacing voting systems, improving voter education and poll worker training, expanding provisional voting, and expanding accessibility offerings at polling places  
Streamlined American elections and safeguarded our most vulnerable populations from accessibility restraints when voting including ensuring all voters can vote privately and independently  
Established the U.S. Election Assistance Commission (EAC) as an independent, bipartisan federal agency charged with developing guidance to meet HAVA requirements, adopting voluntary voting system guidelines, serving as a national clearinghouse of information on election administration, accrediting testing laboratories, certifying voting systems, and auditing the use of HAVA funds  
For more information on this historic legislation, visit www.eac.gov/hava.  
###