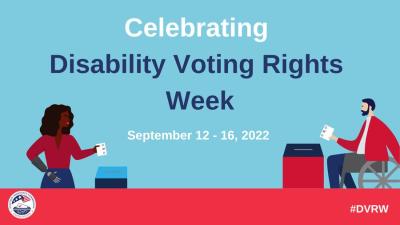 September 13, 2022 
The U.S. Election Assistance Commission (EAC) recognized Disability Voting Rights Week by reaffirming its dedication to helping election officials serve voters with disabilities.  
In addition to the protections provided by the Americans with Disabilities Act (ADA), the Help America Vote Act (HAVA) provided historic protections for voters with disabilities and established the EAC to provide guidance and resources to election officials around the country. The EAC has been committed to making voting more accessible for those with disabilities since it was established by HAVA in 2002.  
In recognition of Disability Voting Rights Week, EAC Chairman Thomas Hicks, Vice Chair Christy McCormick, Commissioner Ben Hovland, and Commissioner Donald Palmer issued the following joint statement:  
"Disability Voting Rights Week highlights the ongoing work to support voters with disabilities and assist this growing population throughout the voting process.  According to a Rutgers University study commissioned by the U.S. Election Assistance Commission, over 80% of voters with disabilities reported voting independently without any difficulty in 2020. While we have made progress over the last 20 years since the Help America Vote Act (HAVA) was passed, there is still more work to do to fulfill HAVA's promise of accessible elections. During the 2022 midterm election, an estimated 38.3 million people with disabilities or one-sixth of the American electorate will have the opportunity to vote. This increasing population of voters includes those with mobility, visual, communicative, physical, or cognitive impairments. 
"No American should be discouraged from voting because they are living with a disability. Our democracy is strongest when a diversity of needs and ideologies are represented at the polls. To ensure that all eligible voters can participate in the voting process, the EAC supports election officials with best practices, research to identify challenges and opportunities, as well as other resources to address the unique obstacles voters with disabilities face. The agency's commitment can even be seen on the EAC's seal, which incorporates the word 'VOTE' in Braille. Disability Voting Rights Week will help bring attention to the needs of millions of Americans, and the EAC will continue to assist election administrators as they make voting more accessible for the next 20 years of HAVA."
For information about the EAC's resources, recent studies, and other materials to assist voters with disabilities and the election officials who serve them, please visit  https://www.eac.gov/election-officials/voting-accessibility.   
###