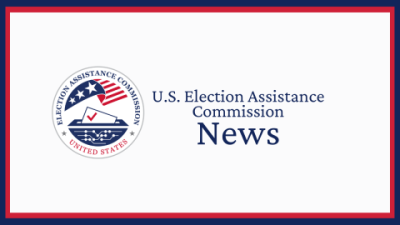 April 5, 2022 
Washington, DC – Today, the U.S. Election Assistance Commission (EAC) announced the adoption of the Voluntary Voting System Guidelines (VVSG) Lifecycle Policy. The policy creates a transparent and predictable path for future updates to the VVSG and brings a new maturity to the process. This is a significant step in the implementation of the VVSG 2.0 and will let the standards evolve with the needs of election officials and future voting system technologies. The four EAC Commissioners unanimously approved the VVSG Lifecycle Policy.
The intent of the VVSG Lifecycle Policy is to facilitate a regular review of the VVSG standards, and provide guidance on when and how new versions will be adopted, and older versions will be discontinued and maintained. The policy defines changes that may be made to systems certified to older standards and describes the process for updating the standards as defined in the Help America Vote Act (HAVA).
"This is a new and critical tool created because of feedback from election officials regarding their needs for updated voting systems built to the VVSG. This policy was developed through a transparent process, incorporating and addressing extensive feedback from stakeholders and the public. Approval of the VVSG 2.0 was a significant step toward the development of the next generation of voting systems, and the supporting policies and processes to implement those standards are just as important. The Lifecycle Policy adopted today is a key aspect of those supporting policies. We look forward to working with stakeholders on next steps," said EAC Chairman Thomas Hicks.
A recording of today's meeting is available on the EAC's YouTube channel. Additional information on the Lifecycle Policy and the VVSG 2.0 is available on the EAC's website.