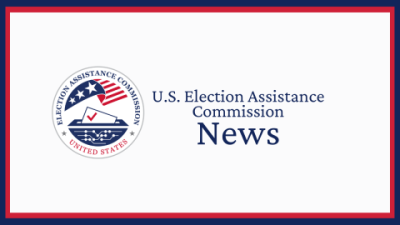 March 31, 2022

Washington, D.C. – The U.S. Election Assistance Commission (EAC) will hold a virtual public meeting to consider the adoption of the Voluntary Voting System Guidelines (VVSG) Lifecycle Policy on April 5, 2022 at 2:30 p.m. ET. During this meeting, EAC Commissioners will hear a presentation on the content of the Lifecycle Policy, considerations that were made as the policy was developed, and next steps for implementation of the VVSG 2.0.

Since the approval of VVSG 2.0, the EAC has worked on next steps and materials so these standards and requirements can be implemented, and new voting systems can be manufactured and tested to those standards. Part of those materials is the VVSG Lifecycle Policy.

The intent of the VVSG Lifecycle Policy is to help facilitate migration to new VVSG standards by providing guidance on the types of version changes, Voting System Test Laboratory (VSTL) accreditation, deprecation of obsolete major standards, and establishing a periodic review timeline for new standards going forward. The policy defines changes that may be made to systems certified to deprecated standards and describes the process for updating the standards as defined in the Help America Vote Act (HAVA).

The event will be live streamed on Tuesday, April 5, 2022 at 2:30 p.m. ET on the EAC's YouTube Channel. A recording of the event will be available on YouTube afterward.   

More information is available on the event page, including a redline version of the Lifecycle Policy, submitted public comments, and agenda. 

Additional information on the VVSG is available on the EAC's website.
WHAT: U.S. Election Assistance Commission Meeting to Vote on Adoption of Voluntary Voting System Guidelines (VVSG) Lifecycle Policy
WHERE: The event will be live streamed on the EAC's YouTube Channel
WHEN: Tuesday, April 5, 2022 at 2:30 p.m. ET