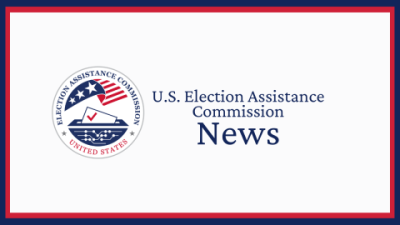 February 8, 2022
Washington, DC – Today, the U.S. Election Assistance Commission (EAC) announced the appointment of Mark A. Robbins as Interim Executive Director of the Agency, following the departure of current EAC Executive Director, Mona Harrington.
Robbins previously served as General Counsel of the U.S. Office of Personnel Management (OPM) from 2018-2021 and 2001-2006, and as General Counsel of the EAC from 2010-2012. He was nominated by President Barack Obama in 2012 to serve as a member of the U.S. Merit Systems Protection Board (MSPB), to which President Donald Trump designated him Vice Chairman and acting-Chairman in 2018. Robbins will assume the role of EAC Interim Executive Director on February 14, 2022. A link to his full bio is available here.
"Mark brings a wealth of leadership experience to the agency, notably having previously served as EAC General Counsel from 2010-2012. As a distinguished public servant, including serving as a presidential appointee to the MSPB, along with serving in leadership positions at two federal agencies, we are fortunate to have Mark's commitment to serve this agency," EAC Chairman Donald Palmer, Vice Chair Thomas Hicks, Commissioner Christy McCormick, and Commissioner Ben Hovland said in a joint statement. "Continuity of this agency's work and progress is of the utmost imperative, and we, along with the staff of the EAC, look forward to working with Mark to continue ensuring safe, accurate, fair, and accessible elections for the American public."
"I am thankful to the EAC Commissioners for their faith in selecting me as Interim Executive Director of the agency," said EAC Interim Executive Director, Mark A. Robbins. "I have dedicated the bulk of my professional life to public service, and it is an honor to return to the EAC in this capacity. I look forward to serving the American public once again and working with the EAC Commissioners and staff during this critical election year."
A formal search process for a permanent Executive Director, as designated by the Help America Vote Act of 2002, is underway to ensure continuity of operations.
# # #
The U.S. Election Assistance Commission (EAC) was established by the Help America Vote Act of 2002 (HAVA). It is an independent, bipartisan commission charged with ensuring secure, accurate and accessible elections by developing guidance to meet HAVA requirements, adopting voluntary voting system guidelines, and serving as a national clearinghouse of information on election administration. EAC also accredits testing laboratories and certifies voting systems, as well as administers the use of HAVA funds. For more information, visit www.eac.gov.
Contact: Kristen Muthig
Phone: 202-897-9285
Email: [email protected]v