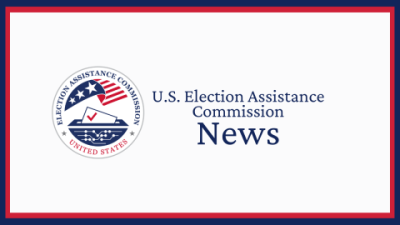 WASHINGTON DC - The U.S. Election Assistance Commission (EAC) published on January 31 its 2021 Annual Report, which details the agency's activities during Fiscal Year 2021 and the 2021 calendar year, along with efforts to further the mission of the EAC.
Chairman Donald Palmer, Vice Chair Thomas Hicks, Commissioner Christy McCormick, and Commissioner Ben Hovland issued the following joint statement about the 2021 Annual Report:
As the annual report showcases in-depth, 2021 was an important year of growth and preparation for the U.S. Election Assistance Commission (EAC). There is no off-year in elections and throughout 2021, the EAC staff provided resources and materials to election officials based on lessons learned from the 2020 elections, and lay groundwork for the midterms and elections to come. The EAC worked diligently to fulfill its mission and better serve election officials and voters. This included the passage of the latest iteration of the Voluntary Voting System Guidelines, VVSG 2.0, the publication of the Election Administration and Voting Survey report, and internal reorganization so the agency could better address the needs of stakeholders. As the pandemic continued, the EAC found different ways to engage with election officials and voters and share information. Those efforts will continue in 2022 and the EAC will strive to find new avenues for feedback. The annual report showcases all the hard work of the EAC and we hope this will serve to raise awareness of the contributions and value of the agency to the nation's elections. 
Highlights from the 2021 EAC Annual Report include:
Continued oversight and comprehensive technical assistance to states for the more than $800 million in HAVA election grants.
Unanimous approval of the VVSG 2.0 on February 10, 2021.
The formation of a new advisory board of local election officials: the Local Leadership Council.
The release of the 2020 Election Administration and Voting Survey (EAVS) report.
The launch of an e-poll book testing pilot program.
The growth and reorganization of staff in several departments, including the Clearinghouse and Grants divisions, to improve service to stakeholders.
Additional research and materials in areas, such as election accessibility for voters with disabilities, post-election audits, and language accessibility.
# # #  

The U.S. Election Assistance Commission (EAC) was established by the Help America Vote Act of 2002 (HAVA). It is an independent, bipartisan commission charged with ensuring secure, accurate, and accessible elections by developing guidance to meet HAVA requirements, adopting voluntary voting system guidelines, and serving as a national clearinghouse of information on election administration. EAC also accredits testing laboratories and certifies voting systems, as well as administers the use of HAVA funds. For more information, visit www.eac.gov.    

EAC Contact: Kristen Muthig [email protected] 

Phone: 202-897-9285  Email: