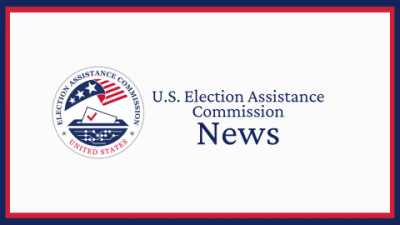 The 2021 Clearies will Honor Best Practices in Election Administration and Celebrate Promising Results Achieved through HAVA Grant Funds 
WASHINGTON D.C. - The U.S. Election Assistance Commission (EAC) invites submissions for its sixth annual national Clearinghouse Awards, also known as the "Clearie" Awards, for best practices in election administration. The awards program recognizes the hard work and leadership of election officials and staff across the country. 
Election jurisdictions of all sizes are encouraged to submit their work. Entries must be received by Friday, February 18, 2022. Submission guidelines for this year's contest are available here. All entries and supporting materials should be uploaded through the EAC's new online submission form. Please send any questions to the EAC at [email protected]. Submissions will be judged based on innovation, sustainability, outreach, cost-effectiveness, replicability, and the generation of positive results.
The 2021 Clearie winners will be announced in April 2022.
This year, EAC Commissioners are pleased to announce two new award categories honoring innovative programming developed by election official associations and successful Help America Vote Act (HAVA) grant initiatives. 2022 marks the 20th anniversary of the signing of HAVA, and the Commissioners hope to highlight the spirit of this landmark bipartisan legislation by recognizing innovative uses of HAVA funds. The prestigious new award will also help jurisdictions utilize these best practices to enhance future efforts.  
The EAC will present awards in the categories of:  
Outstanding Use of HAVA Grants in Elections Modernization,  
Outstanding Election Official Association Program, 
Outstanding Innovation in Election Cybersecurity and Technology, 
Improving Accessibility for Voters with Disabilities,
Outstanding Innovations in Elections, 
Best Practices in Recruiting, Retaining, and Training Poll Workers, and
Creative and Original "I Voted" Stickers.  
"Leading up to the 2022 elections, officials are handling issues related to election security, further utilization of cutting-edge technology, COVID-19 precautions, and increased voter engagement. The 2021 Clearie awards will once again celebrate the outstanding work of election officials meeting these challenges," said Donald Palmer, EAC Chairman. "Twenty years ago, Congress enacted HAVA, bringing about sweeping election reforms and greater accessibility in voting. Under that Act, the EAC was entrusted to serve as a clearinghouse for election administration information by offering comprehensive products and services to state and local election offices. As the EAC celebrates the anniversary of this historic law, my fellow Commissioners and I can think of no better stage for the EAC to uphold the tremendous work of election officials." 
Information on the 2020 Clearies winners can be found here.  
# # #  
The U.S. Election Assistance Commission (EAC) was established by the Help America Vote Act of 2002 (HAVA). It is an independent, bipartisan commission charged with ensuring secure, accurate, and accessible elections by developing guidance to meet HAVA requirements, adopting voluntary voting system guidelines, and serving as a national clearinghouse of information on election administration. EAC also accredits testing laboratories and certifies voting systems, as well as administers the use of HAVA funds. For more information, visit www.eac.gov.    
EAC Contact: Kristen Muthig 
Phone: 202-897-9285 
Email: [email protected]