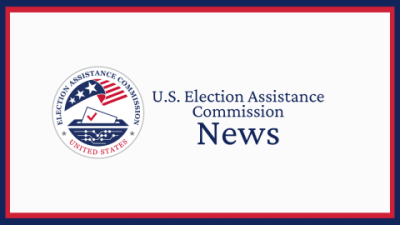 December 14, 2021
WASHINGTON DC – The U.S. Election Assistance Commission (EAC) issued the following statement on EAC HAVA CARES grant funds.
"There are no unaccounted EAC HAVA CARES federal grant funds, and Congress has given the states until 2022 to provide details on CARES Act spending. Because the EAC's CARES Act grants program is still open and active through March 2022, states will continue to report on how funds were utilized until the last grant closes out. The EAC will continue to report to Congress at regular intervals and in response to any relevant inquiry, as to the status of these grants. 
The EAC staff worked diligently and expeditiously to manage an additional $397 million in grant provided to the states by Congress through the CARES Act to respond to the COVID-19 pandemic. The agency was able to distribute this funding in just 30 days – during a federal election year – and provide significant technical guidance and support to the states without additional funding to assist in the administration of the CARES Act funding. At every stage of the CARES Act grant administration, the EAC has dutifully accounted for and reported on all available information required by law related to the usage of the funds. Further, the EAC has followed all CARES Act reporting policies and procedures and has met all congressional reporting timelines. Final reporting is still in progress, which follows the normal reporting lifecycle on federal grants. Accusations that grant funding is unaccounted for are incorrect and, in some instances, are based on a poorly worded GAO report. 
As noted in the EAC's Oct. 13 letter to the GAO, 'Making improvements during a national emergency requires agile solutions that are responsive and timely.' Thus far the EAC has reported on $326 million in grant funds to Congress – meeting every Congressionally mandated reporting requirement, 100% on time. 
Future rounds of reporting will show, in addition to final details on usage of funds, that a sizeable portion of unspent funds are in the process of being returned by states to the federal government, administered and accounted for by the EAC as part of our due diligence and fiscal responsibility to Congress and the taxpayers." 
###
The U.S. Election Assistance Commission (EAC) was established by the Help America Vote Act of 2002 (HAVA). It is an independent, bipartisan commission charged with ensuring secure, accurate, and accessible elections by developing guidance to meet HAVA requirements, adopting voluntary voting system guidelines, and serving as a national clearinghouse of information on election administration. The EAC also accredits testing laboratories and certifies voting systems and administers the use of HAVA funds. For more information, visit www.eac.gov.  
Contact: Kristen Muthig
Phone: 202-897-9285
Email: [email protected]