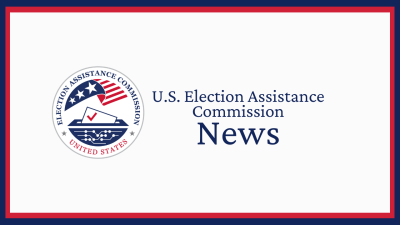 For Immediate Release
November 5, 2021
 
Washington D.C. – Following the elections held on November 2, 2021, U.S. Election Assistance Commission (EAC) Chairman Donald Palmer, Vice Chair Thomas Hicks, Commissioner Christy McCormick, and Commissioner Ben Hovland issued the following joint statement recognizing the hard work election officials, election staff, and poll workers did to serve voters across the country:
"The U.S. Election Assistance Commission (EAC) was pleased to see a smooth Election Day Tuesday in states and localities across the country. Despite still dealing with the continuing impacts of COVID-19, state and local election officials, along with staff and poll workers, conducted a well-run voting experience for millions of Americans with minimal reports of interruption.
Tuesday was a strong, positive indicator as we look ahead to the 2022 midterm elections. The hard work of carrying out secure, transparent, and accessible elections does not happen on one day alone – it's a year-round effort at all levels of government. As officials work through the canvassing, certification, and audit process of the 2021 elections, they are also planning for 2022 in earnest. We look forward to supporting our nation's hard-working election officials and all those involved in helping Americans vote leading up to another important national election.
One of the ongoing critical issues facing state and local officials is a shortage of poll workers. In the hope of recruiting more people to sign up as poll workers in 2022, the EAC will hold National Poll Worker Recruitment Day on January 25 and promote recruitment throughout the year. The EAC hopes to highlight poll workers' vital role in ensuring a safe, smooth, and trustworthy experience at the polls. More information on Poll Worker Recruitment Day is available at HelpAmericaVote.gov."
###
The U.S. Election Assistance Commission (EAC) was established by the Help America Vote Act of 2002 (HAVA). It is an independent, bipartisan commission charged with ensuring secure, accurate and accessible elections by developing guidance to meet HAVA requirements, adopting voluntary voting system guidelines, and serving as a national clearinghouse of information on election administration. EAC also accredits testing laboratories and certifies voting systems, as well as administers the use of HAVA funds. For more information, visit www.eac.gov.  
Contact: Kristen Muthig
Phone: 202-897-9285
Email: [email protected]