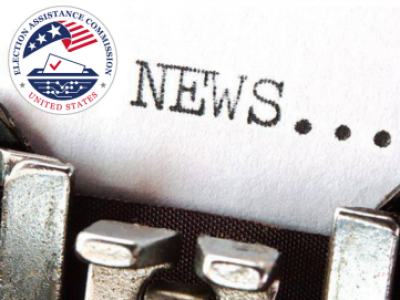 For Immediate Release 
September 13, 2021 
Washington, D.C. - Celebrating National Disability Voter Registration Week (NDVRW), the U.S. Election Assistance Commission (EAC) reaffirms its dedication to helping election officials serve voters with disabilities. The EAC is committed to ensuring Americans with disabilities can register to vote and cast their ballot privately and independently. In recognition of NDVRW, EAC Chairman Donald Palmer, Vice Chair Thomas Hicks, Commissioner Christy McCormick, and Commissioner Ben Hovland issued the following joint statement: 
Election officials and advocacy organizations worked incredibly hard to help people with disabilities register to vote, especially during the challenges presented by the pandemic. Their success in 2020 and 2021 deserves recognition. Despite significant progress, there is still room for improvement as the EAC works with officials to fulfill the accessibility promises of the Help America Vote Act of 2002 (HAVA) and the Americans with Disabilities Act (ADA). From voter registration to accessible voting systems, access for voters with disabilities must be at the forefront throughout the voting process. Efforts like National Disability Voter Registration Week are important to raise awareness of this need. 
It is estimated that 38.3 million Americans with disabilities, roughly one-sixth of the electorate, were eligible to vote in the 2020 general election. This growing population encompasses many voters, including those with mobility, visual, communicative, physical, or cognitive impairments. A recent survey conducted by the EAC and the Program for Disability Research at Rutgers University reported a three percent voter registration gap in the 2020 elections between disabled and nondisabled voters. The EAC has a strong commitment to working with election officials and voters with disabilities to close this persistent gap. 
For information about the EAC's resources, recent studies conducted with Rutgers University, and other materials to assist voters with disabilities and the election officials who serve them, please visit http://www.eac.gov/voters/voting-accessibility.  
### 
The U.S. Election Assistance Commission (EAC) was established by the Help America Vote Act of 2002 (HAVA). It is an independent, bipartisan commission charged with ensuring secure, accurate, and accessible elections by developing guidance to meet HAVA requirements, adopting voluntary voting system guidelines, and serving as a national clearinghouse of information on election administration. The EAC also accredits testing laboratories and certifies voting systems, and administers the use of HAVA funds. For more information, visit www.eac.gov.   
Contact: Kristen Muthig 
Phone: 202-897-9285 
Email: [email protected]