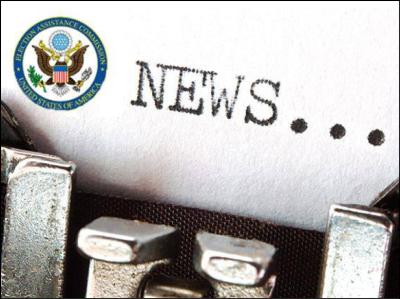 FOR IMMEDIATE RELEASE:
Thursday March 4, 2021
 Annual "Clearie" Awards promote the development and use of best practices in election administration
Washington, D.C. – The U.S. Election Assistance Commission (EAC) today announced the recipients of the 2020 Clearinghouse Awards, also known as the "Clearie" Awards, for best practices in election administration. Established by the Help America Vote Act of 2002 (HAVA), the EAC is charged with serving as a clearinghouse for election administration information. To further this mission, the EAC launched the Clearies in 2016 to promote best practices in elections and celebrate the accomplishments of election officials.
The award categories include innovation in election administration; improving accessibility for voters with disabilities; best practices in recruiting, training, and retaining poll workers; and creative and original "I Voted" sticker design. The EAC also announced a new category this year for innovation in election cybersecurity and technology. Winners were selected by two independent panels of election officials from the EAC's advisory boards with the EAC Commissioners serving as judges for the sticker category. The EAC is grateful for the contributions of this year's judges.
"This year we are pleased to receive a record-breaking number of 137 Clearie submissions, more than tripling the 2019 submissions," said EAC Chairman Donald Palmer. "The number of Clearie submissions highlights that even though this was a challenging election year, officials continue to modernize and develop programming that will serve as helpful best practices for the coming years. The job of an election official is never done, and we hope to see even more submissions and exceptional examples in 2021. The Clearie winners, those who submitted entries, and all election officials should be incredibly proud of the work they did to ensure a successful 2020 election. These best practices are valuable resources as officials continue to administer elections during the pandemic and for years to come."
EAC Commissioner and 2020 Chairman, Ben Hovland said, "During an incredibly challenging year, election officials rose to the occasion by developing new, innovative solutions to serve voters. As a result of their creativity and perseverance, millions of voters had their voices heard in extremely well-run elections with record turnout."
Now in its fifth year, the Clearie awards recognize the innovative efforts of election officials across America. Entries were judged based on each initiative's depiction of positive results, innovation, sustainability, outreach efforts, cost-effectiveness, and replicability. More information about each awardee is available on the EAC's website.
The 2020 Clearie winners are:
Improving Accessibility for Voters with Disabilities
Iowa Secretary of State - Quick Check Accessibility Booklet

Los Angeles County Registrar-Recorder/County Clerk (CA) - Flex Vote Center Program

West Virginia Secretary of State – Accessible Electronic Ballot

Wisconsin Elections Commission – Accessibility Advisory Committee
Outstanding Innovations in Elections for Small Jurisdictions
Boulder County Elections (CO) - High School Voter Registration Program

Canton Township, Clerk's Office (MI) – Four Tools to Enhance Election Services

Durham County Board of Elections (NC) - Early Voting Wait Time Tracker
Outstanding Innovations in Elections for Medium Jurisdictions
Arapahoe County Clerk and Recorder's Office (CO) - Curbside Ballot Pickup Program

Jefferson County Clerk and Recorder (CO) – Online Chat

Utah County Elections Division & GIS Department (UT) - GIS Solutions

Outstanding Innovations in Elections for Large Jurisdictions
King County Elections (WA) - Voter Education Fund

Los Angeles Registrar – Recorder/County Clerk (CA) – Wait Time Enhancement for Vote Center Locator

Maricopa County Elections Department (AZ) - Polling Location Webpage with Wait Times

Montgomery County Board of Elections (MD) - SMS Short Codes to Inform Voters

Best Practices in Recruiting, Retaining, and Training Poll Workers
Alaska Division of Elections - Election Official Television Training

Harris County Election Administrator (TX) - Electronic Support Specialist High School Student Program

North Carolina State Board of Elections - "Democracy Heroes" Recruitment Campaign

Ohio Secretary of State - Precinct Election Official Recruitment and Voter Outreach Programs

Wake County Board of Elections (NC) - "Coffee with Nick" Virtual Talk Show for Election Officials

Creative and Original "I Voted" Sticker Design
City of Ann Arbor (MI)

Connecticut Secretary of State

Escambia County Supervisor of Elections (FL)

San Mateo County Registration & Elections Division (CA)

Outstanding Innovations in Election Cybersecurity and Technology
Anne Arundel County Board of Elections (MD) - Online Election Cybersecurity Training Modules

Illinois State Board of Elections - Cyber Navigator Program

Ottawa County Clerk/Register of Deeds Office, Elections Division (MI) - #OttawaVotes Voter Information Campaign
In addition to the Clearie winners, 15 offices were recognized for Clearie Honorable Mention awards. More information on these winners and their efforts is available here. 
In a joint statement all four EAC Commissioners said: "We want to thank the 2020 Clearie judges for taking time away from their busy schedules to review the submissions and help us recognize the excellent contributions of their colleagues from around the country."  The 2020 Clearie judges were:
Outstanding Innovations in Elections Judges 
Anthony Albence, Delaware State Election Commissioner (EAC Standards Board Member)

Barbara K.D. Goeckner, Deputy Clerk/Treasurer/Administrator, Village of Cambridge, Wisconsin (EAC Standards Board Member)

Ricky Hatch, County Clerk/Auditor, Weber County, Utah (EAC Board of Advisors Member)

Shane Schoeller, County Clerk, Green County, Missouri (EAC Board of Advisors Member)

Mandy Vigil, Elections Director, New Mexico (EAC Standards Board Member)
Accessibility, Poll Worker, and Cybersecurity Judges
Maria Matthews, Division Director, Florida Division of Elections (EAC Standards Board Member)

Alysoun McLaughlin, Deputy Elections Director, Montgomery County, Maryland (EAC Board of Advisors Member)

Linda Niendick, County Clerk, Lafayette County, Missouri (EAC Board of Advisors Member)

Jameson Shew, County Clerk, Douglas County, Kansas (EAC Standards Board Member)
# # #
The U.S. Election Assistance Commission (EAC) was established by the Help America Vote Act of 2002 (HAVA). It is an independent, bipartisan commission charged with ensuring secure, accurate and accessible elections by developing guidance to meet HAVA requirements, adopting voluntary voting system guidelines, and serving as a national clearinghouse of information on election administration. The EAC also accredits testing laboratories and certifies voting systems, as well as administers the use of HAVA funds. For more information, visit www.eac.gov.  
​
Contact: Kristen Muthig
Phone: 202-897-9285
Email: [email protected]