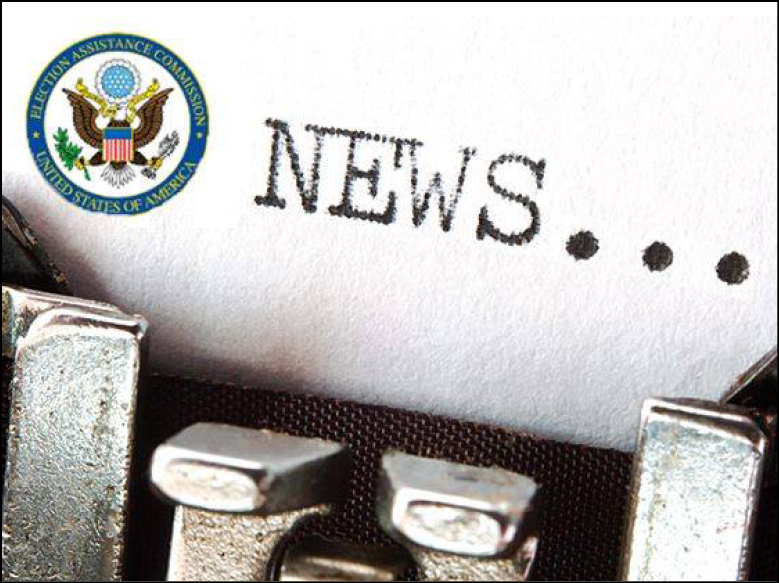 For Immediate Release
December 1, 2020
Washington, DC – The U.S. Election Assistance Commission (EAC) invites submissions for its fifth annual national Clearinghouse Awards. The Clearinghouse Awards, also referred to as the "Clearies," honor the enterprising spirit and hard work of election officials across the country. In the challenging circumstances created by the COVID-19 crisis, the Clearies offer the opportunity to recognize the resourcefulness of officials who adjusted their efforts to account for the ever-evolving pandemic. This year, the EAC is also pleased to offer a new category distinguishing cybersecurity and technology initiatives that improve election security of voting systems and strengthen U.S. elections.
The EAC will present awards in the categories of:
Improving Accessibility for Voters with Disabilities,

Outstanding Innovations in Elections,

Best Practices in Recruiting, Retaining, and Training Poll Workers,

Creative and Original "I Voted" Stickers, and

Outstanding Innovation in Election Cybersecurity and Technology.
Jurisdictions of all sizes are encouraged to submit their work. Entries must be received by Friday, January 22, 2021. Submissions will be judged on innovation, sustainability, outreach, cost-effectiveness, replicability, and the generation of positive results.
"The 2020 Clearie Awards will help recognize the innovation and hard work of election officials across the nation during an extremely well-run general election with record turnout," said EAC Chairman Ben Hovland. "Election officials did an amazing job this fall as they navigated unprecedented health concerns due to COVID-19, a substantial increase in early and mail or absentee voting, and poll worker shortages. The best practices developed from 2020 will be highly valuable for future elections. The EAC Commissioners look forward to honoring these hard-working public servants who do so much to serve voters and further our democracy."
The 2020 Clearies will build on the successes of past years, encouraging innovations in election administration and publicizing achievements across the elections community. Under the Help America Vote Act of 2002 (HAVA), the EAC is charged with serving as a clearinghouse for election administration information. The Clearies and the efforts they celebrate play an important role in helping the EAC fulfill this mission.
The 2019 winners of the Clearie Awards can be found here.
More information on submission guidelines can be found here. All submissions should be sent to the EAC at clearinghouse@eac.gov.
###
The U.S. Election Assistance Commission (EAC) was established by the Help America Vote Act of 2002 (HAVA). It is an independent, bipartisan commission charged with ensuring secure, accurate, and accessible elections by developing guidance to meet HAVA requirements, adopting voluntary voting system guidelines, and serving as a national clearinghouse of information on election administration. The EAC also accredits testing laboratories and certifies voting systems, as well as administers the use of HAVA funds. For more information, visit www.eac.gov.
Contact: Kristen Muthig
(202) 897-9285