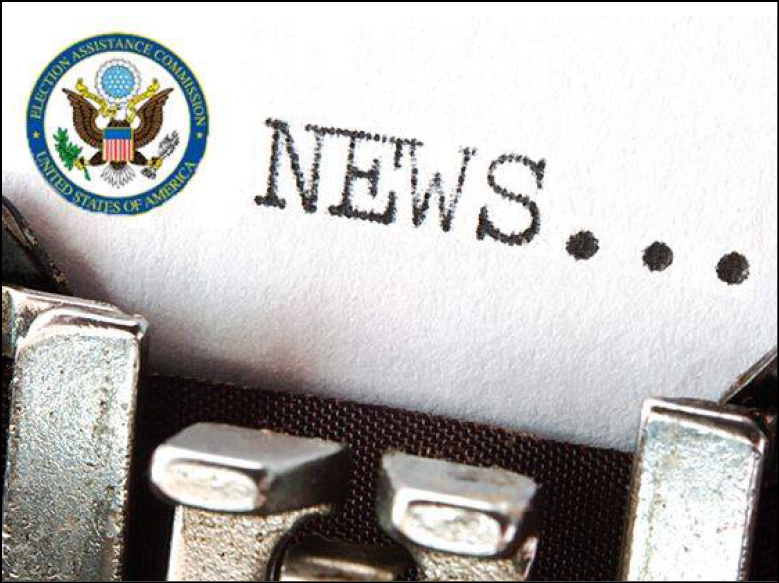 MEDIA ADVISORY
February 14, 2020
Silver Spring, MD – The U.S. Election Assistance Commission (EAC) will host the 2020 Elections Disability, Accessibility and Security Forum on Thursday, February 20, 2020 from 9:00 a.m. - 3:00 p.m. ET at the Westin Georgetown, 2350 M St. NW, Washington, DC 20037.
Voting has already started for the 2020 elections, but addressing the growing concerns regarding accessibility and security is an important ongoing conversation. The 2020 Elections Disability, Accessibility, and Security Forum will bring together state and local election officials, people with disabilities, disability advocates, and election security experts to discuss issues and advance solutions. The collaborative workshops and EAC's efforts aim to assist election officials serving voters with disabilities in the 2020 elections and beyond. EAC commissioners will be in attendance and will play a leading role in promoting collaboration amongst participants.
The workshops will strive to identify major challenges and opportunities with respect to accessibility and security in election administration. Topics for workshop discussions will include the 2020 elections and voters with disabilities, ballot-marking devices, proven best practices in voting accessibility, vote-by-mail, paper ballots, emerging voting technology for people with disabilities, and polling place access. The EAC is committed to upholding the voting rights of people with disabilities established under the Help America Vote Act (HAVA) and Americans with Disabilities Act (ADA) amidst growing security needs.
Confirmed discussion leaders include:
Anthony Albence, State Election Commissioner, Delaware Department of Elections

Lou Ann Blake, Deputy Executive Director, Blindness Initiatives, National Federation of the Blind

Michelle Bishop, Voting Rights Specialist, National Disability Rights Network

Kelly Buckland, Executive Director, National Council on Independent Living

Doug Chapin, Director of the Certificate in Election Administration program, University of Minnesota's Humphrey School of Public Affairs 

Juan Gilbert, Andrew Banks Family Preeminence Endowed Professor and Chair of the Computer & Information Science & Engineering Department, University of Florida

Diane Golden, Project Director, Illinois Assistive Technology Program

Geoff Hale, Director of the Election Security Initiative, Cybersecurity & Infrastructure Security Agency, U.S. Department of Homeland Security

Gema Howell, Computer Scientist, National Institute of Standards and Technology (NIST)

Doug Lewis,

Former Executive Director, The Election Center

Audrey Malagon, Mathematical Advisor, Verified Voting

Alysoun McLaughlin, Deputy Election Director, Montgomery County, Maryland

Amelia Powers Gardner, Clerk/Auditor, Utah County, Utah

Alice Miller, Executive Director, District of Columbia Board of Elections

Clark Rachfal, Director of Advocacy and Governmental Affairs, American Council of the Blind

Caleb Thornton, Legal Policy and Rulemaking Manager, Colorado Secretary of State's Office

Maurice Turner, Deputy Director of the Internet Architecture project, Center for Democracy & Technology

Christy McCormick, U.S. Election Assistance Commission Chairwoman

Ben Hovland, U.S. Election Assistance Commission Vice Chair

Donald Palmer, U.S. Election Assistance Commission Commissioner

Thomas Hicks, U.S. Election Assistance Commission Commissioner
The event is open to the public. We strongly encourage you to register in advance but on-site registration on the day of the event will be available if space allows.  
To request additional information, please contact Kristen Muthig at kmuthig@eac.gov or 202-897-9285. 
WHAT: U.S. Election Assistance Commission 2020 Elections Disability, Accessibility, and Security Forum
WHERE:
Westin Georgetown
2350 M St., NW
The Washington Room
Washington, District of Columbia 20037
Livestreaming of the event will also be available on:  www.eac.gov
WHEN: Thursday, February 20, 2020 from 9:00 a.m. - 3:00 p.m. ET
Registration opens at 9:00 a.m., program runs from 9:30 a.m. – 3:00 p.m. EDT
RSVP: Register in advance
###
The U.S. Election Assistance Commission (EAC) was established by the Help America Vote Act of 2002 (HAVA). It is an independent, bipartisan commission charged with ensuring secure, accurate and accessible elections by developing guidance to meet HAVA requirements, adopting voluntary voting system guidelines, and serving as a national clearinghouse of information on election administration. EAC also accredits testing laboratories and certifies voting systems, as well as administers the use of HAVA funds. For more information, visit www.eac.gov.