Thursday, June 09, 2022

Newsletter Highlights 
2021 Clearinghouse Award Winners Announced

Board of Advisors Meeting May 16, 2022

New EAC resources for election officials on election results reporting, mitigating paper supply chain challenges, post-voting processes, and election officials security. 
EAC Events 
Clearinghouse Award Winners: In April, the EAC announced the winners of the 2021 Clearinghouse Awards. These awards recognize best practices in election administration and the hard work and leadership of election officials and staff across the country. The full list of the 20 winners can be found here and the full list of the 14 honorable mention recipients can be found here.
The categories are:
Outstanding Use of HAVA Grants in Elections Modernization

Outstanding Election Official Association Program

Outstanding Innovation in Election Cybersecurity and Technology

Improving Accessibility for Voters with Disabilities

Outstanding Innovations in Elections

Best Practices in Recruiting, Retaining, and Training Poll Workers

Creative and Original "I Voted" Stickers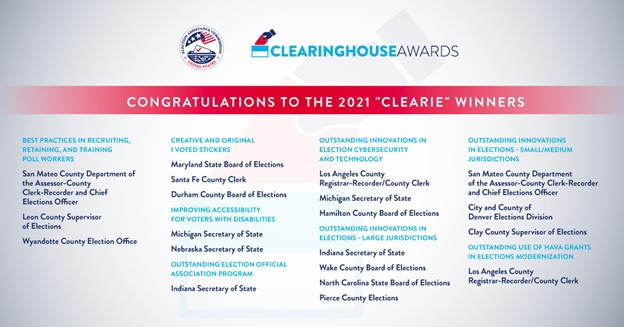 Board of Advisors 2022 Annual Meeting – The virtual annual meeting of the EAC Board of Advisors will be held on May 16 from 1:00-4:00 PM EST and live-streamed on the EAC's YouTube channel. The purpose of this meeting is to discuss the implementation of the Voluntary Voting System Guidelines (VVSG) 2.0, next steps for the EAC's electronic poll book pilot program, and election official security.  The Board will conduct regular business including the election of three members to the Executive Board Committee and the consideration of proposed changes to the board's bylaws. More information on this meeting is available at https://www.eac.gov/events.
Latest EAC Resources 
Election Results Reporting Resources – The EAC released two new resources to assist election officials as they educate the public on the process for reporting election results. The EAC developed a Best Practices: Election Results Reporting poster and presentation. These resources along with a recording of the EAC's 2020 Election Night Reporting Roundtable are available here.
Communicating Election and Post-Voting Processes Toolkit- This new toolkit was developed to help election officials create educational materials about pre- and post-voting processes for the public. It includes customizable templates for sharing trusted information, combatting mis- and disinformation, providing information to news media, and providing information to political parties about the post-voting process.  
Supply Chain Considerations for Election Officials- A panel discussing the paper supply chain challenges was included during the EAC's Standards Board 2022 Annual Meeting.  Douglas County, Kansas Clerk Jamie Shew moderated the panel with Ford Bowers from the Printing United Alliance, Chris Wlaschin from ES&S, and Jim Suver from Runbeck Election Services. The panel discussed why these issues were occurring, expected lead times for orders, how long it is expected that these issues will continue, and how to mitigate the impact. Watch the full panel on Youtube here.
During the Standards Board panel, Jim Suver stated, "(T)he biggest mitigation that we can address to this supply chain risk, is if you would go back to your states, and continue to communicate this issue and this challenge. We just need dialogue between your jurisdictions and their respective ballot manufacturers, as well as communication to the envelope and mail houses, the mail fulfillment centers... They need to know estimates."  
This EAC has also published a webpage that includes a variety of materials addressing the paper supply chain issues and how election officials can identify, assess, prevent, and mitigate the impact of these challenges. This page includes the Election Official Alert: Paper Supply Chain Risk Management resource, a recording of the 2022 Supply Chain Challenges and Mitigation Strategies for Election Officials interview, a recording of the Committee on House Administration Republicans' Roundtable on Ballot Paper Shortage, and the Ballot Paper Supply Chain Risk Management (BP-S CRM) Subsector Coordinating Council (SCC) report. 
Security Resources for Election Officials- Two additional documents were added to the EAC's compilation of resources on election official security in April. The Byrne JAG Memo and the Personal Security for Election Officials Checklist provide guidance and steps toward protection and safety for threats faced by election officials.