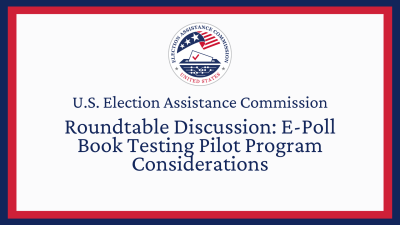 Start Time
Wednesday, November 17, 2021 1:00 PM
End Time
Wednesday, November 17, 2021 3:30 PM
Purpose: In accordance with the Government in the Sunshine Act (Sunshine Act), Public Law 94-409, as amended (5 U.S.C. 552b), the U.S. Election Assistance Commission (EAC) will conduct a virtual roundtable discussion on considerations for the establishment of a testing pilot program for electronic poll books (e-poll books).
Agenda: The U.S. Election Assistance Commission (EAC) will hold a roundtable discussion on the benefits and challenges of implementing a testing program for e-poll books. The event will include three panels representing election officials, e-poll book manufacturers, and technology experts.
An increasing number of election jurisdictions are utilizing e-poll books, replacing or supplementing the use of traditional paper poll books that contain and track voter rolls. Thirteen states where e-poll books are used have a certification program, and 12 states do not. The EAC recognized the need for uniform certification and testing standards and is in the process of developing a pilot program for e-poll books to enhance the security, as well as accessibility, of these devices. This public meeting will help the EAC identify opportunities, challenges, and continuing needs of election officials who use these systems, the manufacturers who develop them, and experts who have an additional understanding of this subject.
The full agenda will be posted in advance on the EAC website: https://www.eac.gov.
FOR FURTHER INFORMATION CONTACT:
Kristen Muthig, Telephone: (202) 897-9285, Email: [email protected]
Event Documents
Tags