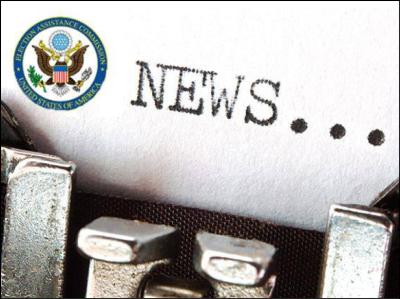 Silver Spring, Md. – Last night, President Donald J. Trump signed into law the Consolidated Appropriations Act, 2020, which includes $425 million in new Help America Vote Act (HAVA) funds that will be distributed to state election offices by the U.S. Election Assistance Commission (EAC). EAC Commissioners commended the President and Congressional leaders for reaching this deal to provide much needed resources to election officials.
"We thank President Trump for signing the Consolidated Appropriations Act of 2020 into law, which allows the EAC to provide state election offices with $425 million in new HAVA funds," said EAC Chairwoman Christy McCormick. "The EAC will do everything in its power to distribute these funds as expeditiously as possible, just as we did with the $380 million in HAVA funds appropriated in 2018." 
"State and local election officials from across the country regularly tell us about the need for additional resources," said EAC Vice Chair Benjamin Hovland. "This new funding will allow election officials to continue making investments that strengthen election security and improve election administration in 2020 and beyond." 
The 2018 HAVA funds are being spent by election offices to strengthen election cybersecurity, purchase new voting equipment, harden and modernize voter registration systems, conduct and pilot post-election audits, and improve other aspects of election administration. Annual reports from the states on the use of these funds are due to the EAC on December 31, 2019, and will be made available on the EAC website as they are received. 
The U.S. Election Assistance Commission is committed to helping election officials improve the administration of elections and helping Americans participate in the voting process. Federal law enforcement and intelligence officials regularly remind us that the cybersecurity threats election officials faced in 2016 and 2018 remain today, and are likely to intensify ahead of the 2020 elections. As the only federal agency solely devoted to supporting election administrators and the voters they serve, the EAC takes seriously the fact that voter confidence is enhanced when we adequately prepare for, and respond to, challenges such as election misinformation, persistent attempts to breach election systems and voting registration databases, and other real threats. The EAC stands ready to distribute new HAVA funds to the states to assist them in their efforts to respond to such growing and evolving threats, and administer accessible, accurate, and secure elections for America's voters.