Feb 28, 2019
By Christy McCormick, Chairwoman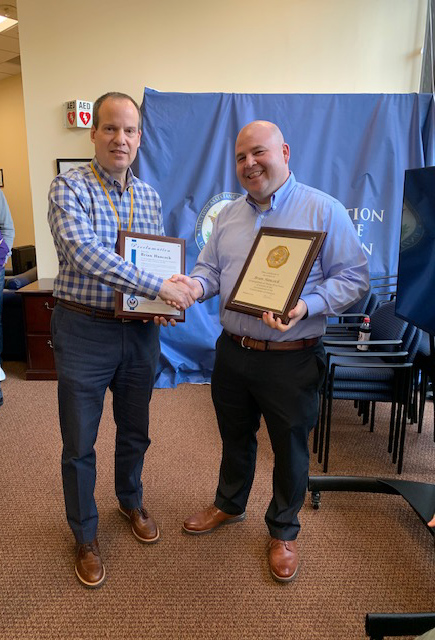 Today, U.S. Election Assistance Commission (EAC) Testing & Certification Director Brian Hancock has retired after 35 years in the federal government. Brian is a highly respected election technology expert and a treasured colleague. On behalf of all the Commissioners, and the EAC staff, I would like to take this opportunity to express our sincere appreciation and gratitude to Brian for his lifetime of service to the election community.
Brian Hancock has served as the first and only Director of the EAC's Help America Vote Act-mandated Testing and Certification Program since the Commission's office opened its doors in 2003. He came to the EAC after nearly two decades of outstanding service at the U.S. Federal Election Commission. During his time with the Commission, Brian has successfully shepherded the development of three sets of Voluntary Voting System Guidelines used to test and certify voting systems, and led the Testing and Certification team to complete 52 campaigns to certify in full, or modify, voting systems. Brian has also worked closely with the National Voluntary Laboratory Accreditation Program to accredit and audit independent testing laboratories used by the EAC.
Many in the election community have relied on Brian's expertise as they've prepared Requests for Proposals associated with the acquisition of election equipment, and he has presented at countless gatherings and meetings over the years. His work will continue to impact the way our nation's voters cast their ballots for generations to come.
Today, as Brian prepares to embark on his retirement, we thank him for his faithful service to the EAC, state and local election administrators, and the nation's voters. His tireless work has ensured the availability of federally certified voting systems that safeguard election accuracy and security, and his contributions to the field have been tremendous.
As Brian closes this chapter, I offer my best wishes to Brian for continued success, happiness, and good health in the years to come. We hope he enjoys his retirement from the federal government and we hope you'll join us in thanking him for he has done for the field of elections.