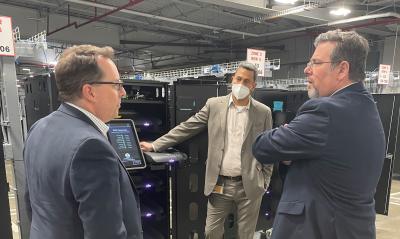 Elections in the United States are administered by over 8,000 state and local governments, which vary in resources and responsibilities, and who serve a diverse voting population. Most elections offices serve a small or medium size population, with just 4% of jurisdictions with more than 50,000 voters1. Elections offices in heavily populated jurisdictions, serve more than 64% of voters, and have a large responsibility in administering American elections. In January, I met with four local elections offices in California, serving over 10 million voters collectively, to hear about managing mission-critical elections operations in large voting populations.  
California elections are administered by 58 counties, that range from the smallest jurisdiction of Alpine County with 915 registered voters to Los Angeles County with over 5.6 million registered voters2. Starting in 2020, all registered California voters receive a mail ballot, with a local option of providing traditional assigned in-person polling places on Election Day, or Vote Centers, where any voter in the jurisdiction can vote at any polling location.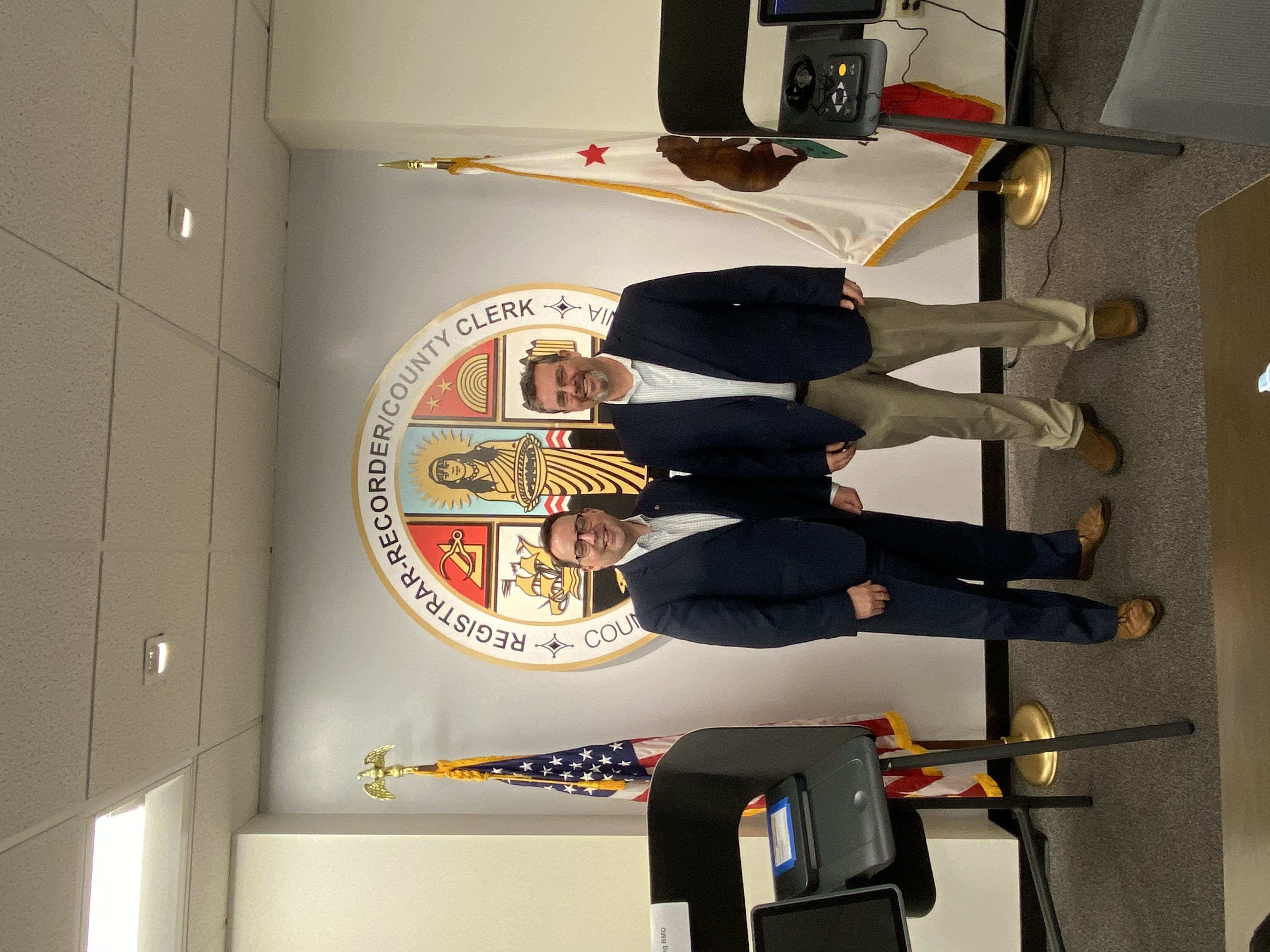 Commissioner Palmer with Dean Logan. 
Dean Logan is the Clerk/Recorder & Registrar of Voters in Los Angeles County and is a member of the EAC Board of Advisors. Los Angeles County is the largest voting jurisdiction in the country, with over 5.6 million registered voters. In addition to its large voting population, the county provides multi-lingual services in 18 languages. To meet the needs of its diverse electorate, the Los Angeles County Registrar of Voters utilizes a new modernized voting system, that was developed by the county. The Voting Systems for All People (VSAP) was built using a collaborative, voter-centric approach, and has been used countywide by voters since 2020.      
During my visit, we discussed the recent transition from traditional polling places to county-wide vote centers, and administering multi-day in-person voting while also managing a multi-million mailed voting operation. We also toured the VSAP operations facility, where the county has developed and utilizes a sophisticated system to monitor, track, program, deploy and store the county's in-person voting system.  We discussed the upcoming 2024 presidential primary ballot process and the importance of voter education.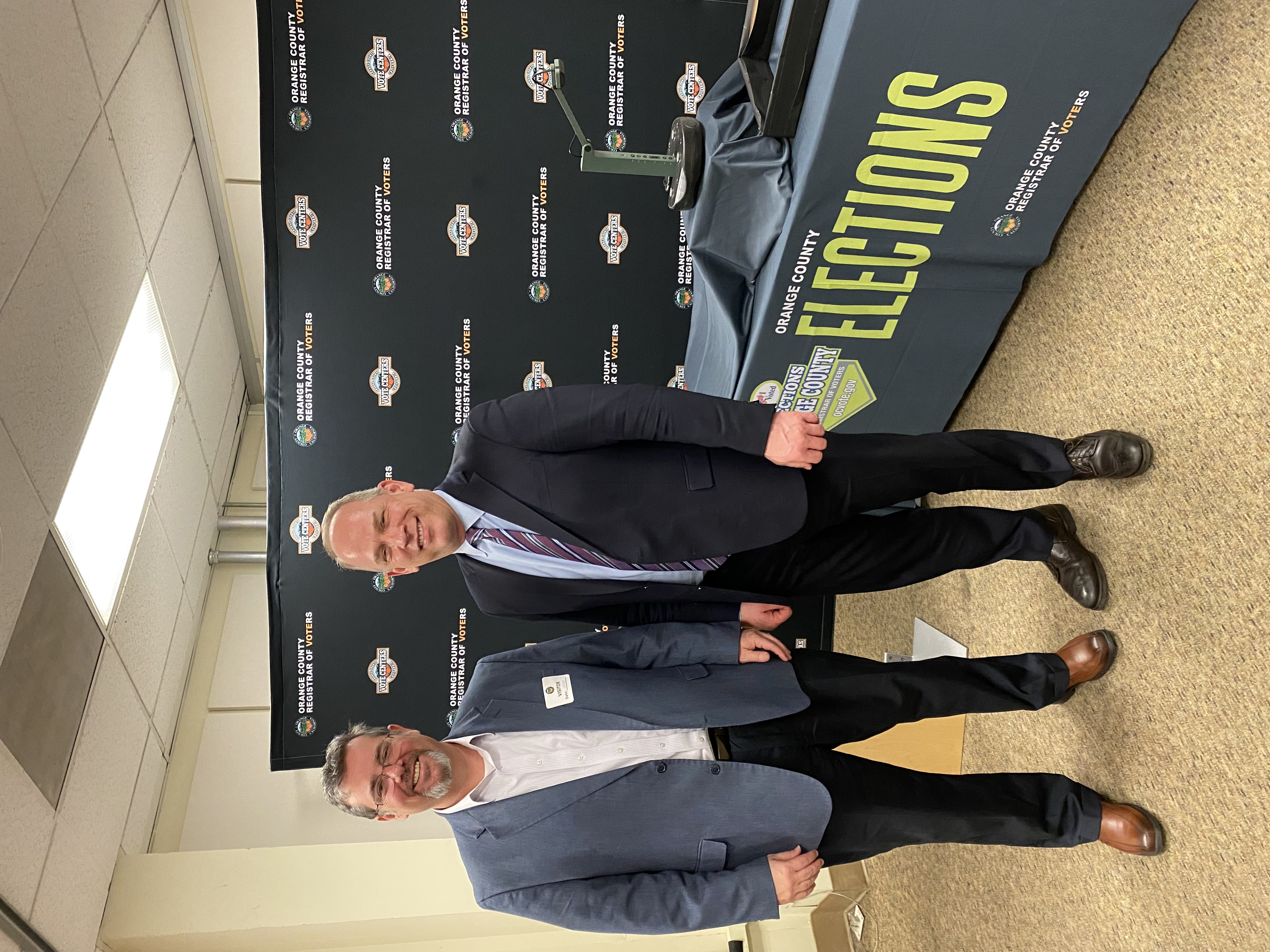 Commissioner Palmer with Bob Page. 
Bob Page is the Registrar of Voters in Orange County, serving in this capacity since 2022. Previously, Mr. Page had served as the Registrar of Voters in San Bernardino County, CA. Orange County serves over 1.8 million registered voters and is one of the small number of elections offices that prints their own ballots instead of contracting with a print vendor. With the high-volume demand, bringing the printing operations in-house facilitates efficiencies in the county's printing operations.  
For more than 10 years, Orange County has also been a pioneer in voter list maintenance activities, using a credible third-party data provider to identify voters who have moved. Credit bureaus maintain consumer marketing demographic data, which often have more recent addresses for voters, than addresses on file within an elections database. The county can then use this information to outreach to voters, realizing cost savings and delivering a more accurate voter registration list.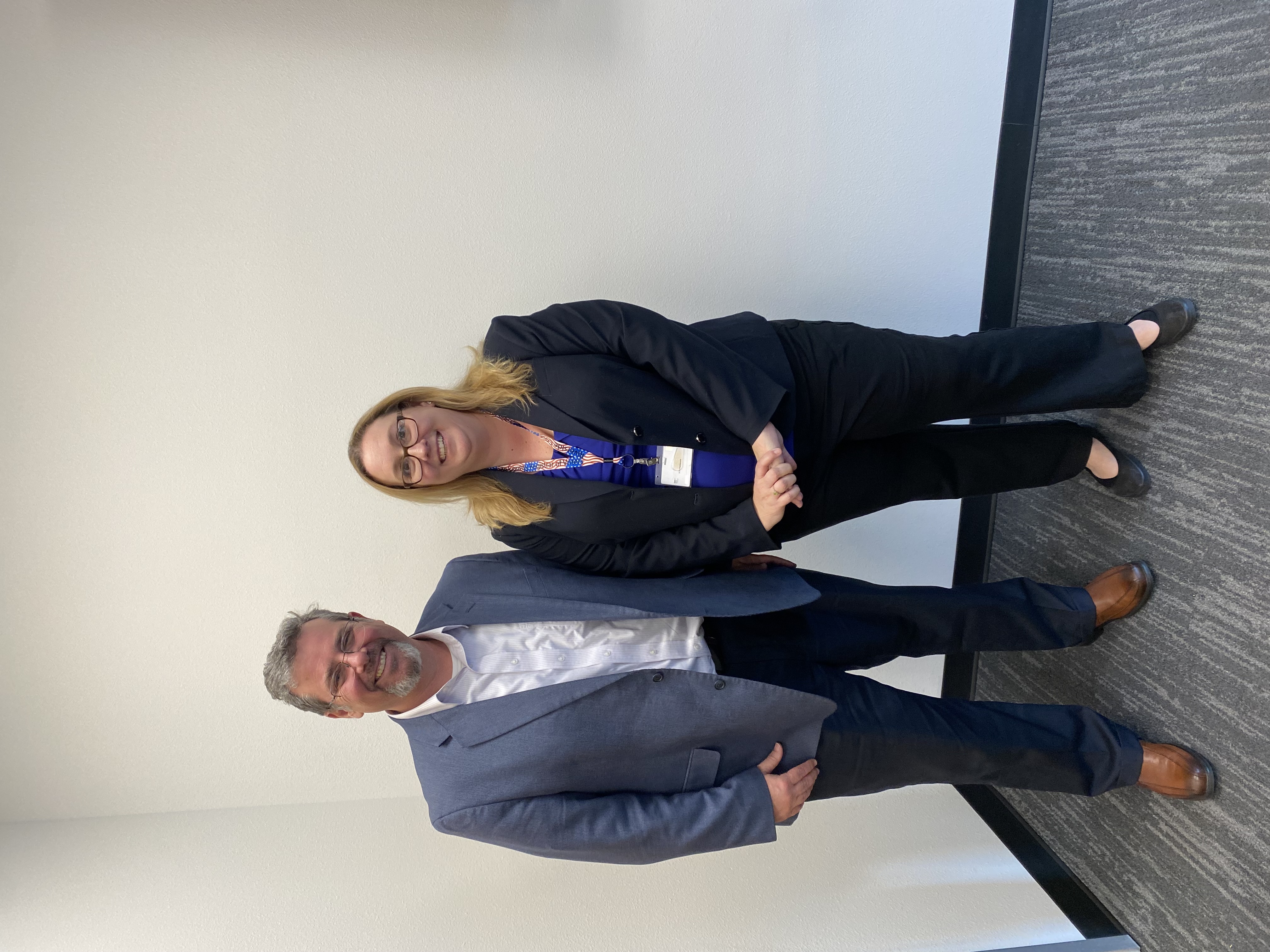 Commissioner Palmer with Rebecca Spencer.  
Rebecca Spencer is the Riverside County Registrar of Voters and is currently serving as the Vice-President of the California Association of Clerks and Election Officials (CACEO). Riverside County has over 1.3 million registered voters, and recently transitioned to a vote center model. In 2021, the Riverside Grand Jury issued a report that found, among other things, that the Riverside elections office communicated extensively with the public leading up to and after the 2020 election, that votes were accurately counted and verified, and that there was no evidence of election crimes or systematic voter irregularities. In response to recommendations in the report, the county implemented several new procedures to serve voters even better, including 24-hour live streaming of key ballot processing operations.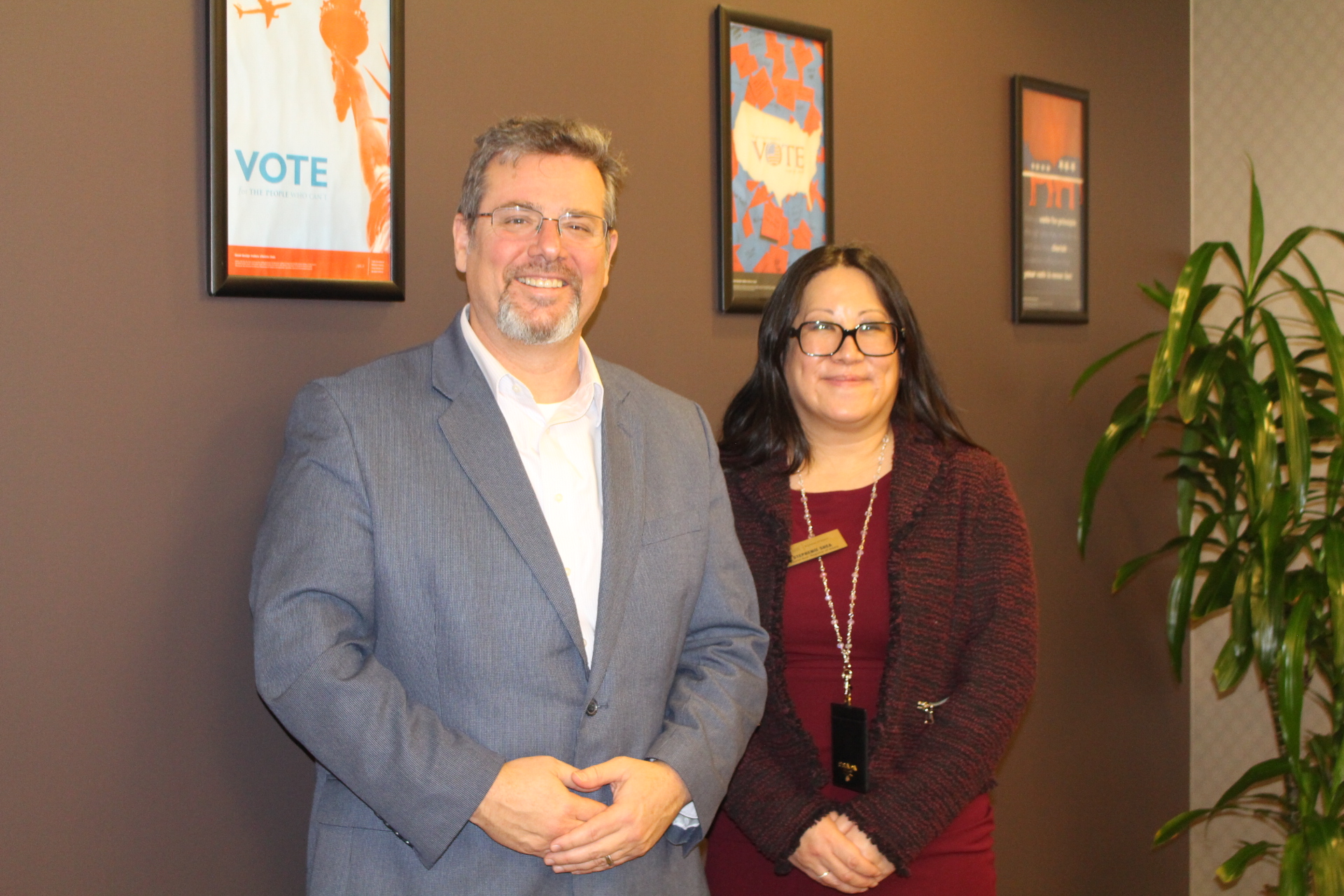 Commissioner Palmer with Stephenie Shea. 
Stephenie Shea is the interim Assistant San Bernardino County Registrar of Voters. San Bernardino is the largest jurisdiction geographically in the contiguous United States, with over 20,000 square miles. San Bernardino County also serves over 1.1 million voters, using traditional in-person polling places. Due to its large size, the county utilized helicopters to deliver ballots and other voting materials to its central offices on Election Night. The county recently purchased a new voting system, modernizing the operations of the office. Although the voting system is new, the county discussed how modernizing their voter registration system would facilitate better integration with e-poll books.  
Serving voters in heavily populated or large rural jurisdictions presents unique challenges, but as these Registrars of Voters have demonstrated, it also provides opportunities to develop innovative solutions to improve voter services and meet a community's unique needs. As I continue to visit elections offices in the future, both large and small, it reinforces my commitment to ensure the needs of all elections officials are heard, and that the EAC is responsive to the wide variety of stakeholders.  
1 Ash Center, Understanding the role of Local Election Officials. See: https://ash.harvard.edu/files/ash/files/role_of_local_election_officials.pdf?m=1632410559  
2 California Statement of Vote for the November 2022 election See: https://elections.cdn.sos.ca.gov/sov/2022-general/sov/02-county-voter-reg-stats-by-county.pdf