National Voter Registration Day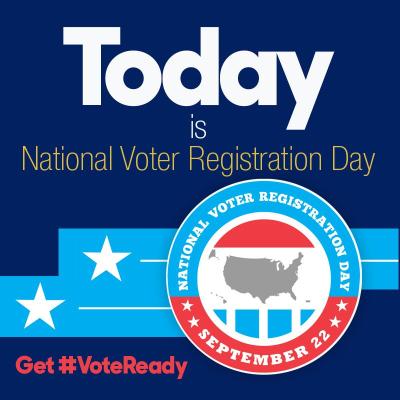 The ninth annual National Voter Registration Day is a unique one. The pandemic has impacted traditional the voter registration efforts like voter registration drives and DMV registration services, and it has impacted NVRD as well.  Because voter registration numbers have fallen behind historical trends and projections, efforts like National Voter Registration Day are more important than ever.
To help combat the effect COVID-19 has had on voter registration, we must leverage online and virtual technologies to provide voters with meaningful opportunities to register to vote. Voters and election officials have turned to social media and other virtual resources as effective messaging tools and sources of information. Unfortunately, social media is prone to disinformation and misinformation, but voters can easily find trusted information from election officials who are implementing the hashtag #TrustedInfo2020. The EAC is dedicated to directing voters to trusted sources of information through www.vote.gov.  
Here are some ways you can be involved with National Voter Registration Day:
Register to vote or update your registration – completing this now gives election officials time to process your registration and you can check to make sure you are ready to vote well in advance of any registration deadlines. For many states, the registration deadline is 30 days prior to Election Day.
Remind friends and family to register or update their voter registration – ask them to remind others and your reminder will have an even greater reach.
Share trusted sources of information on social media – you and your friends and family may have questions about the registration or voting process. Be sure to link to trusted sources like your state or local election office for official forms, requirements, deadlines, and opportunities to cast a ballot.
Make your plan now on how you will cast your ballot – registering to vote is just the first step. Start making a plan and find information on options to vote by absentee or mail ballot, or if you vote in-person, look up your polling location, voting hours, and if there are ID requirements. Planning now will make the process easier as Election Day approaches.
On September 22, 2020, the EAC will be joining thousands of NVRD partners and hundreds of thousands of Americans across the country in this day of action. Find information on how to register or update your registration at www.vote.gov and how to participate in elections in your state on the EAC's website.