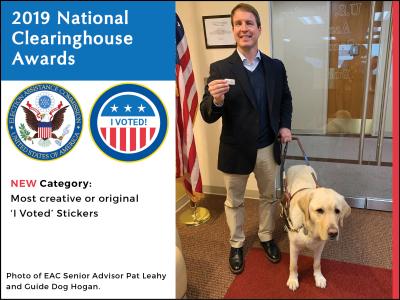 This year's EAC Clearinghouse Awards competition will accept submissions for a special new category: original and creative "I voted" stickers. The EAC announced this category in September when it launched the 2019 Clearies.  Below are additional details about our fun new contest. We hope you will reach out and submit your own homegrown stickers!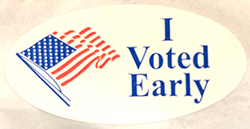 In states and counties across the U.S., "I Voted" stickers promote civic duty and pride. They rise above partisan divides and honor those who have worked for equal voting rights. The stickers come in a variety of designs, shapes, and colors. Each tells a story. Here at the EAC, we wanted to recognize and highlight this meaningful American tradition by casting a spotlight on the creativity and originality of particular designs.   
Started in the early 1980s, the "I Voted" sticker has helped both voters and election officials celebrate Election Day. The stickers allow voters to express civic pride and encourage fellow friends, family, and coworkers to participate. In many communities, election officials organize public competitions to select the jurisdiction's sticker, furthering a sense of unity. Other localities invite K-12 students, our nation's future voters, to design entries. The stickers and their various social media versions have become part of the fabric of our democracy.
During the past four years, the EAC has received dozens of entries in our Clearinghouse Awards competition. Also known as the Clearies for short, the effort honors innovative best practices in election administration. Under the Help America Vote Act (HAVA), the Clearies helps meet the EAC's charge to serve as a clearinghouse of election administration information. You can learn more about the overall Clearie competition here.
Since 2016, the Clearies have grown from one category to four. This year's awards retain three previous categories: Outstanding Innovations in Elections, Improving Accessibility for Voters with Disabilities, and Best Practices in Recruiting, Training, and Retaining Poll Workers. We are pleased to add the newest category of Most Original and creative "I Voted" Sticker to the 2019 contest.
Evaluated in four areas, all submissions will be scored in the following:
Creativity – Imaginative concept and presentation
Originality – Demonstration of innovative design
Artistic Aesthetics – Overall graphics and artistry
Local flair – Recognition of particular audience, place, or concept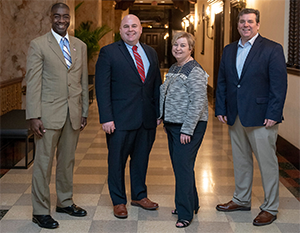 The EAC's four Commissioners, Chairwoman Christy McCormick, Vice Chair Benjamin Hovland, Commissioner Thomas Hicks, and Commissioner Donald Palmer, will judge the submissions.
It is our hope to present multiple awards. Winners receive the EAC Clearie plaque and recognition from the EAC. The competition submission period is currently open and you should email your sticker along with a brief description to [email protected]. Please include a point of contact and note "Sticker Competition" in the subject line. The deadline for this year's competition is Monday, November 25.
Each voter who dons the "I Voted" sticker communicates a sense of pride in having fulfilled their civic duty, and the stickers can have a more personal significance as well. I'd like to share my recent personal voting experience and "I Voted" story.
As an individual who is blind and who advised on HAVA while working for the Congress, I understand just how important voting rights are. During the 2018 midterms, I experienced firsthand the benefits of HAVA. The elections technology worked perfectly to ensure my vote was private and independent. Thanks to HAVA and great poll workers, it constituted my most seamless voting experience yet. As I left the polling place, I was presented with my "I Voted" sticker. I took great pride in it. In fact, I still display the sticker on my home bookshelf. To this day, it serves as a reminder of the vote and those who contributed so much to make it possible.
We hope you will share your stickers with us and with the elections community. Please reach out with any questions. We look forward to receiving your entries for the 2019 Clearinghouse Award.