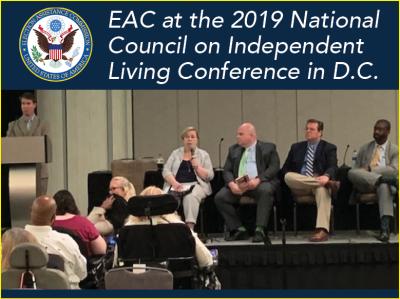 This past weekend on Sunday, July 21, just days ahead of the 29th anniversary of the Americans with Disabilities Act, the EAC's four Commissioners met with members of the National Council on Independent Living (NCIL) for a pre-conference session on accessibility and security in the voting process. Commissioners also heard from attendees about a variety of other election access needs for voters with disabilities.
NCIL is a national cross-disability and grassroots organization representing thousands of individuals with disabilities and the independent living centers that serve them. The organization's leaders and advocates came together during this segment to hear from EAC's Chairwoman Christy McCormick, Vice Chair Benjamin Hovland, and Commissioners Thomas Hicks and Donald Palmer.
At the session, the Commissioners led a dialogue on the voting rights of people with disabilities and how to ensure security measures do not infringe on those rights. Commissioners met with more than 50 voters with disabilities and received invaluable feedback about their experiences and needs. As the Commission fulfills its responsibilities under the Help America Vote Act (HAVA), such outreach is critical to updating EAC tools and resources. This is why the EAC has made it a priority to lead interactive discussions at national conferences for people with disabilities for each of the past five years.
The 90-minute session was composed of two segments, including a discussion on disability and security in the voting process and a town hall conversation focused on attendees' voting experiences. Attendees emphasized the following questions and concerns:
The vital importance of being able to vote privately and independently in the current climate of heightened election security;
Support for the widespread use of ballot-marking devices to better assist voters with disabilities;
Establishing best practices that election officials can utilize to integrate accessible voting machines into mainstream polling place operations;
The potential for new technology to provide fully accessible election systems for voters with disabilities;
The key role of the EAC's Voluntary Voting System Guidelines;
An appreciation for enhanced poll worker training to assist voters with disabilities;
The sometimes overlooked needs of voters with scent sensitivities and issues with lights and noises;
The strong desire to communicate with local election officials to keep them informed;
The need to reach out to policymakers to address how security-related legislation for federal elections may significantly hamper the rights of voters with disabilities; and
Assorted voting needs that must be addressed to ensure a private and independent vote.
Three major themes emphasized by Commissioners were the EAC's role in collecting, developing, and disseminating accessibility-related best practices for election officials; current EAC resources for assisting voters with disabilities such as our universally-accessible voting rights cards; and the desire to hear from voters with any concerns, questions, or feedback. The EAC stands ready to assist voters with access needs and can be reached at [email protected].
In addition, Commissioners also highlighted the EAC's upcoming fourth annual Clearinghouse Awards, dubbed "Clearies" for short. It is our hope that advocacy groups for people with disabilities will collaborate with local election officials to submit innovations in the category of improving accessibility for voters with disabilities. For more on the Clearies, visit EAC.gov or email [email protected].
With the 2020 Presidential Election just around the corner, the disability community is mobilizing to improve voting access and increase registration and participation of people with disabilities. The EAC looks forward to incorporating the feedback from the NCIL session into our products and services for voters with disabilities and election officials.
A transcript of the session will be posted shortly with additional pictures from the event. The EAC extends a big thank you to NCIL for a great discussion and for their leadership in assisting voters with disabilities across the United States. As the elections community focuses on a heightened environment of security, the Commission will continue to champion HAVA's promise of a private and independent vote for voters with access needs.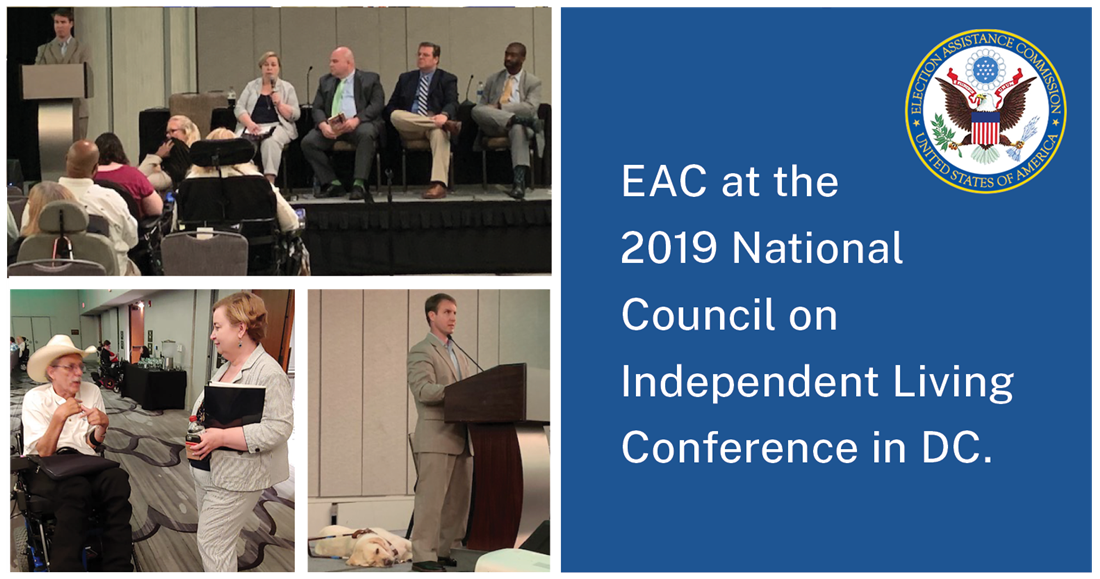 View Event Photos on Facebook.