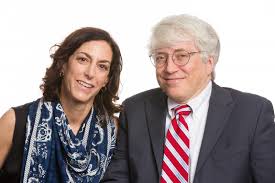 As the EAC wraps up our July series on the recognition of innovations in election accessibility, we caught up with Professors Lisa Schur and Douglas Kruse of Rutgers University. They recently issued a report entitled, "Disability and Voter Turnout in the 2016 Elections." As in their past reports, the findings are invaluable additions of ways to improve the voting process for people with disabilities.
It is research efforts like this that will help us increase participation and registration for voters with access needs across the United States. Below are Doug and Lisa's answers to our questions:
EAC: Lisa and Doug, please tell us about your recent study, "Disability and Voter Turnout in the 2016 Elections." Why did you undertake this effort?
Response: Voting is a fundamental act in a democracy. If people with disabilities are not able to vote, or can only do so with difficulty, their interests and needs are likely to be overlooked by public officials. Furthermore, this sends the message of exclusion—that people with disabilities are not welcome and are not expected to participate in the political sphere.
Many studies over the past 20 years have found persistent voting gaps between eligible citizens with and without disabilities in the U.S. At the same time, there have been efforts to increase voting access on both the federal and state levels, such as the Help America Vote Act and the information distributed by the EAC and the Election Center. It is important to continue to study turnout and voting experiences of people with disabilities to assess areas where progress has been made and to develop and encourage best practices. 
As part of this research effort, we just completed a study of disability and voter turnout in the 2016 election. One key result is that while most people with disabilities reported voting, their turnout was 6.3 percentage points lower than for people without disabilities. Unfortunately that gap has stubbornly persisted over the last three elections. We estimate that if people with disabilities voted at the same rate as otherwise-similar people without disabilities, there would be an additional 2.2 million voters, which is certainly enough to make a big difference in elections.
EAC: Lisa, Our nation recently celebrated the 27th anniversary of the Americans with Disabilities Act (ADA). The Act strives to foster independent living and community involvement for people with disabilities. What tips can you offer election officials in learning more about this landmark law?
Response: The 1990 ADA represents a powerful commitment to increase the social and economic inclusion of people with disabilities, a commitment that was strongly reinforced in the 2008 ADA Amendments Act. The physical environment has undoubtedly become more accessible because of the ADA, and there has been important progress in other areas such as Internet access. To increase inclusion, Title II of the ADA establishes that people with disabilities have a full and equal opportunity to vote. The ADA and other laws protecting the rights of voters with disabilities are reviewed at the Department of Justice website with descriptions of what election officials need to do. As part of this, the Department of Justice provides an ADA Checklist for Polling Places.
EAC: Doug, Given your experience in the economic studies of people with disabilities, please talk more about your recent findings regarding the connection between employment and voter participation for people with disabilities.
Response: One of the most interesting findings in this research is that employment appears to eliminate the disability voting gap:  there is no difference in turnout between employed people with and without disabilities, but a substantial disability gap among the non-employed.  Only one-third of working-age people with disabilities are employed, compared to two-thirds of people without disabilities.  Many of the non-employed are socially isolated so are unlikely to be asked or expected by others to vote.  Employment provides both more social contact and resources (especially income) that are linked to higher turnout.  This is yet another argument for increasing employment opportunities for people with disabilities.
EAC: Lisa and Doug, in 2012, you led a national survey focused on voters with disabilities. What were some of the key findings? Are you planning on conducting the survey in the 2018 elections?
Response: Our nationally representative survey following the 2012 elections had 3000 respondents, including 2000 with disabilities. One key finding was that nearly one-third (30%) of voters with disabilities said they had some type of difficulty in voting at a polling place in 2012, compared to only 8% of people without disabilities. The most common problems reported were difficulty in reading or seeing the ballot, or understanding how to vote or use voting equipment. While voting by mail is one solution, a majority of eligible voters with disabilities said they would prefer voting at a polling place. One good finding is that people with disabilities were just as likely as those without disabilities to say they were treated respectfully by election officials.
We have applied for funding to re-do this survey following the 2018 elections, working with election officials with an eye toward tracking progress since 2012 and hopefully identifying the effects of different policies and efforts.
EAC: Lisa and Doug, both of you are leaders in the study of people with disabilities in the voting process. What tips or best practices would you recommend to election officials in assisting voters with disabilities?
Response: Lisa compiled some of the best practices in this area for the 2013 Presidential Commission on Election Administration. There are five categories of best practices that a number of states and localities have used: 
Making polling places more accessible:  Ensuring good locations, eliminating physical barriers, making ballots easier to read and understand, and ensuring accessible technologies. There are some exciting developments in voting technology that could make secure accessible voting more cost-effective. It's valuable to partner with local disability organizations to ensure polling places are fully accessible. The Department of Justice also has an ADA checklist for polling places.
Training for poll workers and election officials:  A study found the best results occurred from interactive training, with checklists and visual aids for poll workers on Election Day.
Outreach and education efforts for people with disabilities about their rights and the voting process: These can be done on-line, by mail, on television and radio, or directly at senior centers or other locations with people with disabilities. This is another area where it's valuable to partner with disability organizations.
Mobile voting:  bringing ballots or other voting equipment to convenient locations, such as long-term care facilities and shopping centers located on accessible bus routes.
Making vote by mail easier for people with disabilities:  One of our studies found improved turnout for people with disabilities in states with permanent "no excuse" mail ballots for people who want them. This is probably due to the reluctance of many people to request a mail ballot if they have to report having a disability as an "excuse", and the inconvenience of having to request it each election.
EAC: Lisa and Doug, your recent study indicates that voting participation of people with disabilities is not advancing as quickly as we had hoped. What suggestions can you provide election officials and advocacy organizations to improve in this area?
Response: We outlined the major best practices above. The fact that the election system is so fragmented in the U.S. can make it harder to disseminate practices, but also provides a lot of room for experimentation to improve voting access and share the results.  
While many states and localities face budget constraints that may restrict their ability to improve polling place accessibility, the good news is that many improvements do not cost a lot of money. Some are as simple as providing chairs for people who find it difficult to stand in line to vote, making sure nothing obstructs the path for blind voters or wheelchair users, and providing portable ramps if there is a step or two to get into the polling place. Changing to a permanent "no-excuse" mail ballot system may even save money.  Some of the best ideas should come from partnering with disability organizations which will provide advice for free in order to help their members.
We would like to extend a big thank you to Lisa and Doug for their great contributions in the study of elections and voters with disabilities. The EAC will continue to draw upon their work as we strive to meet the promise of an independent and private vote for all voters with access needs. For a complete view of our July accessibility outreach efforts, please visit EAC's recent statement celebrating the anniversary of the ADA.