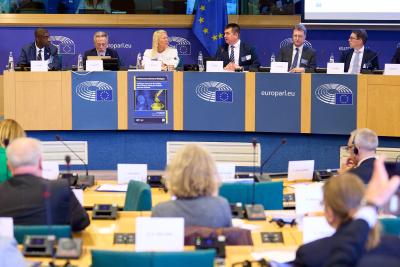 Commissioner Thomas Hicks visited Brussels, Belgium to participate in a discussion with members of the European Parliament about out-of-country voting. He reflected on this experience with the following: 
In May, I had the honor of being invited to participate in a dialogue with Members of the European Parliament, the leadership of the Central Electoral Commission of Ukraine (CEC), the Ministry of Foreign Affairs of Ukraine, and civil society and international organizations focusing on Ukraine and out-of-country voting. Participants presented how their respective countries conduct overseas voting as models for further discussion for Ukrainian officials as they look towards the future and how to reach the millions of displaced Ukrainians.
The United States has a long history of absentee voting for citizens who are away from home on Election Day since the Civil War. I shared how the United States provides overseas and military voters the opportunity to receive and cast their ballots. In addition to specific state laws, relevant federal statutes are the Uniformed and Overseas Citizens Absentee Voting Act (UOCAVA) of 1986, requiring that states and territories allow members of the military, military family members, and overseas citizens to register and vote absentee in federal elections, and the Military and Overseas Voter Empowerment (Move) Act of 2009, which amended UOCAVA to establish new voter registration procedures that states must follow for federal elections. I was privileged to work on the Move Act when I was a staffer on the House Committee on House Administration.
It was a great honor to join election management bodies and be able to add experiences from the United States in this discussion of potential models for Ukrainian citizens around the world to be able to safely and securely participate in their elections and have their votes counted. There will be many more discussions ahead that will require a tremendous amount of resources and commitment by the Central Electoral Commission and the global community of election officials. I look forward to continuing our work at the Election Assistance Commission to be a clearinghouse of information for not just election officials in the United States, but also as other countries look to the United States as a beacon of democracy.
Image credit: International IDEA (photo by Bruno Maes)