Voting Accessibility
Election Administration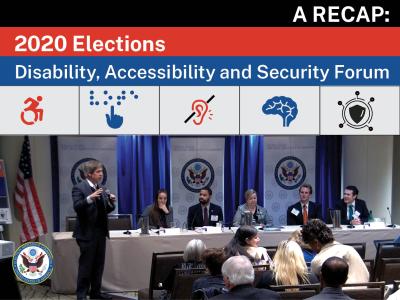 Last week, the U.S. Election Assistance Commission (EAC) hosted the 2020 Elections Disability, Accessibility, and Security Forum. The day-long gathering featured discussions on pressing issues to voters with disabilities and election officials amidst growing security needs.
The collaborative event brought together election officials, people with disabilities, advocates for people with disabilities, and election security experts. Over 100 people attended from across the U.S. and hundreds more watched the livestream. Forum transcripts and videos are now available on the EAC's website and YouTube. 
Throughout the forum, EAC Commissioners, discussion leaders, and our excellent audience grappled with the crucial topics of heightened election security and how it must not negatively impact the voting rights of people with disabilities. These fundamental rights of privacy and independence in elections were established in the Help America Vote Act of 2002 (HAVA).
The forum featured four discussion sessions focused on important issue areas. Each session highlighted the perspectives and insight of people with disabilities, security experts, and election administrators. Below are some highlights from our distinguished panelists.
From a leader in the disability community:
 "There is so much room for us to improve through technologies the way that people with disabilities vote, and I think we can make them even more secure that way. I do not think this is a debate between your vote being secure and your vote being accessible, one versus the other. We need to find common ground and move forward."
-Kelly Buckland, Executive Director, National Council on Independent Living

Perspectives on challenges and opportunities from an election security expert:
"I think that there are definitely challenges of accessibility and security that need to be addressed. Recognizing that because it is everyone's right to vote privately, independently, and securely, everyone should be working towards that same goal." 
-Maurice Turner, Deputy Director of the Internet Architecture Project, Center for Democracy & Technology

Regarding the need for solutions in election administration:
"I represent all citizens regardless of their political affiliation, the color of their skin or their ability to mark a paper ballot. Not all disabilities are the same and therefore not all solutions should be the same."  
-Amelia Powers Gardner, Clerk/Auditor, Utah County, Utah
Discussion Session 1: Emerging Voting Technology for People with Disabilities
During this discussion, we heard about the importance of utilizing technology to break down barriers in the voting process while appreciating security vulnerabilities. From election websites to paper ballots to the polling place, panelists described impediments to the right of a private and independent vote. Session participants also addressed the need for enhanced poll worker training, the EAC's leadership on the Voluntary Voting System Guidelines (VVSG), research and development efforts, and advancements in voting technology.
Discussion Session 2: Ballot-Marking Devices and Accessibility
This session focused on the ballot-marking device (BMDs). Computer scientists discussed the pros and cons of BMDs along with voter verification needs. Practitioners provided a first-hand perspective on the deployment of new machines and their accessibility capabilities. Given the growing BMD demand, the session highlighted areas of agreement to consider alongside existing security concerns.
Discussion Session 3: Vote-by-Mail and Electronic Ballot Delivery Systems
The hour-long discussion highlighted different vote-by-mail options available to voters with disabilities within the context of the current security environment. Participants recognized that for some voters, vote-by-mail is a cumbersome and inaccessible process. Responsibly harnessing technology to advance electronic ballot delivery, traditional vote-by-mail, and remote voting pilots will improve accessibility for voters with disabilities.
Discussion Session 4: Summary and Potential Next Steps:
This forum wrap-up session provided panelists and audience members the opportunity to summarize the day's discussions and look ahead to possible solutions. Panelists discussed the need to uphold HAVA's disability voting rights, not treating accessibility and security as mutually exclusive goals, potential areas of common ground, and election officials' desire to serve voters with disabilities in 2020 and beyond. 
We would like to extend a big thank you to all of our discussion leaders, our outstanding audience, and our EAC commissioners: Christy McCormick, Ben Hovland, Donald Palmer, and Thomas Hicks.
Voters with disabilities must have a private and independent vote. At the same time, America's elections must be secure and promote confidence. EAC's incoming Chairman, Ben Hovland closed the forum saying, "in election administration we must continue to focus on practical solutions when considering the challenge of ensuring a secure and accessible election experience for all.  I know the can-do spirit of election officials will meet this charge. The EAC stands ready to lead in this area, but success depends on all of us working together." We look forward to our continued outreach to election officials, people with disabilities, and election security experts on this vitally important discussion.
For more event photos, visit our Facebook page here.