Apr 25, 2018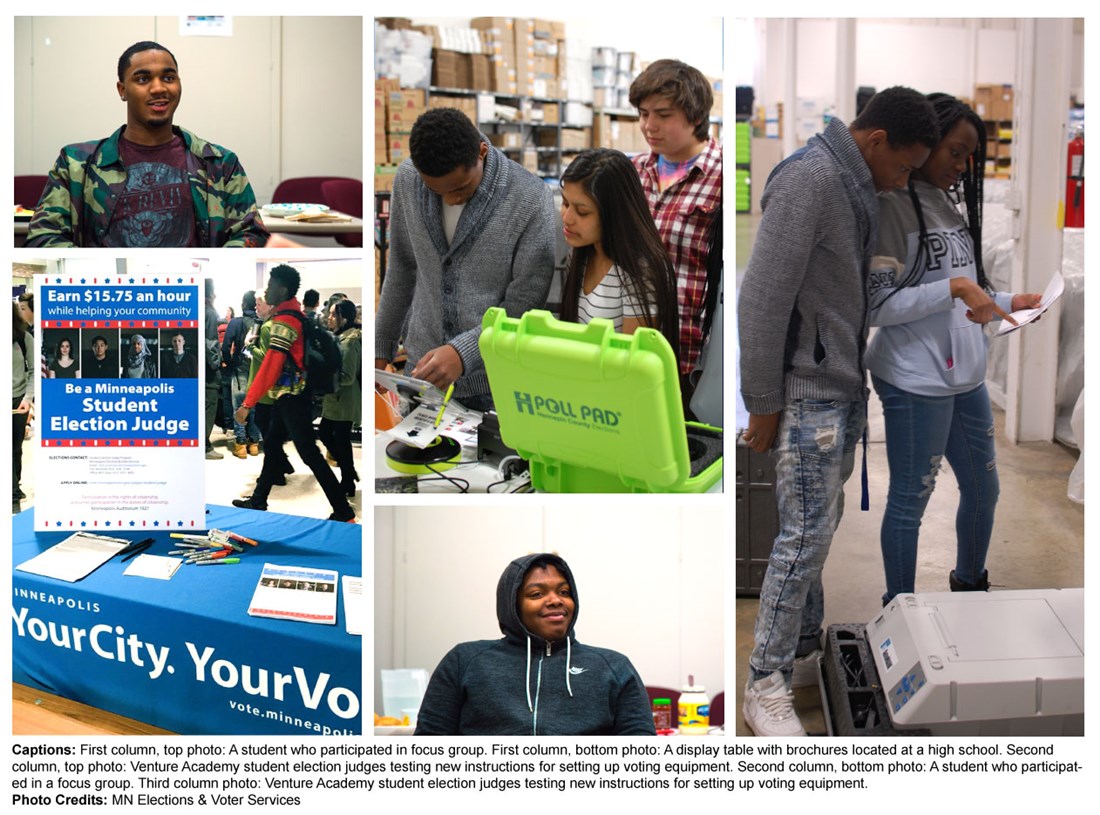 As the EAC highlights election workers this month, we caught up with Grace Wachlarowicz, Assistant City Clerk, Director of Elections for Minneapolis, Minnesota about her office's Student Judge Program. 
Created in 1991, the Student Judge Program fosters youth participation in elections in the Minneapolis community and was the recipient of a 2017 EAC Clearie award for Best Practices in Recruiting, Training, and Retaining Election Workers. It is a great example of the Help America Vote Act's high school election worker provisions. 
EAC: Could you tell us about the Student Election Judge Program and how it engages high school students in the elections process?
Minneapolis Elections & Voter Services recruits high school students to work as part of the team running the polling places on Election Day. Our student judges perform the same roles as their adult colleagues, with the exception of any duties that require party balance, making sure that elections are conducted fairly and accurately. We draw students from 33 area high schools, and have designated school coordinators to assist in recruitment at 15 of those schools. In 2017, student election judges served in 130 of our 132 polling places and made up 22 percent of our polling place staff.
EAC: Since its inception, the program has attracted thousands of youth as election workers. What feedback have you received from voters regarding your innovative efforts?
Voters enjoy seeing our high school election judges in the polling place and overwhelmingly support the program. We try to place students in polling places close to where they live, which helps them connect with members of their immediate community. Neighbors get to know each other by name and break down some of those generational barriers.
One student told me about how she felt so warmly welcomed and respected as a result.
"People in the neighborhood greet me on the street: Oh, you're the one who helped my mom register to vote!"
Another voter called our office to tell us how much she enjoyed the ranked-choice voting explanation a team of students created in their polling place.
Parents are proud of their students' civic activities, and some teachers have a friendly rivalry over how many of their students participate. There's broad buy-in from many different parts of the community for employing youth in the polling place.
EAC: The Student Election Judge Program has achieved several positive results, such as addressing the long-term need for election workers, increasing the number of workers who are bilingual in targeted languages, and in providing tech-savvy support. What other program successes have you seen? 
The Student Election Judge Program has been a key component in building and sustaining a long-term corps of election workers. More than 90 percent of the students who participate say they would like to return, and would recommend the experience to a friend or family member. 
Student workers are also vital in providing language accessibility in the polling place in Minneapolis.  Minneapolis has identified 56 precincts that serve voters needing language assistance, and aims to staff those precincts with election workers who speak the desired languages, including Hmong, Oromo, Somali, and Spanish, and, to a lesser extent, Amharic, Russian, and Vietnamese. 
In 2016, 45 percent of student election judges reported being bilingual; whereas only 13 percent of all election judges were. Students who are bilingual serve in precincts with voters who may need assistance in those languages. While students are not specifically trained in interpreting, they provide a much-needed bridge to making the voting experience accessible to those who need language support. Bilingual students assist with Election Day registration, answering voter questions about the voting process, and assisting voters with low literacy skills in their preferred language.
Other area high school students have excelled in helping with the introduction of electronic poll books. Making the move from paper rosters to electronic during the municipal election in 2017 went more smoothly because of our technology-adept youth. 
EAC: What tips and lessons learned can you share with election officials who might be interested in undertaking a similar high school student election worker effort? 
After years of training student poll workers at their high schools, we started training them alongside adult poll workers. Part of the reason is philosophical and pedagogical: Students are being hired to do the same job as adults, and it's helpful for them to meet their election judge peers before Election Day.
Students and adults receive the same rate of pay for doing the same jobs, even though state law would allow us to pay students a lower rate. This has been a significant help in recruiting and has led to gains in desired student populations, such as those who are bilingual or from an underrepresented community.
Different school cultures respond to different messages about the program. At one high school, for example, the employment opportunity and prospect of a good recommendation has been a strong draw. At another school, students are seeking to serve their community and be a welcoming presence to people who may not be seasoned voters. You also may need to sell the program to administrators: why should they release their students from school to do this? 
Communicate regularly with your student workers and their schools. Remember that you are building relationships, and everyone's goals are more likely to be met when you have a strong understanding of each other's motivations, expectations, and timetables. Provide students and schools with feedback from voters and team members so they know their contributions are meaningful. Also communicate expectations and guidelines with your head poll workers so that they can be more effective in supporting younger workers.
We would like to extend a big thank you to Grace and her team for their leadership in helping high school students serve at the polls. Programs such as this help cultivate future voters and community leaders. We will continue to recognize outstanding entries from last year's competition as we prepare for the EAC's 2018 Clearies. Please check back for more in the upcoming weeks.